10 meters, 10 quick hits. Notes from the final tour stops in the Northeast.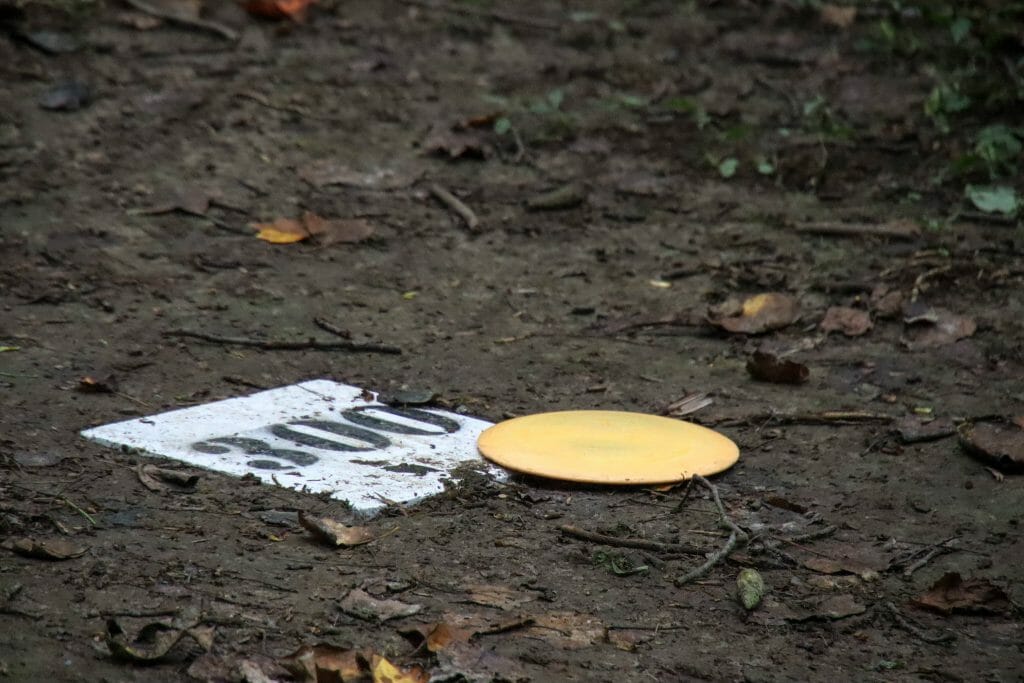 1m — Kristin Tattar crashed the podium in her second tournament stateside, taking home second place at the Delaware Disc Golf Challenge. With two holes left to play, she held a two stroke advantage over 2018 World Champion Paige Bjerkaas. After giving one stroke back on the treacherous 17th, she needed to play hole 18 clean. Tattar gave herself a long Circle 1 putt for bird, but Bjerkaas was parked. To secure solo second place, the Estonian needed to convert under pressure. Money. Tattar was one of four women to record C1 putting percentages over 90-percent for the tournament, including a 100-percent showing on Sunday.
2m — Does Elaine King have a great radio voice or what? She and Hokom recorded commentary for The Disc Golf Guy's FPO coverage in Delaware, and I can only hope we hear more of her on the mic in the future.
3m — Jeremy Koling doesn't like it when golfers drop a handful of discs on top of their putter while retrieving it from the basket. A pet peeve of mine is when players commit stance violations as they tap-in. After missing a short putt for par on the sixth hole, Catrina Allen established neither a balanced stance nor a point of contact within 11 inches of her lie before holing out. I've got no qualms with players wearing their emotions on their sleeves, but it's a bad look to ignore basic rules in moments of frustration.
4m — Talk about trials by fire. In the first round of the DDGC, 942-rated Michael Karp shared a card with Seppo Paju, Drew Gibson, and Grady Shue. And at the Canadian Disc Golf Championships, 919-rated Chris Richard was in a group with Nate Sexton, Simon Lizotte, and Nate Perkins. Karp gave up 80.33 points to his playing partners, and Richard 111.67!
5m — I spoke with Karp after his round on Friday and learned that he grew up in Newark, Delaware, and helped install the Iron Hill course before moving to Colorado a few years back. When I asked what it was like to play with such a high-powered threesome on his home course he replied, "It was great. They were a really fun group of guys to play with. It was really fun watching 'em bomb. They were landing in areas I've never seen anyone land before." Asked more specifically about what he thinks separates the 950-rated golfer from the 1020-rated golfer, Karp replied delightedly with the effusive, catch-all answer you might expect. "It's the putting — those guys hit a lot of huge putts — and you gotta stay clean. I mean, you gotta get it down there, too. It's not just about staying clean, you have to stay clean and get it way down the fairway. I don't think I hit a fairway all day!" I guess you could say those guys are good. Hashtag: GET OUT AND SPECTATE when the tour is in your neck of the woods!
6m — Chris Dickerson's player rating is 1037, good for sixth highest in the world. He also ranks seventh in the UWDG Power Rankings and sixth in the PDGA World Rankings. Coupled with his staggering 42 wins between this year and last, we expect him to challenge for the W when he competes on the national stage. Dickerson broke the 1030-rating threshold in August 2017 and his average finish at Major, NT, and DGPT events last year was 9.5. This year it's 12.5. In other words, regional success hasn't translated into a high profile win on tour. Although he withdrew from the Delaware Disc Golf Championship after Worlds, Sara Lamberson of PDGA Radio — a fellow Tennessean — has heard whispers that he may hit the road full-time, or close to it, next year. I hope he does. Dickerson has a higher ceiling than most golfers out there and he's poised for a breakout season on tour if he can get comfortable in the limelight.
7m — For at least three weeks, Nate Sexton is your reigning U.S. and Canadian champion. Obviously, he hopes to carry that distinction into 2019, and things are looking good heading into October. After being shut out of the winner's circle through the first half of the year, Sexton now has high caliber wins in August and September.
8m — Shout-out to Sexton's Shootout buddy Chandler Fry for his second place finish north of the border. He traveled sea to shining sea for that $1K payday. Prince Edward Island is approximately 3,500 miles from his home in Olympia, Washington, about as far northeast as you can go on the Atlantic seaboard before you start swimming.
9m — Both the DDGC and the Canadian Championships were USDGC regional qualifiers. Paige Pierce, wanting to earn a spot at Winthrop, opted to try her luck in Canada because she felt she had a better chance of earning the USDGC invite there. She was unsuccessful. She's got another chance this weekend at the United States Women's Disc Golf Championship in Michigan. I know that the USDGC prides itself on being a true Open division tournament, but I would like to see more than two spots reserved for the top women.
10m — Before making my Staff Picks last week, I watched the final round coverage of the DDGC from 2016, courtesy of Disc Golf Monthly TV. I had no clue what to expect from the Canadian Championship, but after watching the Central Coast Disc Golf footage from the first round at Hillcrest Farm, I'm convinced that this event needs to be added to the tour. To sum it up: rugged and beautiful. The 191-foot par 3 11th is an absolute gem, like a mini version of 17 at Idlewild. (Author's note: The first time I watched the footage was without sound. Upon replay, headphones in, turns out that Cory Murrell makes the same claim. Glad to know we're on the same page.)