Four tied in second at two strokes back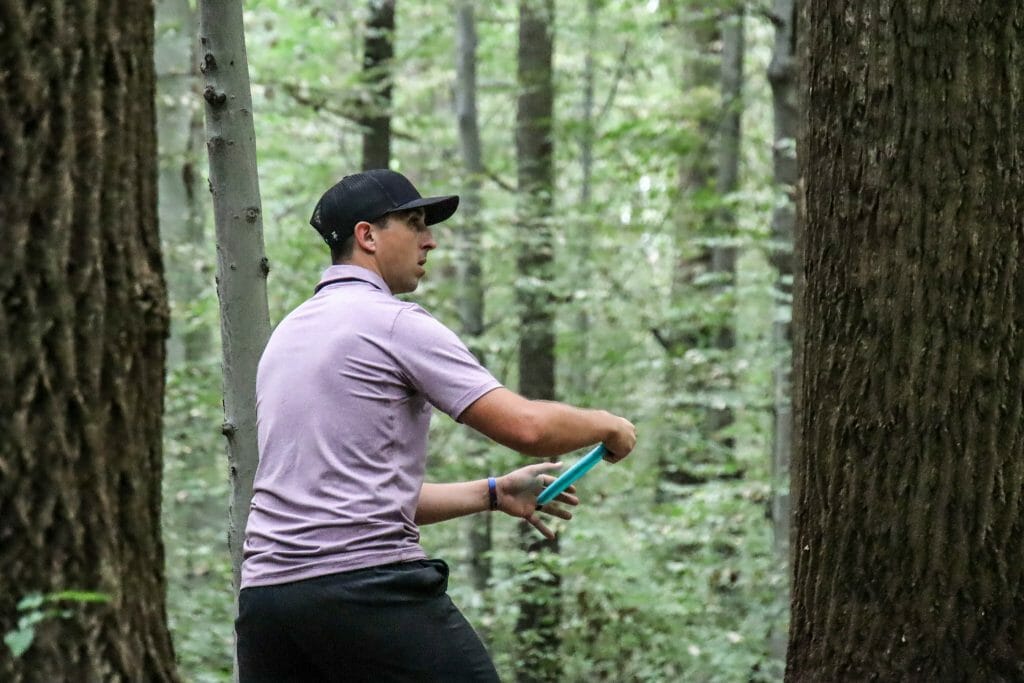 The Delaware Disc Golf Challenge requires players to tame the woods. To be effective in the woods, players need to hit Circle 1 putts and scramble well when a tee shot inevitably goes errant off a tree. Today, the Pauls did just that. Paul McBeth is your leader after one round, shooting a 1049-rated opener at Iron Hill.
McBeth started off slow, going only 4-under par on the front nine, but had himself a time after the turn. On the back half of the course, McBeth went 7-under par with eight birdies and a bogey to finish his first round at 11-under par 61 in his first crack at Iron Hill this season. At one stretch between holes 9 and 16, McBeth drilled eight consecutive birdies.
McBeth putted at 100-percent from Circle 1 and 40-percent from Circle 2. He went OB off the tee on the 860-foot hole 17 which doomed his chance at a clean back nine, but finished with a birdie on 18.
Paul Ulibarri went into hole 17 at 10-under par, well positioned to take the top spot from McBeth, but was unable to recover from an errant tee shot as he carded a bogey 6, his only bogey of the day. The error dropped him to 9-under par where he finished. Ulibarri closed Friday in a tie for second with Andrew Fish, Matt Bell, and Seppo Paju at 9-under par 63.
Jeremy Koling was the early leader in the clubhouse after wrapping his first round with an 8-under par 64, and it was refreshing to see him at the top of UDisc Live after an up-and-down season. Koling hit his fairways at an 82-percent rate, and was able to recover from his misses. He scrambled to save par at 100-precent to end his day with a bogey-free round.
Koling is in a three way tie for sixth place with Zach Melton and Ricky Wysocki. Fish, Wysocki, and Melton were also bogey-free.
If Gregg Barsby showed any sign of a post-World Championship hangover, it was inside Circle 1. The newly-crowned champ was 89-percent from inside the circle but threw well enough off the tee to claw his way into a tie for ninth with a 7-under par 65.
The majority of Iron Hill holes played close to par, but the stretch of holes from 3 to 6 and 13 to 15 were where most of the scoring happened. The twin turkey gulches averaged .27 strokes under par. On the flip side, holes 7 and 18 played the toughest on the day, each coming in at .21 strokes over par.
---
The lead card of McBeth, Ulibarri, Paju, and Bell tees off at 2 pm local time. Follow scoring on UDisc Live, and post-round coverage will be released Sunday.