Who are we missing? Who is in your top three?
Welcome to the PDGA National Tour, Iron Hill! The Newark, Delaware course has a solid reputation in the Northeast, garnering respect from many of the top professionals. But this will be most spectators' first look at the course, including the writers at Ultiworld Disc Golf. Our unfamiliarity made for some fun pickin'! Know this: the Gold Course is a monster: par 72, over 10,000 feet long, trees everywhere.
Charlie Eisenhood and Jamie Thomas will make their picks on the UpShot. For now, writers have at!
This week, the top 25-percent of women rated over 900, and men rated over 1000 were excluded from Dark Horse status.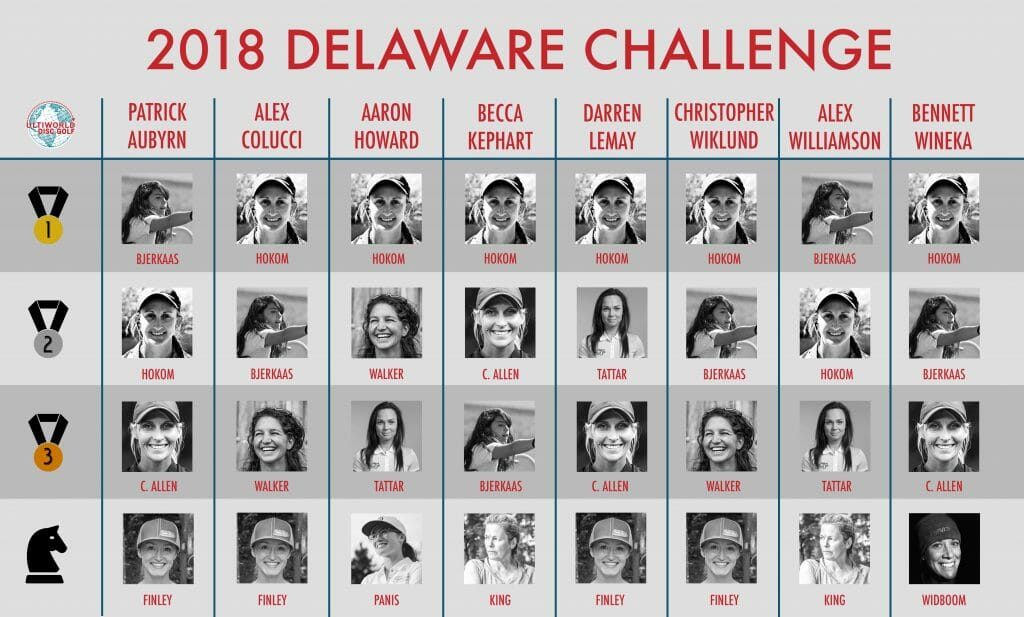 PODIUM RATIONALE
Sarah Hokom has been the hottest player on tour over since her win in San Francisco. Her average finish in her last 13 events is 2nd. She is the most reliable in the woods, and the Iron Hill course is heavily wooded. ~Darren LeMay
Freshly minted world champion Paige Bjerkaas only committed to touring full time through the end of 2018. Assuming she plans to resume full-time coursework in 2019, she doesn't have time to let her foot off the gas in Delaware. ~Alex Colucci
It's no secret that Catrina Allen has struggled at times this season. It's also no secret that she has all the tools to win any event she enters. Allen carded two rounds rated over 970 at Worlds, and won this event in 2015. ~Becca Kephart
Madison Walker hasn't cracked the top 3 at an NT since the 2016 GBO. That's insane! Her 939 player rating ties for third highest in the field this weekend. I have the feeling that the short week is in her favor. ~Alex Colucci
There's a reason Kristin Tattar made it onto the lead card at Worlds in round four: she's got skills. She didn't have her best performance that day, but the jitters can get to the best of us. Look for her to settle down in Delaware. ~Alex Williamson
The Cavalry
In the live coverage at Worlds, Madison Walker and Lisa Fajkus talked up Holly Finley's preference for woods play. Need proof? How about top 5 finishes at Idlewild and Maple Hill. ~Patrick Aubyrn
With a couple regular challengers missing and a showing at Pro Worlds she's probably not satisfied with, I'm thinking Ellen Widboom is going to make a nice run towards a podium spot in Delaware. ~Benn Wineka
Kona Panis has all the tools needed to play well in the woods.  Consistency will be her key to having a breakout in Delaware. ~Aaron Howard
Can the winningest disc golfer in history really be an underdog? Keep your eye on Elaine King. She's played this event before and finished Worlds with two solid rounds. ~Becca Kephart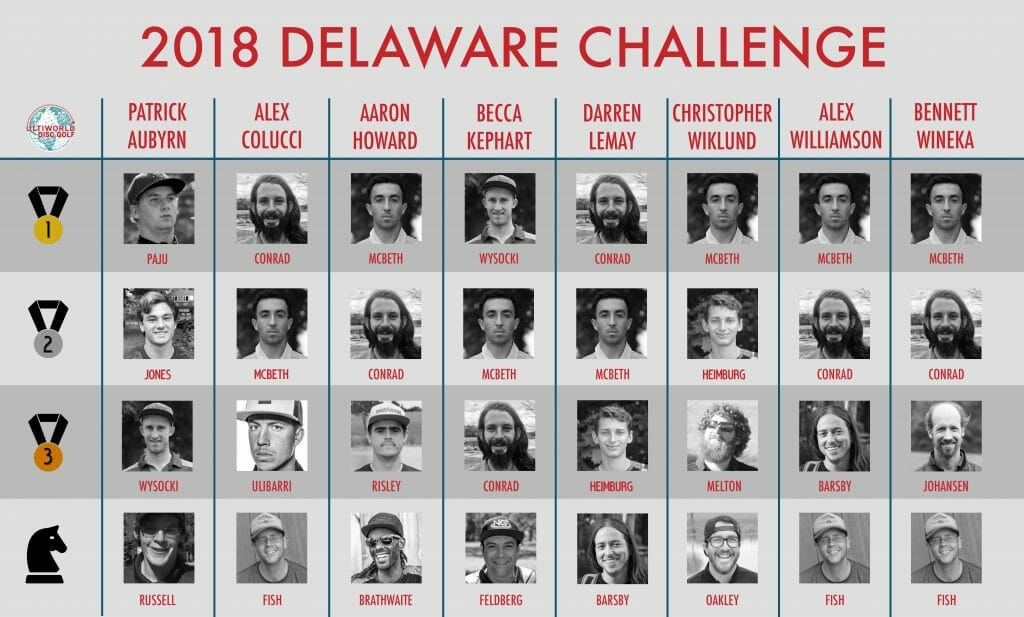 PODIUM RATIONALE
Since late June, the only time Paul McBeth missed the podium at was at the Ledgestone Insurance Open. Iron Hill doesn't have O.B. like Lake Eureka, and with a sour taste left in his mouth from being runner-up in Vermont, there's likely to be a McBeast on the loose. ~Alex Williamson
James Conrad is the best putter in the world. Case in point: he won the Putting World Championship this year. Setting that victory aside and focusing on course of play, Conrad has reached Wysocki-level from outside Circle 1. Also the best in the game on woods courses. ~Darren LeMay
Ricky Wysocki is due for a complete tournament performance. Expect to see the golfer that threw down an 1108-rated round just three weeks ago, rather than the Ricky that struggled a bit this last week at Worlds. ~Becca Kephart
I watched the final round of the 2016 Delaware Disc Golf Challenge, and the course looks tailor-made for someone who can hit gaps and throw finesse lines, has a strong forehand and backhand, and can crush when necessary. Cue the Finnish woodsman Seppo Paju. ~Patrick Aubyrn
Michael Johansen is a master in the woods so we're going to assume he's going to play well. Also, I selfishly want to see some video coverage of him so I need some lead card action. ~Benn Wineka
Paul Ulibarri is one of the few, 1020+ rated players in the field with recent experience at Iron Hill, including a third place finish in 2016. On a short week and still riding high from his fourth place finish at Worlds, his experience could be the X-factor. ~Alex Colucci
Because of its proximity to Worlds, this NT feels a bit more like the A-tier between big tour stops. No offense meant, Delaware! Anyway, Kevin Jones thrives in the off-weeks. He's picked up two high-profile Ws since June and hasn't finished outside the top 5. ~Patrick Aubyrn
A.J. Risley has dealt with success and failure this year, even within the same tournament. Perhaps with his new found experience and stakes that are significantly lower than Worlds he can find the podium. ~Aaron Howard
This course looks like what would happen if Maple Hill, Nantucket, and Idlewild got together and made a course, but meaner. In other words, this course looks like Zach Melton's happy place. ~Chris Wiklund
Calvin Heimburg has made a splash over the last couple events for bombing drives to rival the game's elite. His woods skills have gone somewhat under the radar. Several times at both Maple Hill and Worlds he outdrove the game's best on woods flex shots. ~Darren LeMay
Do I think Gregg Barsby's play might be affected by Gregg-arious post-Worlds celebrations? Yes. However, the Californian often seems to find his stride out East, as he has this year in Massachusetts and Vermont. If nothing else, call this pick a nod to the new champ. ~Alex Williamson
The Cavalry
This is Andrew Fish territory. He's played in the Delaware Challenge the past four years, winning the event in 2017. Expect him to put up a fight against the national touring pros. ~Benn Wineka
Philo Brathwaite seems to be happy with his top 20 finish at worlds.  But look for him to be highly-motivated to carve those tight lines at Iron Hill to a much higher finish. ~Aaron Howard
2018 MP40 World Champion Dave Feldberg is having a great season. He also won this event in 2015, so he has familiarity with the course. Youngsters beware! ~Becca Kephart
Eric Oakley's got all the talent, and he is going to put it together this weekend. Post-wedding and Worlds adrenaline be damned, this is Oakley's time. ~Chris Wiklund
Alex Russell won the Majestic. He took third at the Charlie Vettiner/Wendell Moore Open and the Pittsburgh Flying Disc Open. Iron Hill Gold seems favorably matched to his skillset. ~Patrick Aubyrn