Ten of our favorites you might have missed last month
Disc golf, professional and otherwise, is getting bigger all the time and that means it's busier than ever. It can be hard to keep up with everything. That's where our Monthly Dime comes in, where we find and review 10 of the best and sometimes random disc golf related things that caught our attention each month. While we won't pretend to be able to provide a comprehensive accounting of everything that has happened, we'll do our best to keep this both informative and fun.
---
1. The Music City Open made a big impression this year, both on and off the course. As part of the festivities, Will Schusterick was invited out to the Nashville Sounds minor league baseball game to throw out a ceremonial first disc.
Tonight I got to throw the first "Disc Golf Home Run" at First Tennessee Park before the Nashville Sounds game! Good memories in Nashville! Thanks to all the homies that showed up for the support???@latriciaschusterick @david_myers @elainemyerstn @brandonbrown3563 @cdick1322 @its_clintonious @the_squints11 @drew_gibson @nickmasters21 @ethansmith4031 @t_bagwell901 @kambagwell @cjuice954 @portofca11 @b_bos7 @calebwebsterdiscgolf?#prodigydisc #poweredbyprodigy #discgolfinstruction #nashville #nashvillesounds #sounds #discgolf

Posted by Will Schusterick on Wednesday, August 1, 2018
2. And big congrats to Brian Earhart for choosing the best walk-out music ever, also at the MCO.
Nashville walkout music Brian Earhart
3. This is a devastating splash-out. The man throws a thumber, water skip ace run. Just give it to him.
My buddy Alex with the thumber water skip ace robbery. No sound so use your imagination ? Dynamic Discs #sctop10IIIIII#?⛳️ #discgolfordie #dgod #discgolf #discgolfovereverything #dgoe #michigandiscgolf #midmichigandiscgolf #mmdg #growthesport #discgolfscene #517 #lansing #pdga #97103 #discgolfvideos #discgolfphotos #iphone7 @JTC679 #michigandiscgolf #discgolfvideos #discgolfforlife #discgolfgram #discgolfporn #treelove #dgdaily #LBDG #livebreathediscgolf

Posted by Disc Golf or Die on Sunday, August 26, 2018
4. For every bad break there's another disc golf angel that gets its wings. Here's James Hufford doing crazy stuff. This was to push a hole in a playoff. He had already to this point "shot a 1067-rated round, had a 442-foot ace, tied the leader from the third card, and shattered the course record" with a 16-under par 43. Unfortunately, he'd lose the playoff at the Lewis & Clark Open. He'll always have this shot though.
B-Tier MPO Playoff round. James Hufford on his second shot while the other player is parked near basket. from discgolf
5. And just like that, Eric Oakley births a meme. Is that good?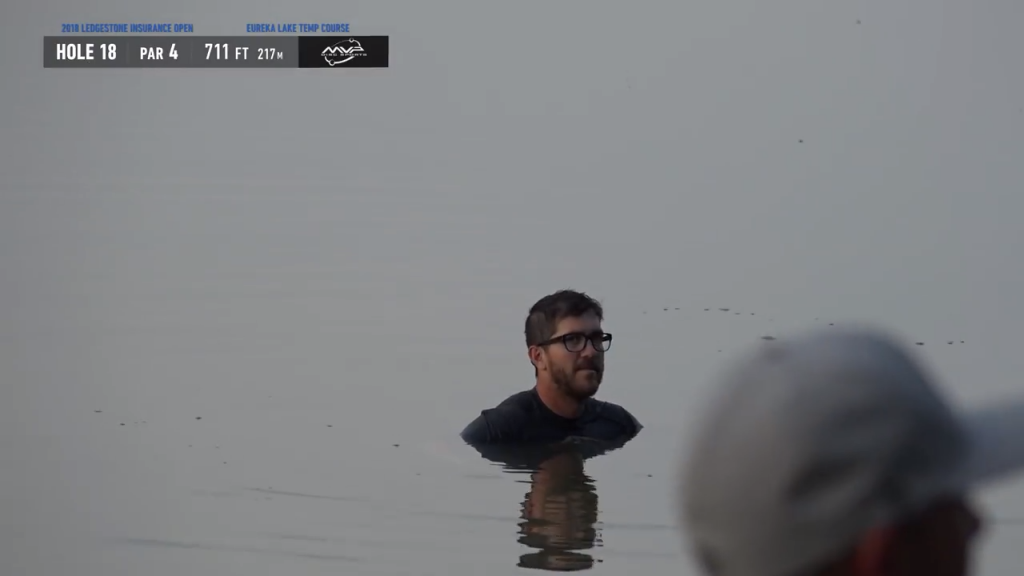 6. This Wraith is beat into straight. "What a line!"
My disc of choice from UNIVERSE champion: Andrew from discgolf
7. Insert some Bob Saget snark.
8. Scooter gang, scooter gang, scooter gang.
9. Disc golfers find baskets everywhere. Also, Krushbar would be a great name for a 19th hole.
So they've been doing some renovations at the local KFC… from discgolf
10. Disc golfers also always make sure to play it where it lies.
I'm both impressed with the shot and terrified that this man is playing on a playground.

Posted by Fake PDGA on Friday, August 10, 2018