Bjerkaas holds on to second over Fajkus; Finley ties for the -5 hot round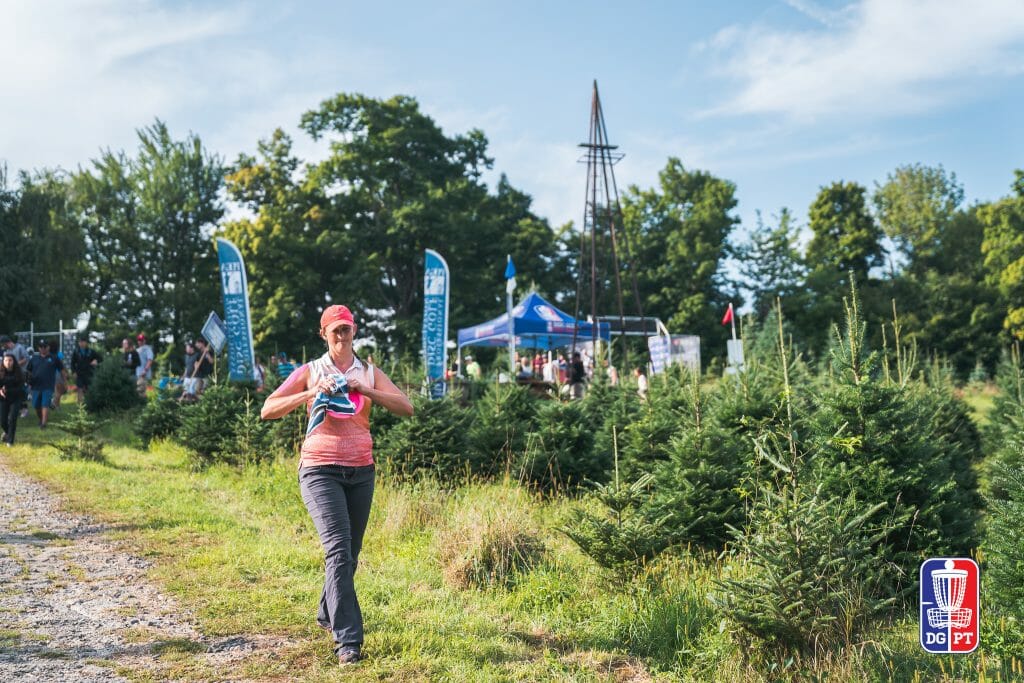 Sarah Hokom kept her foot on the pedal and cruised to her first-place finish at the MVP Open at Maple Hill. Hokom won with a dominant 7-stroke margin of victory, carding a 5-under par 56 to tie for the hot round and finish with an 11-under par 172 for the weekend. It was Hokom's third win on the DGPT circuit this season.
Paige Bjerkaas solidified second place with a 1-under par 60 final round and a 4-under par 179 total. Lisa Fajkus grabbed the final podium spot by one stroke over Rebecca Cox, finishing at even-par 183 after three rounds in Massachusetts.
After the tournament, Hokom described the importance of staying "mentally strong" in her preparation before the high-profile event.
"I had a lot of time to practice because I was here the previous week for the AM side so I was able to get in three or four rounds of golf," Hokom explained. "I had a solid physical game plan and mentally I was trying to stay in a mastery mindset, to keep getting better, which actually ending up working, I got better and better each day."
Indeed, Hokom's score improved each round, and her round ratings jumped from 977, to 984, and culminated with her 994-rated send-off on Sunday. But Hokom knew better than to take anything for granted in the final round.
"Honestly I had in the back of my mind—I was pretty sure Paige Pierce was going to come back and give me a run for my money from the second card," Hokom reflected. "I wasn't looking at the live scoring—I was leaving that up to my caddy—but I was thinking there's no point in laying stuff up. Also those last five holes you can get all five of those birdies, so even if you're up by five you could easily go the other way."
For Hokom, she felt her experience at Maple Hill gave her an edge over the talented but less well-traveled younger players in the field.
"I've played the course 10 years in a row now, so that really helps. Rebecca and Paige Bjerkaas put up some really good rounds for being so new to the course," Hokom said. "Once that course bites you in a couple different ways you learn some things. So many things have to converge to win a tournament like Maple Hill because the lines are so tight, mentally it's really difficult…you have to throw good shots and also get lucky. That happened for me this week and I just feel very fortunate."
Hokom averaged 985-rated golf at Maple Hill and continues a season of high-level play. In fact, since April, Hokom has turned in rounds rated 1000 or higher three times and almost half (24/50) of her last 50 rounds have been rated 970 or higher.
On a course that demands accuracy and scramble ability, Hokom was steady through the early part of the round carding all pars before birdieing the very difficult 320-foot par 3 6th. That hole averaged almost a full stroke over par through the weekend—Hokom and Madison Walker were the only players to birdie it.
From there it was smooth sailing into the Sap House for Hokom, who only carded one bogey down the stretch while mixing in some highlight-reel birdies. One standout throw was on the 405-foot par 3 13th where she put a flex forehand right to Circle 1 and converted the birdie—one of just two from the field on the hole all tournament. Hokom executed throughout the tournament, tying for the top in fairway hits at 72-percent and leading all competitors with a 75-percent scramble rate.
Round Three 2018 MVP Open Sarah Hokom hole 13
As for the rest of the podium, Bjerkaas struggled at times on the green and found some obstructed putts, but still put together a solid finishing round with 72-percent fairway hits. She added a long throw-in par for good measure on the challenging 420-foot par 3 9th:
Round Three 2018 MVP Open Paige Bjerkaas hole 9 throw-in
Rebecca Cox put together yet another impressive tournament staying on the lead card in the final two rounds. She tied Hokom with 72-percent fairway hits and led the field in Circle 2 putting. She laced several excellent drives in the final round, including a perfect throw off the tee on hole 7 that gave her a drop in birdie:
Round Three 2018 MVP Open Rebecca Cox hole 7
Fajkus struggled a bit out of the gate Sunday, shooting 3-over par through the opening four frames, but then dialed it in through the finish collecting five birdies. Despite the rough start, Fajkus knew she still had plenty of opportunities left.
"I was thinking I can birdie literally every hole," Fajkus said, assuaging any nerves about her rough start. "I was really excited just to play every single shot because I was looking at UDisc Live and the stats for my competitors for round one and two and I noticed that Paige Pierce lit it up on the back 9, same with Sarah Hokom, and I thought to myself that I could do that too. I knew you just have to wait for your birdies to come — you might pick up a bogey, you might pick up a triple bogey — but you know that you can string together five birdies in a row."
Her 2-under par 59 final round included two Circle 2 connections and she led the field in Circle 1 putting at 93-percent throughout the three-round event. Fajkus is looking forward to taking her strong putting stroke to Vermont in two weeks for the high-pressure situations worlds brings.
"I think it's confidence headed into worlds, man it just feels so good to shoot my best round that third round," Fajkus said. "It was a small monkey off my back, I still feel like I have monkeys on my back, but I still feel like it was such a feel good round for me. I like to play in front of galleries and I don't mind when the video cameras are there, I like being filmed, I like the pressure situations."
Holly Finley had a great final round, tying Hokom for the hot round at 5-under par 56. She got there with 78-percent fairway hits, an 89-percent scramble rate, and 94-percent Circle 1 putting. That moved her up five spots to capture solo fifth place and a 3-over par 186 total for the tournament.
---
With her win, Hokom overtook Paige Pierce for first place in the Disc Golf Pro Tour points standings as they head into the Tour Championship starting October 18th. Both Hokom and Pierce, along with Jessica Weese and Catrina Allen earned byes to the semifinals.
However, all eyes now turn to next to Smugglers Notch for the PDGA Professional World Championship that begins on September 5th. After the big win and impressive summer Hokom has put together, it's pretty clear who has the momentum heading into the most important tournament of the year.