Cox, Bjerkaas, Allen tied in third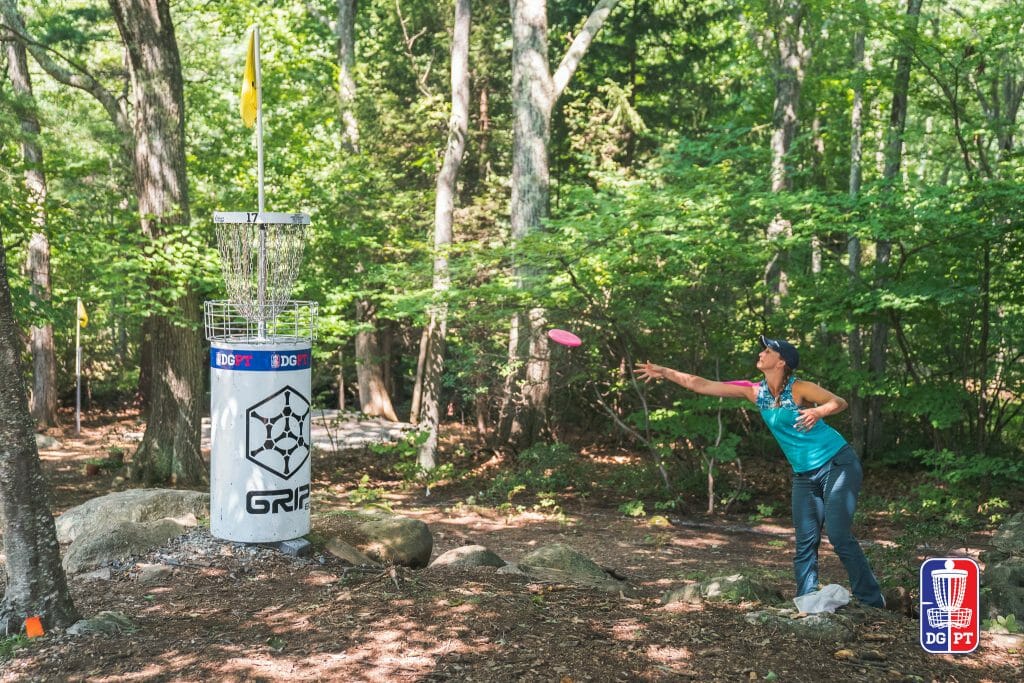 This year Sarah Hokom and Paige Pierce have dominated the Disc Golf Pro Tour and after the first round of the MVP Open at Maple Hill that continues to be the story with the pair tied at the top.
However, even with Pierce and Hokom both in the clubhouse at 2-under par 59, others in the field are still within striking distance. Rebecca Cox, Paige Bjerkaas, and Catrina Allen all carded even-par 61 and are tied for third place. Because of a higher PDGA number, Catrina Allen will be the one left off the lead card for the second round. Lisa Fajkus carded a 1-over par 62 and sits in solo sixth place.
Pierce scored early, throwing a perfect drive over the water on the 720-foot opener. She then threw a great upshot onto the island green setting herself up for the easy, and only, birdie in the field. Pierce slowed down after that and didn't card another birdie until she parked the very uphill 230-foot hole 10. Pierce had birdie looks on holes 7 and 8 but failed to connect on her putts.
The 650-foot par 4 12th was a difficult one for the field with no birdies. Pierce had a quality chance yet it remained elusive after a tough spit out. On the iconic hole 14, which requires a right to left moving shot out over water, Hokom parked her drive with a backhand while Pierce went OB with an aggressive birdie putt attempt. Pierce responded by parking her next drive for the only birdie of the day on hole 15. 
Round One 2018 MVP Open at Maple Hill – Paige Pierce hole 15
Including the 15th, Pierce was dialed in for the final four holes, collecting a birdie on each. Hokom also had a strong finish of her own. She carded birdies on the final three holes, and almost threw in an eagle on hole 16.
How We Got Here
Pierce won the first three events on the DGPT circuit this season. It appeared as if she might not lose all year until Hokom took the win at the San Francisco Open in May — the fourth stop of the tour. The pair skipped out on the Utah Open, which was next up on the series schedule, but Hokom returned for the Great Lakes Open and got another win.
Last month, Pierce and Hokom separated themselves from the rest of the field at the Idlewild Open to take first and second. At Ledgestone, for the first time this year neither won a DGPT event that they both played, but Hokom still finished in second. This places the pair in the lead for tour points, although Jessica Weese and Catrina Allen are close behind. With this being the final stop before the tour championship, players will have to make a big push if they want to get into the top four spots that earn a bye to the semifinals.
Bigger Field, Better Scores
Last year in the first round, Valerie Jenkins absolutely owned the field, carding a 3-under par 62. Zoe Andyke and Pierce were five strokes behind with the next best score. Although the course layout is slightly different this year and a par 61 instead of 62, there was a big improvement in scores for the top 10 in round one. In 2017 the top 10 averaged 3.3-over par, this year that average is down to – over par. The field size has also increased, with 30 competitors this year compared to 22 in 2017, though last year's runner-up Jenkins is not in attendance.
Throw-In Party
Maple Hill is known for its trees, water, and tunnel shots, but several players found a line to the basket from distance. Paige Bjerkaas connected for birdie on the par 4 hole 16 from the edge of Circle 2. Erica Johnson got her birdie on hole 7 with a 66-foot toss. Holly Finley saved her par on hole 15 from 126 feet, and Cheneille Young got a birdie on hole 18 from 80 feet. Ellen Widboom was also able to save her par after going OB on hole 8 by throwing it in from the drop zone 103 feet away.
International Players
Two players made the trek across the pond to compete at Maple Hill. Familiar Slovokian player Katka Bodova had a bit of an up and down round, carding a 5-over par 66, but still shot above her current rating. Norwegian Lykke Sandvik has only been competing for about a year and shot a very clean front nine that at one point had her tied for first. However, the back nine proved to be a bit more challenging for Sandvik, ending her day carding a 6-over par 67. That gave her a round rating of 908, almost 50 points above her current rating.
---
The lead card of Pierce, Hokom, Cox, and Bjerkaas tees off at 8:20 a.m. local time. Follow along here at Ultiworld Disc Golf for coverage all weekend and check UDisc Live for up-to-the-minute scoring. Edited post round footage of the lead card will air at 2 pm EST on the DGPT YouTube channel.