Sights and sounds from day one at the famed Maple Hill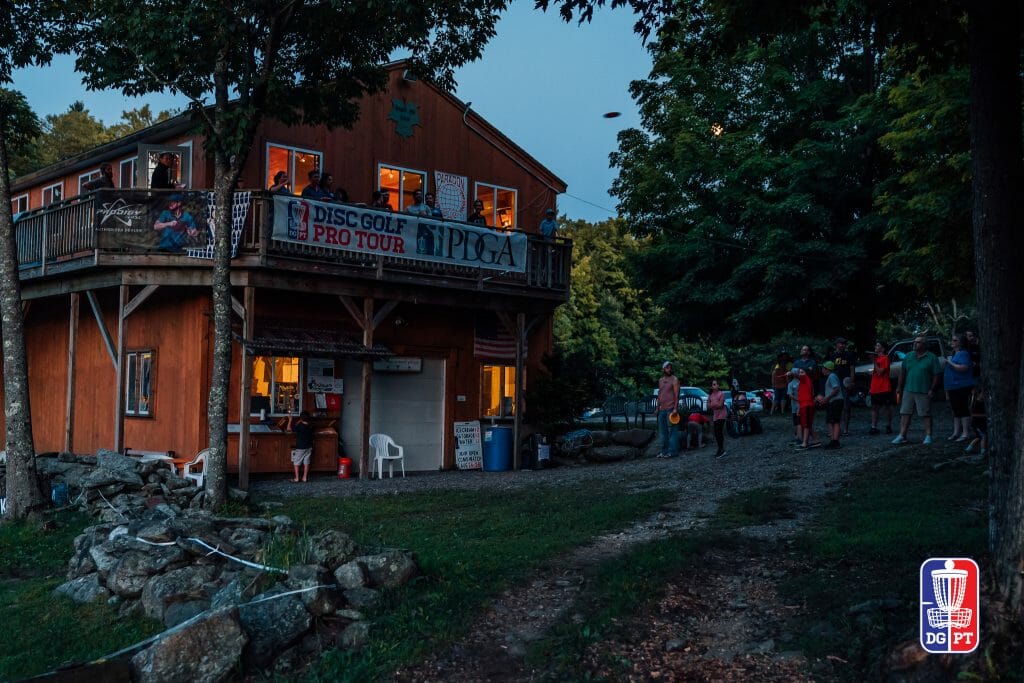 LEICESTER, Ma. — Every stadium or arena I have ever been to always looks bigger and badder on TV than it does in person. This is true of every baseball park, football field, theater, and concert hall I've seen on screen and in person.
Maple Hill proves an exception to the the rule.
Watching footage from previous events at Maple Hill can give you some sense of the lines these players are asked to throw, but not necessarily an idea of how incredibly long a distance they are being asked to control their discs over combined with the degree of accuracy necessary to play well. The first hole at Maple Hill, over the pond, immediately puts things into perspective. This weekend will be an education.
I've been wondering what I'm more excited for, the golf or the event in general? I can't answer that honestly and after day one, I'm not sure I'm any closer to an answer. This weekend is off to a great start.
Arrival and Meandering
The weather is ideal. I'm a man built for colder seasons and I've been hoping against hope for dry temperate weather. The skies have cooperated and I can breathe easy knowing that I will not be trying to interview people while visibly dripping from every pore. My fellow sweaters will know this feeling. Today was for us, brothers and sisters.
I've missed the very early Open Women division tee times but am just in time to watch the early Open tee times. If you saw our Twitter and Instagram posts, I did my best to clue you in on the scenes.
Milling around the first six holes seems like a good way to kill some time before noon when I plan to follow the card featuring Eagle McMahon, James Conrad, Michael Johansen, and Juhani Vainio. I end up following Nate Sexton, Matt Dollar, Gregg Barsby, and Drew Gibson in the meantime. You'll see Gibson's drive on hole 6 on CCDG. Unreal. As noon approaches I make my way back to hole 1 and happen across the card featuring Jeremy Koling and Paul Ulibarri.
Into the Course
I am semi-local to Maple Hill. I live about an hour and a half away and have played the course before, but from the white tees to the white pin positions which are significantly shorter than the golds. I have some familiarity with the lay of the land and how stunningly beautiful the property and course are, but I have never seen the course first hand from the pro perspective, playing gold. I can assure you that it is a wild experience walking up to a tee and thinking about how you would personally attack it, and then watching Michael Johansen just pipe a slow, glidey, perfect shot down a lane you can only dream of thinking about maybe hitting, one day but probably not any time soon or ever.
The gallery following the McMahon, Johansen, Conrad, and Vainio card is relatively large and genuinely full of men, women, and children of all ages. There are a fair number of kids aged eight to 12 who are following along. They're an easily impressed bunch, and we are following a very impressive card.
Back-ups are a very real thing when you have a card rated a combined 1,000,000 playing behind a…less highly rated card. While we are backed up before hole 6 I ask one of the kids, "which throw was the most impressive so far?"
A young man, aged 10 from Canton, Massachusetts, tells me that he favors McMahon's tee shot on hole 1. I have to agree.
"Who's going to win?" I ask next.
"I don't know. I need to watch more before I pick. It's early," he answers. Wise beyond his years.
I notice that everyone around me, players included, are committed to everyone else's success. For the fans, they want their fellow spectators to have a good time and a good view. The players want each other to do well. They want us to have a good time. I discover that James Conrad is the king of high-fives. I lose track of how many he has given out over the course of the round by the time we get to hole 8.
Players who have finished their rounds are roaming the course trying to find their friends' cards. Nate Perkins and Kona Panis are splitting time between the card I'm following and the one ahead of us.
I run into a woman named Catherine McDevitt, from Maine. She runs a course and sponsors Mike Fyfe with apparel and by covering his tournament entry fees. She tells me that she has known Mike's family for years and describes him with deep affection.
"I've known Mike since he was knee-high to a grasshopper," she says. "He's got a real good attitude about the game, he's an all-around good sportsman." She goes on to tell me that Fyfe has been battling injuries all season, but has been toughing it out.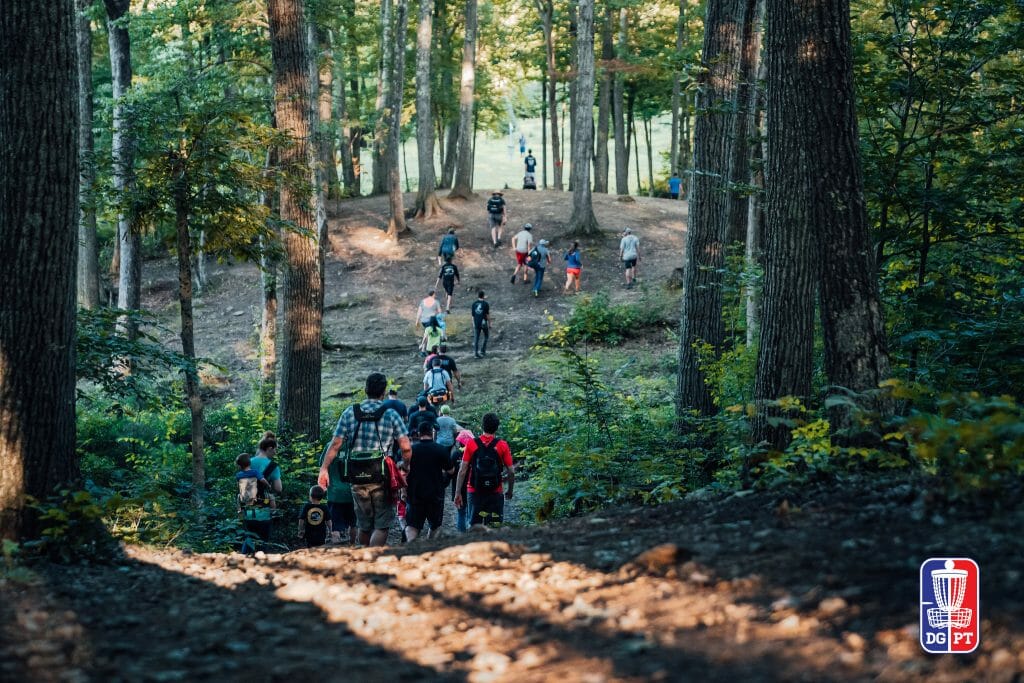 Out of the Woods
I meander back to my car to go get an iced coffee. I follow A.J. Risley's card on 13, watch him and Pierce discuss how they will celebrate their eventual hypothetical victories. I won't spoil it for you any of you but I can say with confidence that it definitely does not include animals, live or stuffed.
I decide to take on the second half of the day by planting my rear at the green for hole 18. The men of Dynamic Discs have made the same call and are leading the chants and cheers from the bleachers next to the pin. We watch all the aggressive runs at the island green from way too far out. Plenty of these dreamers' shots make the island and earn applause and hoots, still more of those bids from 350 feet out fall short or go screaming toward the Sap House.
I must have missed the McMahon, Johansen, Conrad, and Vainio card finish because all around me are the kids who were trailing the card with me earlier in the day. They are practicing their putts, protesting that they can't leave because they want to get better. They are getting autographs and 'ooing' and 'ahhing' as shots float in toward the pin.
There is food and drink and camaraderie in the air. Not a bad first day.