Colglazier and Locastro make big jumps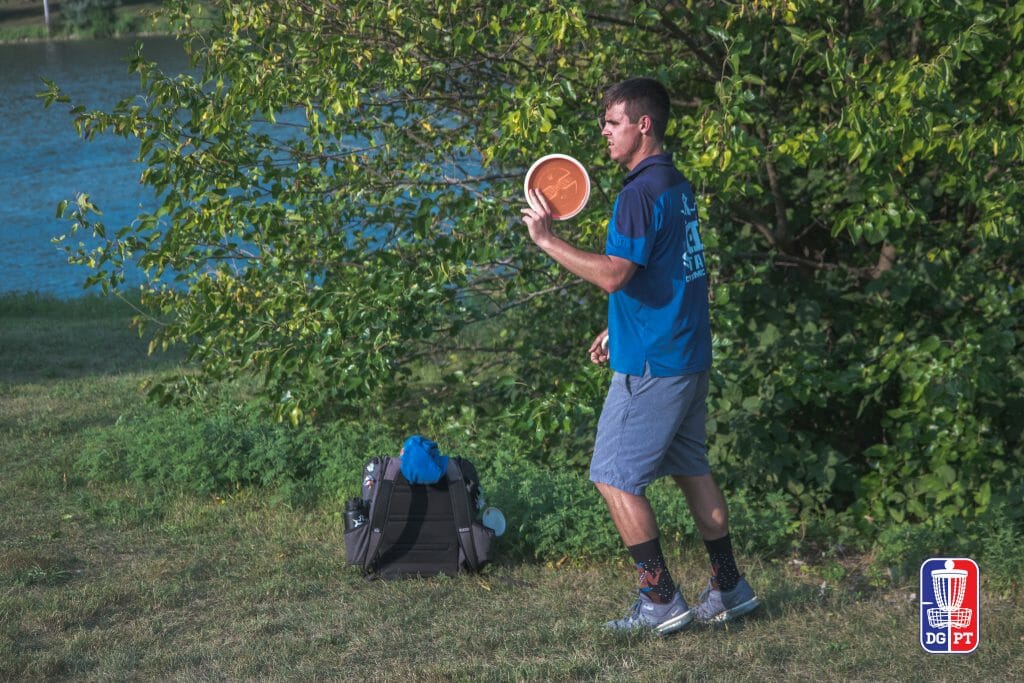 Day two of the Ledgestone Insurance Open was not pretty outside of a few exceptions. Because of that, we saw some fluctuation on the leaderboard and some major movement before moving day.
A.J. Risley tied for the hot round with a 10-under par 53 and catapulted himself from way down in second to first at 18-under par 108 total. That gives him a five-stroke lead on Cam Colglazier, who also shot a 53 and rose 16 spots in the standings, sitting at 13-under par 113 total. Nikko Locastro matched their 10-under par mark, jumping 33 places into a tie for fifth with Michael Johansen at 10-under par 116 total.
Nate Sexton and Chris Dickerson kept themselves in contention with 4-under par 59 and 3-under par 60 rounds, respectively. They are tied for third at 11-under par 115.
Smothered and Covered
Risley is feeling himself at Lake Eureka at the moment. An early double-bogey six on hole 2 could have spelled danger but instead he rallied for 12 more birdies, 13 total, on the round. After salvaging a poor tee shot with a 71-foot birdie on hole 3, Risley's momentum was palpable. He showed no signs of slowing down.
"I've had plenty of first rounds like this that put me up towards the top early on," Risley said before the round. "I haven't always finished out the best, but I've been here before."
Any lingering nerves must have quickly dissolved.
On the round, Risley would only record one OB stroke, and for the second day in a row finish 100-percent on Circle 1 putts. He would also finish atop the fairway hit percentage UDisc Live category at 89-percent for a second time in two outings during the Disc Golf Pro Tour stop.
Moving on Up
Colglazier was in danger for a stretch that could have easily sunk his 4-under through four holes start. During the back half of the front nine, Colglazier lost two stokes, but he took advantage of the lower scoring back nine and stacked eight birdies. A big 50-foot birdie on the 805-foot par 4 14th started a string of five birdies to finish the round. He was 100-percent from Circle 1 as well.
Close to as good as Colglazier's back nine was Locastro's seven birdies after the turn. He similarly had a big 50-footer, his to save a par, and putted 100-percent from 10 meters and in.
We should also acknowledge Reid Frescura's 8-under par 55. It helped him move up 10 spots to a tie for eighth with Gregg Barsby at 9-under par 117 total. Frescura was bogey-free until the island hole 17.
World Champs Still Behind
Paul McBeth was again struggling to get anything going in Illinois. He was not able to card two consecutive birdies all Friday and added five OB strokes. He is currently in 34th at 2-under par 124 total.
While he's in the top 10, you had to expect Ricky Wysocki to make a move toward top card. He's currently three strokes off of breaking into the top four.
Part-time Leaders
Garrett Gurthie wasn't able to hold the thin round one lead he had. Seven OB strokes and 82-percent Circle 1 putting aren't going to protect your neck at no. 1.
For a minute there, it looked as if Kevin Jones had forced his way into the conversation of contender as he came out of the gate with five straight birdies. Back-to-back double bogeys the next two holes and a snowman 8 on hole 13 put an end to that though.
---
The lead card of Risley, Colglazier, Sexton, and Dickerson is scheduled to tee off at 3:15 p.m. local time, weather permitting. You can follow along with the live scoring at UDisc Live, and the live broadcast begins at 3:00 p.m. eastern time on the DGPT YouTube channel with the Open Women lead card up first before the Open card tees. Check back in here at Ultiworld Disc Golf for recaps and coverage of the final round.