10 players within four strokes of the lead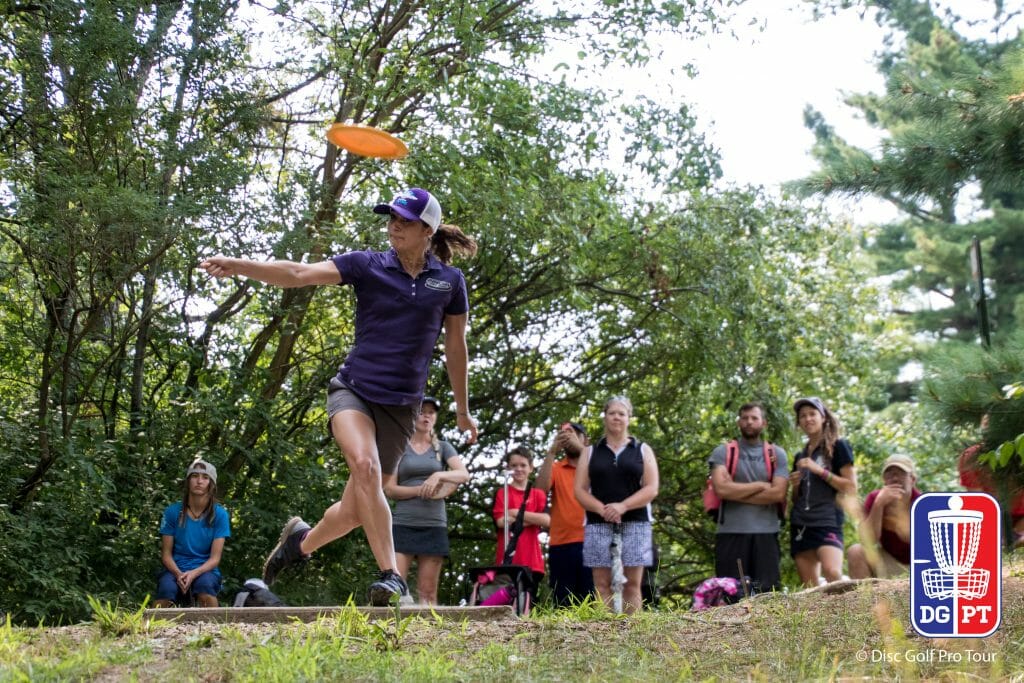 On a very attackable but heavily wooded Northwood Park course, the Open Women division got things started at the eighth stop on the Disc Golf Pro Tour. The Ledgestone Insurance Open is known for its big payouts, and the 26 players vying for the cash found that getting birdies was essential to compensate for some trickier holes where high scores are all but assured.
Paige Pierce and Jessica Weese were able to score and stay away from too many big numbers, and are tied for the lead at 2-under par 56.
Familiar Faces Atop the Leaderboard
Weese and Pierce arrived at their 959-rated scores in similar fashion. Starting on course hole 4, both fared very well through the first five holes with Weese shooting 3-under and Pierce 2-under. However, the 354-foot par 3 9th showed its teeth, where both women took double bogeys—Pierce missed the fairway from the tee and then her scramble attempt as well, while Weese's scramble was equally errant, and she couldn't save bogey from circle 2. In fact, hole 9 played as the toughest on the course averaging 1.27 strokes over par.
Pierce bogeyed hole 11, but played clean otherwise, adding three more birdies through the final 10 holes. Weese collected bogeys on holes 18 and 1, but also managed to card three birdies to offset them, and pars otherwise.
Not far off the leading pace are Catrina Allen and Paige Bjerkaas who both came in at 1-under par 57, tied for second place. No one can get comfortable with their score yet, as eight other women are three strokes or less behind them. Notables in that group are Sarah Hokom, tied in sixth place at 1-over par 59, and Lisa Fajkus and Rebecca Cox who are tied in ninth place at 2-over par 60.
The Best Way to End Your Summer Vacation?
This weekend also features three junior-aged players, Cynthia Ricciotti, Esther Schultz, and Hailey King. Ricciotti, fresh off her FJ-18 World Championship win, shot an impressive even-par 58 and currently sits in solo fifth place. This leaves her just two shots back of the lead in her first event competing in Open Women. She was at one point tied for the lead, carding three birdies in a row before a double bogey on hole 9 gave a couple of those strokes back.
Schultz also had an impressive outing, carding a 2-over par 60 that puts her in a four-way tie for ninth. King, the highest rated of the three was on the feature card. The cameras may have caused some nerves and King ended the day with a 5-over par 63.
Out of Bounds Strokes? Not An Issue
Northwood Park features very little out of bounds, and only two players took OB strokes. But with many trees and potential for dangerous kicks, players' ability to carve lines and scramble was of utmost importance.
The field moves to the Sunset Hills course for round two. Located on a golf course, the players will face a lot more OB.
---
The lead card of Pierce, Weese, Bjerkaas, and Allen is scheduled to tee off at 8:54 a.m. local time. You can follow along with the live scoring at UDisc Live, and edited video footage from the round begins at 3:00 p.m. eastern time on the DGPT YouTube channel. Check back in here at Ultiworld Disc Golf for recaps and coverage of the final three rounds.