Hokom finishes second by wide margin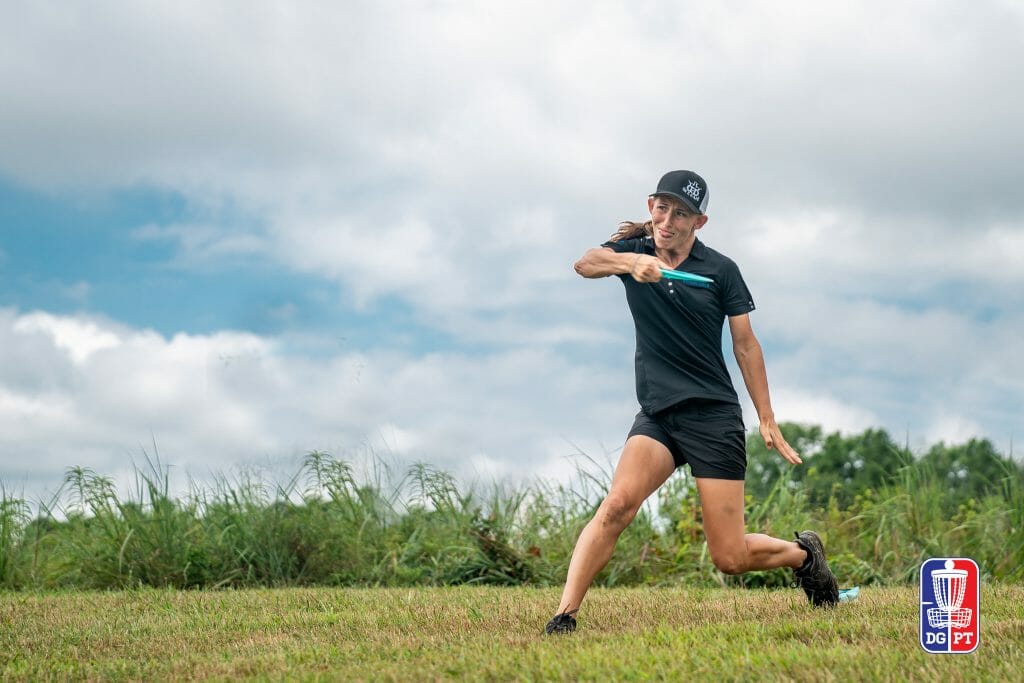 Imagine doing something as well — no, better — than it's ever been done. Now imagine knowing you can do better.
I guess that's what makes world champions.
Paige Pierce tied or beat her own course record at the Idlewild Open every round on the way to a seven-stroke victory and fourth Disc Golf Pro Tour win of 2018. A 3-over par 69 Sunday brought her tournament total to 8-over par 206. It was also the 11th win for Pierce this season.
"There were still mistakes I can clean up 365 days from now," Pierce said, looking forward to Idlewild in 2019. "As a player, I'm only going to get better."
Sarah Hokom finished second at 15-over par 213 total, a score which would have tied Pierce's runaway win in 2017. Instead of a win, Hokom was rewarded with a cushy 13 stroke buffer between herself and third place Rebecca Cox, who ended the weekend at 28-over par 226 after a very impressive 5-over par 71 final round where she hit 95-percent of her Circle 1 putts.
But back to Pierce. Teeing off Sunday, she was only two up on Hokom who'd been almost matching Pierce tit-for-tat during the opening rounds. While weather had slightly affected the Open Women's opening round, the players had stayed relatively dry for most of the event. Chances of inclement conditions were still in Pierce's mind though through the final round. Those thoughts quickly changed to a daunting task of keeping her disc in playable lies in Idlewild's tight confines.
"You want to stick to your game plan, but that game plan is only obtainable if your tee shot lands where you think it's going to land," Pierce recapped Sunday night. "All the holes out there — it's very easy to end up way far away from where you planned. At that point, on your second shot, you're already off any plan. It's a lot of scrambling…it's a matter of winging it out there."
And just like every other round, she managed the woods perfectly. After grabbing the necessary birdies early on the more open holes, going 3-under par through four, Pierce buckled down.
Round Three 2018 Idlewild Open – Paige Pierce Hole 4
Once the card entered the tree-dotted fairways of hole 5 and beyond, the scramble clinic began. Having already grabbed early strokes on Hokom, Pierce would go 1-over par through the next nine holes to Hokom's 7-over par — a nine stoke swing for the day, effectively putting the comeback out of reach.
For Pierce though there was no laurel resting. She knew what still lay ahead.
"I was pretty much trying to attack the whole time," Pierce said. "On 16, 17 and 18 you can give up nine strokes. I don't think I was comfortable until the 18th tee."
Despite going 5-over par over the final five holes, including a three putt on hole 15, Pierce rode an impressive weekend to a close and her first win in almost two months, a stat that seemed improbable at the start of the season when she won the first nine events she entered.
After skipping the year's first major at the Konopiště Open to be in Emporia, Kansas for the PDGA Junior World Championship, Pierce said she's feeling like things are clicking again.
"Nothing was mechanically wrong. Just one bad putting round that turned mental and stayed with me a few weeks," she said. "I was struggling with my putt a lot. I didn't miss a putt that I considered a bad miss until the 15th on the third round. I think it was just a necessary week off and a mental refresh."
Not that she even needed to worry about her putt during the third round though. Pierce's 80-percent fairway hit rate on Sunday was by far the best of the tournament and contributed to her division leading stat. She also led the field in parked shots, reaching Circle 1 and Circle 2 in Regulation, as well as birdies. Her 90-percent Circle 1 putting mark was her best at a DGPT event all season.
Besides some early miscues on the putting green, it was nothing unusual for Hokom during the final round to push her off the pace besides finally not getting the breaks you need at Idlewild. The 8-over par 74 score is respectable on the Kentucky course, it just unfortunately came during a tournament where Pierce was firing on all cylinders.
Further down the leaderboard, Jessica Weese matched Cox's 5-over par 71 and moved up a couple spots into a tie for fourth at 29-over par 227 total with Holly Finley.
Paige Bjerkaas finally grabbed a couple birdies, including one from the outfield on hole 16, to finish in sixth with a 31-over par 229 total.
Round Three 2018 Idlewild Open – Paige Bjerkaas hole 16
The Disc Golf Pro Tour returns in three weeks at the Ledgestone Insurance Open, August 9-12 in Eureka, Illinois.