It's down to two with third place 15 strokes off the lead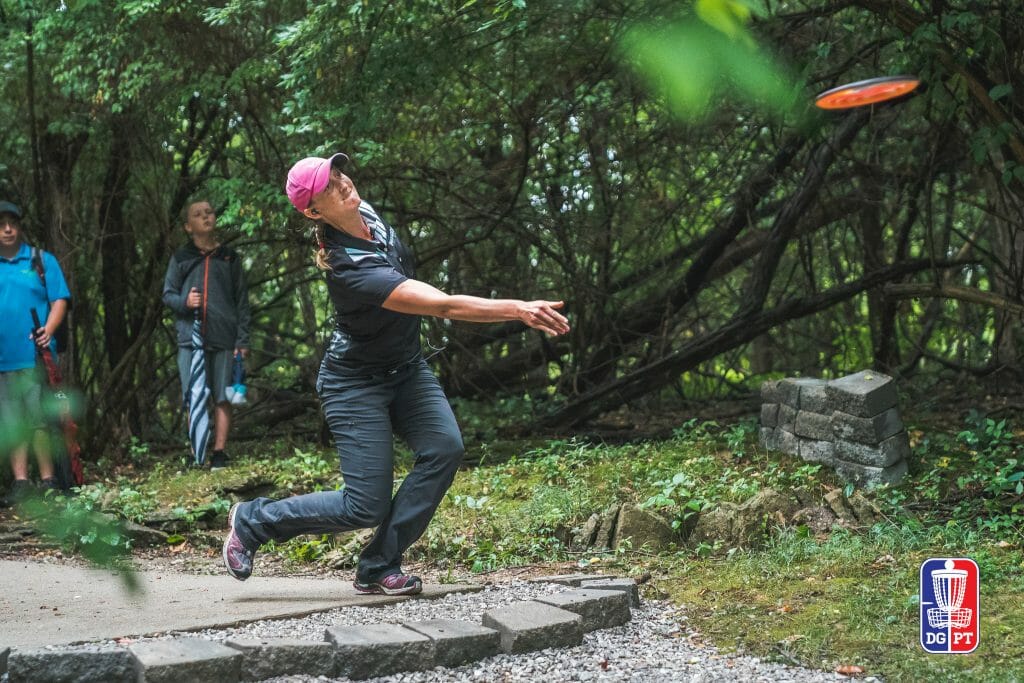 If you were only peeking at the scorecard, you wouldn't know the Idlewild Open has been the rain-soaked weekend it has. Two women are putting together an impressive run towards a victory and they've left the rest of the field in their wakes.
Same As It Ever Was
For the second day in a row, Paige Pierce tied or bested her own Open Women's Disc Golf Pro Tour course record. The second round 2-over par 68 brings her leading two day total to 5-over par 137, seven strokes lower than her winning pace last season.
The birdies did not come as often Saturday but Pierce was helped along with a day-leading 72-percent par rate, on a layout where pars may as well count as scoring opportunities.
Round Two 2018 Idlewild Open – Paige Pierce Hole 6
In an effort not to be outdone, Sarah Hokom again finished her second round one stroke behind Pierce and is in second at 7-over par 139. Hokom has the best scramble rate for the division on the heavily wooded Northern Kentucky course. Barring a double bogey on hole 18 for the second day in a row and Hokom could be tied for the lead.
Hokom and Pierce are both either first or second in most of UDisc Live's measurable stats, including Fairway Hits, Parked Shots, reaching Circle 1 and Circle 2 in Regulation and birdie percentage. The next closest competitor is 13 strokes behind Hokom.
Round Two 2018 Idlewild Open – Sarah Hokom hole 16
Possibly more impressive than the runaway nature of their performances is the stellar consistency. Pierce and Hokom have shot over 990-rated golf in each round, with Pierce averaging 997.5 and Hokom averaging 991.5. Round ratings over 990 are not uncommon in the division in any given tournament. But an event where two competitors are averaging over 990 is. If they can sustain the pace in today's final round, that should make for a close and tense finish down the stretch.
Tight Battle For Podium
Down the leaderboard, places third through ninth are separated by only seven strokes, a margin easily erased over a good/bad day at Idlewild
Holly Finley, known to enjoy more wooded courses like this one, pushed herself into third place with a very solid 972-rated, 6-over par 72, giving her a 20-over par 152 total. She is three strokes ahead of Rebecca Cox and Paige Bjerkaas, tied for fourth at 23-over par 155 total. Bjerkaas again did not record a birdie but will be playing on lead card during the final round.
Jessica Weese and Catrina Allen both shot 8-over par 74s during round two and are in sixth and seventh respectively. Another day like that and either could sneak onto the podium late. Madison Walker also has a chance to sneak up the leaderboard with a strong final day performance. She's currently in ninth place at 27-over par 159.
---
The lead card of Pierce, Hokom, Finley, and Bjerkaas is scheduled to tee off at 9:00 a.m. local time, weather permitting. You can follow along with the live scoring at UDisc Live, and edited video footage from the round begins at 2:00 p.m. eastern time on the DGPT YouTube channel. Check back in here at Ultiworld Disc Golf for recaps and coverage of the final round.