Field notes, interviews, and observations from the 2018 Konopiště Open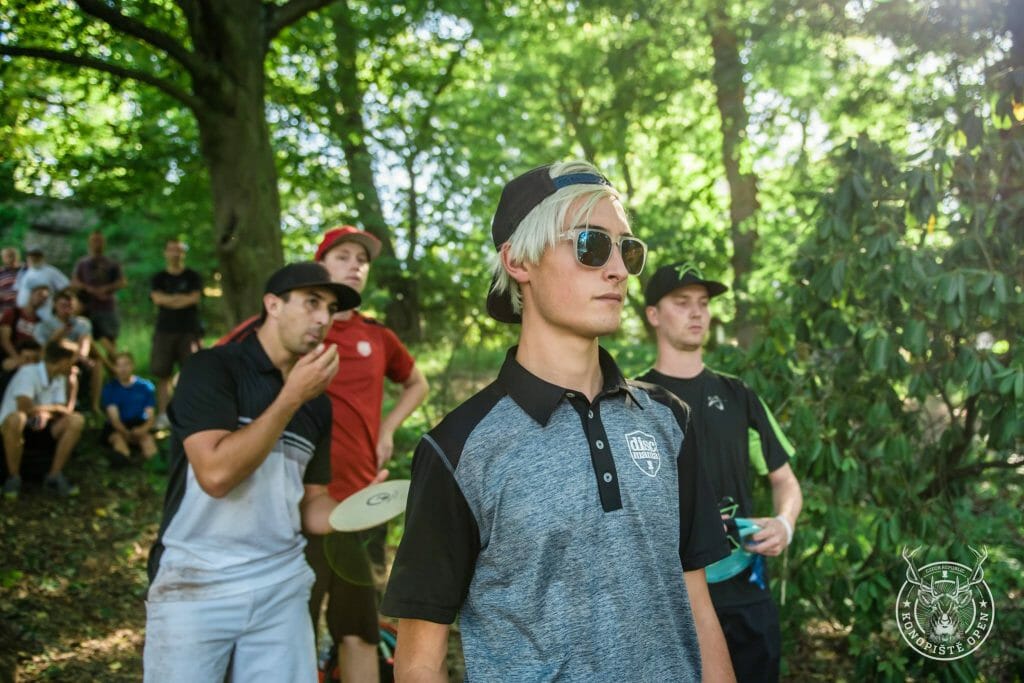 "The Czech-Out" is the conclusion to Ultiworld Disc Golf's daily update of all things Konopiště Open from European Beat Reporter Alex Williamson, "The Czech-in." To read about some of the many thought-provoking topics discussed with some of the world's best players during last week's PDGA Major, scan Alex's author page for his Czech-ins from practice day to round three.
---
Does McMahon's Domination Motivate McBeth and Lizotte To Improve?
Paul McBeth made it clear in his comments after the Konopiště Open's fourth round—during which he came from the chase card to take third place—that unless he wins, he doesn't care much about the result. Considering that, I was curious to know if being beaten so thoroughly by Eagle McMahon over the course of the week had made a player who's currently tied with Ricky Wysocki as the highest rated player in the world at 1044 (two ahead of McMahon's 1042 rating) think about what he could do to turn the tables at their next meeting.
"Just clean it up a little bit," said McBeth. "I only got to play one round with Eagle, but there wasn't anything that he did that blew me away. It was just his consistency. He wasn't in trouble much, but when he was, he got up and down for birdie."
"Just…ah," McBeth said, unable to express his frustration with his results from the weekend in anything other than that sighed syllable. "Really, I just gotta be more consistent. You can't have those off days. It took two great days and two really good days for him [McMahon] to have a comfortable lead."
I used a similar line of questioning with second-place Konopiště Open finisher Simon Lizotte. The answer, however, was a lot different and included a bit of self-deprication. Here's a play-by-play of our conversation.
ME: When you see McMahon out there demolishing the course consistently for four rounds, what do you think about at night for your own game? Do you think about changing anything to try and keep up?
LIZOTTE: [pause] No. Nope, I don't.
ME: Why not?
LIZOTTE: I'm lazy, basically.
A Lengthy Discussion on Alternate Tee Pads for Women with Vanessa Van Dyken
After round two, many players—including Lizotte, K.J. Nybo, Seppo Paju, and a host of German players—went to a restaurant specializing in wild game that sits just a short walk away from hole 18's basket. I went along, sitting at a table with Paju, Vanessa Van Dyken, and German players Dominik Stampfer and Michael Stelzer.
As deer looked on from a fenced-in area where they roamed freely through woodlands, Van Dyken and I both ordered one of their less lucky brethren—deer steak with chanterelle sauce. As we waited for the food, shortened tee pads for Open Women—both generally and specifically at Konopiště, which features no alternate or shortened tee pads—came up. Van Dyken had plenty to say on the subject, and later we caught up again for a more thorough conversation on the topic.
Given that the most prominent example of alternate tee pads in disc golf right now comes from the Disc Golf Pro Tour, it seemed natural that Van Dyken mentioned those efforts at the start of her comments.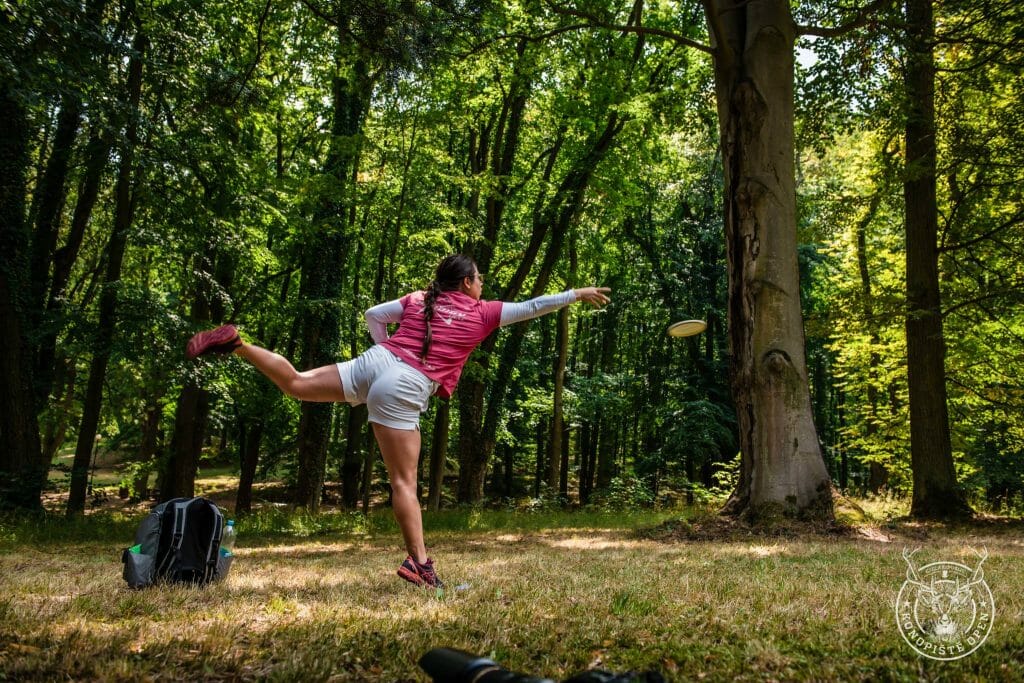 "I played some of the Pro Tour events, and there were some holes that were 350 feet [107 meters] and under, and they were shortening them to 250 feet [76 meters], and I thought those were too short," Van Dyken segued. "But now that I've played at a few of those Pro Tours, I really like the shortened tee pads. There's better separation as far as scoring goes."
She believes, generally, that the difference between Open and Open Women players in distance is around 100 feet (30 meters). For example, usually the minimum distance competitors must throw accurately to survive in Open is a little over or around 400 feet (122 meters), and in Open Women, that mark is at around 300 feet (91 meters). The top women players throw around 400-450 feet (122-137 meters) with some accuracy, and the top men around 500-550 feet (152-168 meters). 
Speaking specifically about Konopiště, Van Dyken pointed mostly to par 4s—holes 2, 5, and 17—that were good candidates to feature shortened tee pads in order to provide more Open Women players a better chance to score.
She also mentioned the 302-meter (990-foot) par 5 16th. It's a hole where you have to hit a gap that's roughly 90-100 (295-328 feet) meters away on a fairly straight line to get into the open and have a chance for a good second shot. 
"Even at max distance, some women players aren't getting out of the gap even though they had a perfect drive," Van Dyken said about the hole.
Curious, I asked Van Dyken if she was more concerned about birdies or about holes that create scoring separation.
"I don't really care if it's about par or birdie in the end, but I think separation of scoring…if somebody has a really great shot, they should have a chance to capitalize," she asserted.
Playing devil's advocate, I also asked if she was concerned that by shortening tee pads the incentive for Open Women players to improve their skillsets and distance would be reduced.
"I don't think so at all," she said. "For women who can only throw a little over 100 meters, a 330-foot hole is a max distance drive with a high-speed driver, which they'll get maybe six out of ten times. But for farther throwers, they can go with a midrange or fairway driver on hyzer and hit that line eight or nine out of ten times. They still have an advantage [and other players still have an incentive to improve to try to match that advantage]."
"I don't think all holes should be shortened, though" Van Dyken continued. "I think maybe 70 or 80-percent of the holes should be a distance that can create scoring separation and another handful of holes should give power throwers an advantage, as well as other holes that are better for sidearm throwers."
It seems that what Van Dyken is actually arguing for is that tournament directors and course designers follow a basic tenet of good design when they create courses for professional women players: variation; the same kind of variation in design men typically get to appreciate at the highest level. And what creates variation for Open Women is often different from what creates it for Open.
On Playing in Europe
Being a reporter on the European beat for Ultiworld Disc Golf, I obviously have an interest in how much big names enjoy playing on the continent where I live. So, I couldn't think of a better way to end this notebook series than by showing how a few players feel about just that topic.
Van Dyken, being a U.S. native who now lives in Finland and who plays regularly in U.S. and European events, had interesting views on the differences between competing on each continent.
"People playing the Open divisions in Europe are usually playing just to perform well or win, and in America, the women who are on tour are competing to make a living," Van Dyken said. "So it's a lot different if someone's playing a tournament and goes back to their day-job during the week. They don't have to worry about if they have a bad finish and don't cash. But if a woman in the U.S. who's doing it for a living plays badly, she's probably worried about how she'll pay for things the following week."
"Those things make the atmosphere a lot more serious in the States," Van Dyken says. "Not that Europeans aren't serious about playing well. I actually think that European events are run better—a little more professional and packaged more nicely. Sometimes in the U.S., we're playing in parking lots, and in Europe, it usually just looks and feels nicer."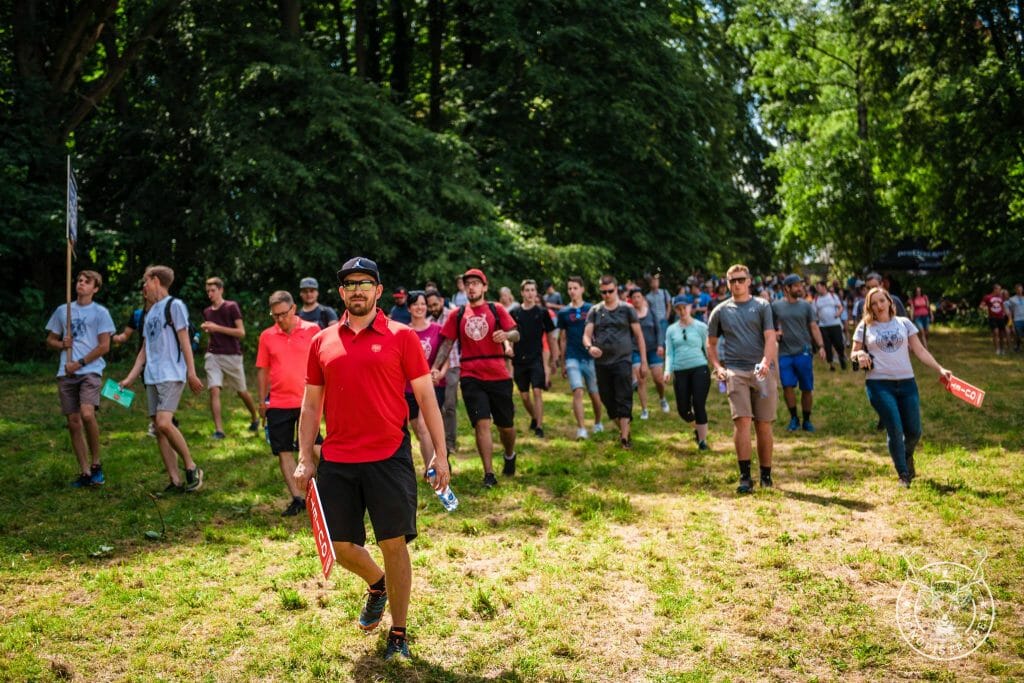 In contrast, Paul McBeth was looking forward to his stateside return, albeit for a very specific reason.
"It'll be nice to be in an actual American bed again," he said. "My bed here's like a couch—it's like a pull-out basically. It'll be nice to get a solid night's sleep."
This quote should be understood in its context, however. This was an offhand comment from McBeth after asking him how he planned to prepare for the Idlewild Open and not a direct reaction to a request for his opinion about European disc golf. His frequent visits to the continent over the last few years are evidence enough that, bad beds or no, he finds something worth coming back for.
And, finally, it seems fitting to give the last words of my 2018 Konopiště Open reporting to the Open champion, Eagle McMahon.
"Europe's definitely special," he said. "The whole atmosphere…the spectators are more respectful. It almost feels like a bigger deal here with how they treat the sport, so it's always a treat coming over here."
And his thoughts on a World Championship coming to Europe?
"I would love to play a Worlds in Europe, and I think we're very close to that time," he said confidently. "I'd say in the next three to five years, we need to make it happen. It is called the World Championship, so it only makes sense."
No arguments here.