Lead card stays the same for round two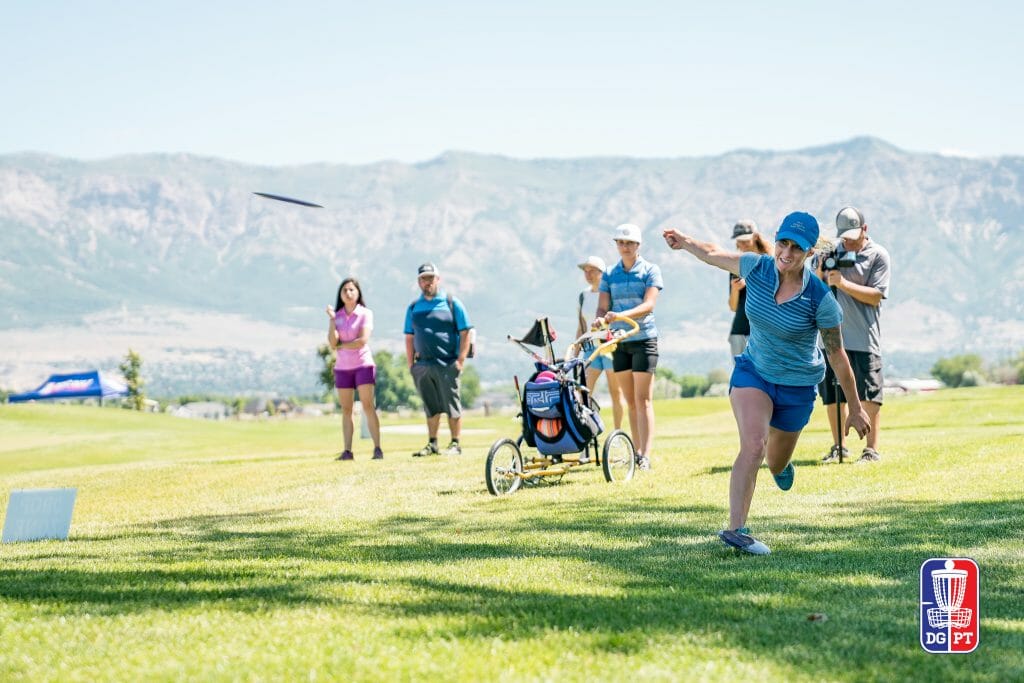 For the fourth consecutive round at the Utah Open, Catrina Allen and Jessica Weese have recorded the same score. After going to a three-hole playoff in 2017, where Weese emerged victorious, last year, the duo is tied for first at 2-over par 60 after the first round this year.
How they got there are two different stories.
Fresh off a win at the Beaver State Fling and a weekend away from competitive play, Allen was again able to take full advantage of her complete bag of shots on the dangerous Mulligan's Creekside course. While birdies were rare, her two bogeys were by far the lowest on the Open Women's side. She topped the field in fairway hits and scramble percentage, and tied for second at 95-percent putting inside Circle 1 to convert those scrambles.
The 968-rated round tied for the lowest score from last year's tournament, shot by Allen and Weese during the final round.
Weese continued a troubling trend of her play this season, where one or two holes get out of hand and spoil what are otherwise quality rounds. A double-bogey on the 696-foot par 4 5th saw Weese going OB twice while the rest of her cardmates recorded pars.
Her ability to put herself in position for the hard to come by birdies kept Weese on top of the leaderboard with Allen. Weese was ranked first in reaching Circle 1 in Regulation and second in reaching Circle 2 in Regulation, and second in fairway hits and scramble rate. Her birdie rate was best in the division and she was the only woman to birdie holes 2 and hole 17.
Jessica Weese Round One 2018 Utah Open – Hole 2 Drive
Some Things Stay The Same
Lisa Fajkus and Paige Bjerkaas joined Weese and Allen on the feature card and will keep their spots on lead card for round two. The two are tied in third at 5-over par 63.
Fajkus was one of only two women in the top 10 to not record a birdie on the day but rode her putter, per usual, to stay in contention. She closed her day with a 95-percent Circle 1 hit rate.
While she hasn't gotten to tour full time, Bjerkaas is proving she can compete with the best when she's on the road. The 942-rated round is 20 points above her rating and her arm is big enough that she can bomb with the top women. Of recorded stats in UDisc Live, Bjerkass ranked outside the top five in only one category, Circle 1 putting. Yes, she can stand to clean things up around the green, but she connected on 90-percent of putts which is nothing to be ashamed of.
Paige Bjerkaas Hole 4 Putt Round One 2018 Utah Open
Karina Nowels and Colleen Thompson are tied in fifth place at 7-over par 65, five strokes off the lead. Kona Panis, Amy Bilodeau, Ellen Widboom and Tina Stanaitis round out the top ten.
Mulligan's Creekside Takes A Toll
Round one played as the third hardest round relative to par on the DGPT season for the Open Women field. The 9.36-over par average was 0.01 points lower than the first round at the Waco Annual Charity Open and almost 1.5 strokes below the frigid round two at the Jonesboro Open.
Hole 15 played 1.21 strokes over par, the most difficult of round one. No birdies were recorded on the 651-foot par 4, and only two women were even able to reach Circle 2 in regulation.
Even with danger surrounding it, the 207-foot par 3 18th played as the easiest hole, with 50-percent of the field carding birdies.
---
The lead card of Weese, Allen, Fajkus, and Bjerkaas tees off at 9:15 a.m. local time. You can follow along with the live scoring at UDisc Live, and edited video footage from round two begins at 4:00 p.m. eastern time on the DGPT YouTube channel. Check back in here at Ultiworld Disc Golf for recaps and coverage of the final round.