What it's like playing in a top-level pro event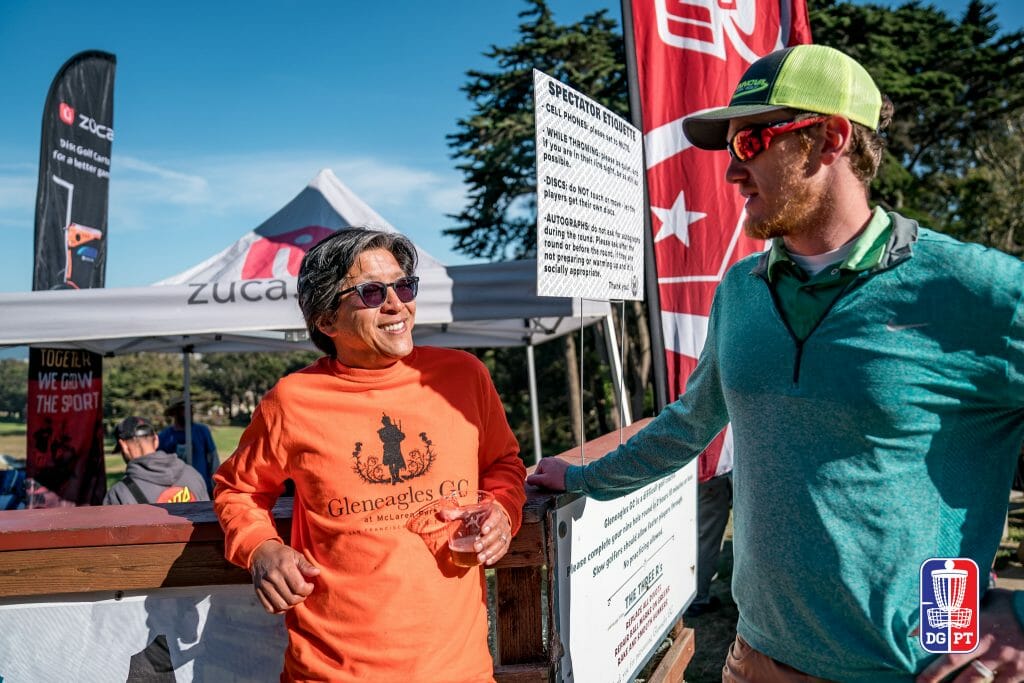 Belmont, CA, 8:00 a.m. – I'm up early (for me) today. I'm sitting T-49th so that means my tee time isn't until after noon. I had prepared myself for much earlier days, so now I have unexpected time on my hands. I spend the morning chatting with Avery Jenkins and planning dinner with Jessica, my wife. We decide an oven meal is easiest for our whole crew – baked salmon with shallots, dill, and lemon. A fresh seasonal salad for starters, and some roasted potatoes with a generous seasoning regimen including Tony Chachere's (my Louisiana folks will attest to its greatness on any food). I then read an article on the history of battle royale-style video games, just trying to keep my mind from jumping the gun. I've had plenty of one-round-wonder tournaments — where you play well for one round and wonder what the hell happened after that. I'm determined to not fall into that rut.
Gleneagles Golf Course, 11:00 a.m. – As I walk through the parking lot my first wave of doubt sets in. All week I've been replaying one shot in my mind over, and over, and over. I'm fixated on hole 1. What if you throw OB today? The one thought breaks through my blockade of positivity. There's precious few birdies on the front, don't get behind early. Luckily greeting friends and fellow competitors snaps me out of that. Pulling that mental thread one hour before tee time is the way to madness.
12:10 p.m. – I've got a great group today, playing with A.J. Risley, Noah Meintsma, and Sean Kapalko. Four completely different styles of golf on display. We all get through the first hole without incident, and I'm staring down good ol' hole 2. I'm determined to keep it on anhyzer once again, but I'm slightly less scared. I still end up high and left, but I manage to get up and down with a 20-foot par save.
12:45 p.m. – A.J. finds some trouble with penalties on the next couple of holes. He threw OB long on hole 3 and settled for a bogey, and the perfectly placed fairway bunker grabbed his drive off of the tee on hole 4. After nabbing a great deuce on hole 2, A.J. finds himself +2 after 4 holes. That's Gleneagles for ya, it doesn't take much.
1:30 p.m. – We're through the first five holes, and I'm EVEN. Five straight pars. Hitting the par putt on the downhill 1000-foot monster sends a surge of adrenaline through my brain. My plan to stay conservative early and not get behind is starting to work, but I'm starting to think about it. Today the vibe is much more focused than day one, not just on our card but on the cards around us too. You can feel that these players are competing for their livelihood, as we started the day just inside the cash line (50th place). This leaves me more time with my thoughts while we wait to tee.
1:55 p.m. – A classic Yogi Berra quote pops into my brain, "baseball is 90-percent mental and the other half is physical." Yeah it applies to golf too. I take a natural double-bogey: a six on hole 6. Too much time in my own mind. My confidence falters, and I miss an easy 18-foot par look on hole 7. Suddenly I'm in the same spot I was day one as I trudge up the hill to hole 9. A.J. and Noah are struggling to get the engine started as well, trading bogeys and birdies back and forth. Meanwhile Sean is low-key coasting on the par train. It's a blue-collar effort all around.
3:15 p.m. – We're in the thick of the birdie stretch once again. I haven't been able to convert opportunities into birdies like I did the day prior, the looks are fewer and further between. I refuse to allow myself to analyze it in the moment, but later upon reflection I realize that it was those two holes that made me feel pressure. The difference in tour experience is starting to show, as the other players are recovering from mistakes quicker, cashing in on opportunities to claim strokes back from Gleneagles.
4:00 p.m. – Hole 15, one of the most fun pure shots to throw. A natural, full power "Teebird" flight shape is needed. Bomb one down the hill and let the natural stability of the disc fade it out as it loses speed. I'm confident here as I pull out my newest love, a Glow PD2, which flies for me like the much beefier PD2's fly for Simon or Eagle. I take a deep breath on the tee, whispering be smooth as I exhale. The release is clean, and the disc accelerates down the hill. It tracks towards the OB golf green, but slows and rounds perfectly towards the basket. "One hop baby" I encourage the disc, and it listens, springing off of the short grass and settling just inside 10 feet from the elevated target. All that's left is to battle a gusty headwind with a nose up putt. As I'm walking to the next tee I chuckle and repeat one of my favorite Billy Crumpisms, "there's no pictures on the scorecard." I finally convert a birdie look this round, but it's not pretty.
4:55 p.m. – A.J. Risley converts his third birdie putt in a row on the 18th green, an unquestionably impressive finish. In fact no other player in the MPO field did that in ANY round. The final three holes of the course would all average over par in each of the three rounds. With that home stretch sprint he dives below par to finish -2, moving up 6 spots and giving a little bit of cushion against the cash line. My struggles nett me a +4, and leave me with a vastly different feeling than the day before. I can easily think of four strokes that I gave away too easily, but again I know from experience that dwelling on it leads to bogey hangovers. I choose instead to focus my mental energy on envisioning hole 1's drive as I have all week. I know birdies are few and far between, and I've only got one more round to leave a mark.