Jamie Thomas' San Francisco Open notebook, part one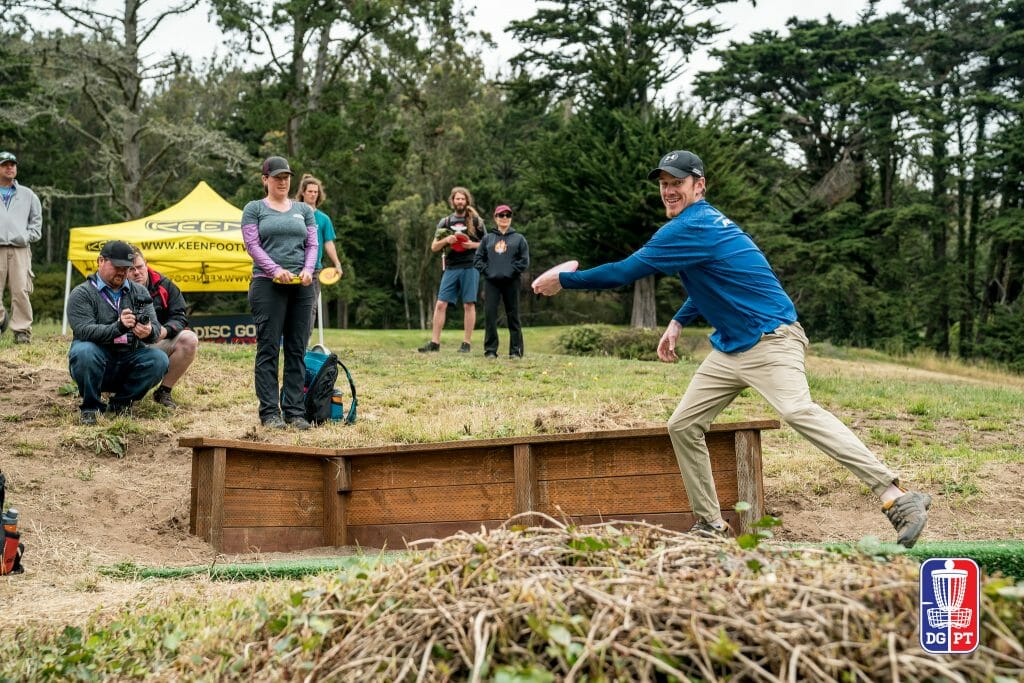 Ever wonder what it's like to play in a top-tier, pro-only event, even if you're not quite a pro? Jamie Thomas competed in the San Francisco Open and recorded his thoughts and observations from the weekend. Here's the first installment from round one.
Friday morning, 7:00 a.m. – Nate Doss, Valarie Jenkins, and I load our bags into the car and begin the 25-minute commute to the course. It's finally here, the inaugural San Francisco Open. Despite being categorically outclassed by most of the competitive field at this event, I'm not nervous. I personally love this course, and I'm looking forward to the challenge of three rounds in three days on this ~10,000-foot layout. The conversation is light, partially due to the early hour, and partially because I'm carpooling with two tour veterans, who have ascended to the pinnacle of the sport multiple times and have the hardware to prove it. We soak in the view from I-280 as it snakes along the hillside above the Crystal Springs Reservoir.
Gleneagles Golf Course, 9:00 a.m. – Val's name is announced on the tee. The San Francisco Disc Golf Club's longtime President Jon Toby does the honors, his voice is jovial yet measured, a prime example of the extreme attention to detail paid by the staff and volunteers producing this event. A mix of anticipation and reverence comprises the atmosphere, and the views are spectacular despite the lingering blanket of morning fog. The course is ready, dressed to the nines, and the aura of prestigious competition begins to affect my thoughts. I begin warming up for my 10:10 a.m. tee time in order to distract myself from the final realization of what I've signed up for. I'm competing on the Disc Golf Pro Tour.
10:10 a.m. – Time to shine. Hole 1 is a dogleg par 4 that bends to the right with the slope of the hill. As a lefty I'm wary of the blackberry bush thickets which make up the right side OB. If my shot hyzers early it'll be a world of trouble, taking an OB stroke plus having a tougher attack angle to the protected green. A slight tailwind tickles my ear as my name is announced. A few of my friends from the club cheer for me but I'm staring down my target, a large tree situated just OB left before the bend. I'm too 'tunnel-visioned' to respond. Be smooth, follow through. I repeat the swing thought in my head once more and then turn my mind off as my body starts moving. The shot flips and drifts left against the slope of the hill, unwinding gently to find the center of the fairway. I finally exhale. I didn't expect to be this nervous.
10:30 a.m. – That first hole results in a par. It's one that would be nice to birdie, but I juice the upshot a bit and feel uncomfortable running the long downhill putt so early. I tell myself pars are good. Manny Torres, a super talented 17-year old from Watsonville, California is the only casualty of hole 1, leaving me with the box on one of the harder lefty shots – a 378-foot uphill anhyzer into a tailwind, with OB threatening if my disc doesn't finish 20' left of where we're throwing from. The nerves haven't subsided and I grip lock the anny into some early trees. Total jail, bogey at best. By the way, did I mention I'm playing with the one and only Jeremy "Big Jerm" Koling? Yeah he laces a smooth hyzer to 22 feet and cans the putt for deuce, three strokes better than the score I limp in with after shorting a bogey attempt from circle's edge. I go to reach for my sunglasses to hide behind, only then realizing that they must have been stealthily removed from their perch atop my baseball cap by a branch. Insult to injury, but the show must go on.
Ahead of us is the 10:00 a.m. card, featured on CCDG. James Proctor cans a MASSIVE birdie putt from 70 feet despite the green sloping down towards OB behind the target. It's not quite Raptorville, but his lie was on the outskirts of town at least. Impressive. Minutes later we tee off. The fourth member of my card is a friend and one of the better local competitors, Jesse Kerfeld, who finds OB on the left side and settles for a bogey after a layup. Jerm cashes another tester putt from outside of 20 feet to get to -2 through three holes. Jesse and I laugh about our silly early mistakes and joke semi-seriously that we're really only competing for SF Tags with the other locals – so why pressure ourselves?
11:30 a.m. – We've made it through the front seven, all of which are playing over par on average. The trick is to not get too hot under the collar because the scoring opportunities are still to come. We approach our second shots on the fairway of 8, nobody opting to challenge the boomerang (though only Manny and Jerm legitimately could anyway). Jerm is -2 at this point, a strong score, but he curiously opts for an overhand throw into one of the most heavily sloped greens on the course. He clears all of the OB easily and hits the ground 18 feet short of the pin, but with so much force that the disc pops up and rolls backward down to the golf green. He's slapped with an OB penalty and must tackle a 70-foot uphill look to save par. Did I mention the basket is elevated?
11:45 a.m. – We tee off on hole 9, a beautiful SFO-only tee playing down from the parking lot nicknamed '747' because it's the best spot to really watch the disc take flight. The three right-handers on my card throw well-placed hyzers, and I make sure to throw as far left as possible to avoid the right side OB. In fact, I'm so far left that I'm in the middle of 18's fairway. The FPO feature card is teeing off on 18 as I approach my disc, so we wait for them to pass. Paige Pierce looks quizzically at me and asks, "What hole are you throwing to?" I quickly reply, "Oh I'm on hole 9, but I figured if I threw far enough left I could get a high five on the way!" She obliges as her cardmates chuckle at me. Feeling a little more confident and relaxed at this point, I trust my favorite Star Roc3 on a power hyzer line that lands 28 feet short and can the putt, earning my first birdie of the round. Satisfied that I big-putted Koling (don't worry, he'll be fine), we move on to the only par 5 on the course.
1:15 p.m. – We're down to the last hole of the birdie stretch, the island hole. We've all shown more pars than birdies, and after everyone is forced to lay-up for par on hole 15's tall basket I'm sure we're all thinking about the missed opportunities here and there as we walk to 16's teebox. I quickly push aside my own thoughts—this is not a forgiving course and getting caught looking ahead or behind during a round is treacherous territory—and grab my Discmania P3x. In all of my practice rounds, it hasn't failed me once, so you can guess what happens next. I leave it too flat in a steady right-to-left wind and it can't hyzer in time. All of my cardmates throw beautiful backhands that ride the wind properly and crash the green, though only Jerm converts the birdie.
1:45 p.m. – We're playing up the fairway of 18, in plain view of the Zuca Zone and Heckler's Ridge. We hear the gallery roar and look up to see Sexton jogging to clear the basket after lasering in a 75-foot par save to end his round. With my drive in prime position the gamer in me is dying to test my skills against the demanding 18th green, featuring a basket surrounded on three sides by OB, and further pitted with high walled bunkers which provide little chance for escape should your disc decide to visit the beach. However, the last thing I want to do is torture myself mentally overnight with thoughts of an unnecessary bogey at the end of the round, so I lay up with a fairway driver and work the putters to get up and down for par. Koling has different ideas after watching his Jomez Productions' co-commentator put on a show, so he blasts a hyzer flip shot straight at the gallery which swings around towards the pin but flirts with the bunker. One of the rare escapees after kicking up sand, his disc reaches over the string line to safety and he converts his birdie putt to the delight of the onlookers. As a respectful nod to traditional golf etiquette, we remove our hats, shake hands, and thank each other for the enjoyable competition and camaraderie.
1:50 p.m. – Scores are totaled, checked against stats, and cards are turned in. Jerm shoots right around his rating, a 1025-rated 3-under par 59, and though he's not quite as pleased with that effort I tell him it'll be better than he thinks relative to the field. In my first tilt with the SFO layout, the course gets the better of me by two strokes, though I can hardly complain about the 989-rating it garners. Jesse (+4) and Manny (+3) both also shoot right about their rating, and spirits are high overall. I turn on my phone to discover a message from Harper, the spotter on hole 2 who found my Oakley shades (which were a gift from my wife), and ecstatically I promise to hook him up with a gem from my disc collection in return. As my stomach rumbles and my feet complain, I vow to exact my revenge on hole 2 and head towards the car with Nate (tied in 3rd, -6) and Val (2nd, -2). The nearby Outer Mission neighborhood has just what my compadres and I need after our first round battle: a massive Wet Burrito and an ice-cold Coca-Cola.