Pierce, Weese sit six strokes back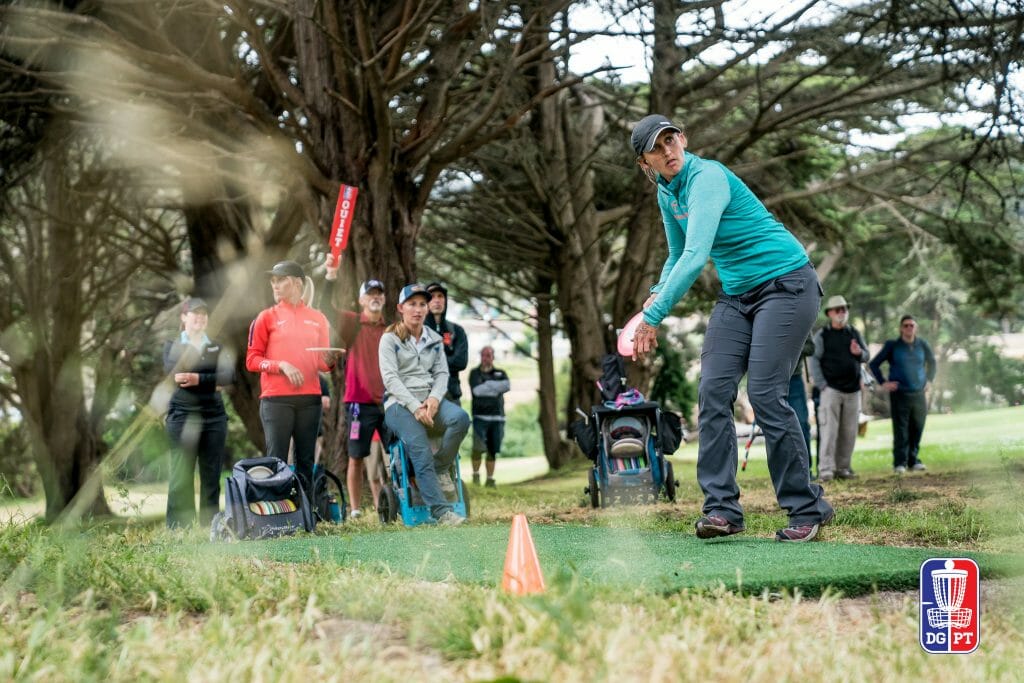 Round one at the San Francisco Open ebbed and flowed as competitors settled into an unfamiliar tour setting at Gleneagles Golf Course. Players teeing early Saturday had a couple holes to get comfortable until leader Sarah Hokom came out guns blazing.
It wasn't until the final five holes on Friday that Hokom made a move into the leader's spot, but that momentum carried over into round two from the beginning. The forehand-dominant Hokom had already staked her claim on hole 3 as one of only two women to birdie the downhill shot the day before. She has now taken up residence. Following the same line as Friday, Hokom side-armed a driver, skipping it once on the golf fairway about 15 feet short and directly up into the basket for the ace.
After that "skipperoo," Hokom played the next 15 holes flawlessly; she was the only Open Women's player to go bogey-free. She also made a run on the scoreable stretch between holes 15 and 17, connecting on all three birdies. Hokom's 999-rated 7-under par 59 day pushed her overall total to 10-under par 122 total and a six-stroke hold on the lead. She hit 95 percent of fairways and was perfect scrambling from the fairway.
Paige Pierce and Jessica Weese kept pace with each other and finished in a tie for second at 4-under par 128 total, shooting matching 4-under par 62s yesterday. Pierce looked ready to make a statement on moving day, throwing in from 85 feet for a birdie three on the first hole, cutting Hokom's lead to two.
The aggressive play continued and had Pierce topping the field with a 39-percent birdie rate. Her three bogeys were the difference between matching Hokom's hot round. Weese played more efficiently, limiting her high scores with a 90-percent fairway hit rate. Both Pierce and Weese cut down on their OB strokes, each only carding one in round two after racking up a combined eight in round one.
Lisa Fajkus was the only other women's player to finish under par for the round. She moved up a couple spots into a tie for sixth place at 1-over par 133 total. Fajkus and Kona Panis were the only two to finish the round putting over 90 percent from circle 1. Catrina Allen and Valarie Jenkins both dropped into a tie for fourth place at even-par 132.
---
The lead card of Hokom, Pierce, Weese, and Allen kicks off at 12:00 p.m. eastern time. You can follow along with the live scoring on UDisc Live, and watch the round in full before the Open live broadcast beginning at 4:30 p.m. eastern time on the Disc Golf Pro Tour YouTube channel.