Jennifer Allen moves, Catrina Allen and Val Jenkins steady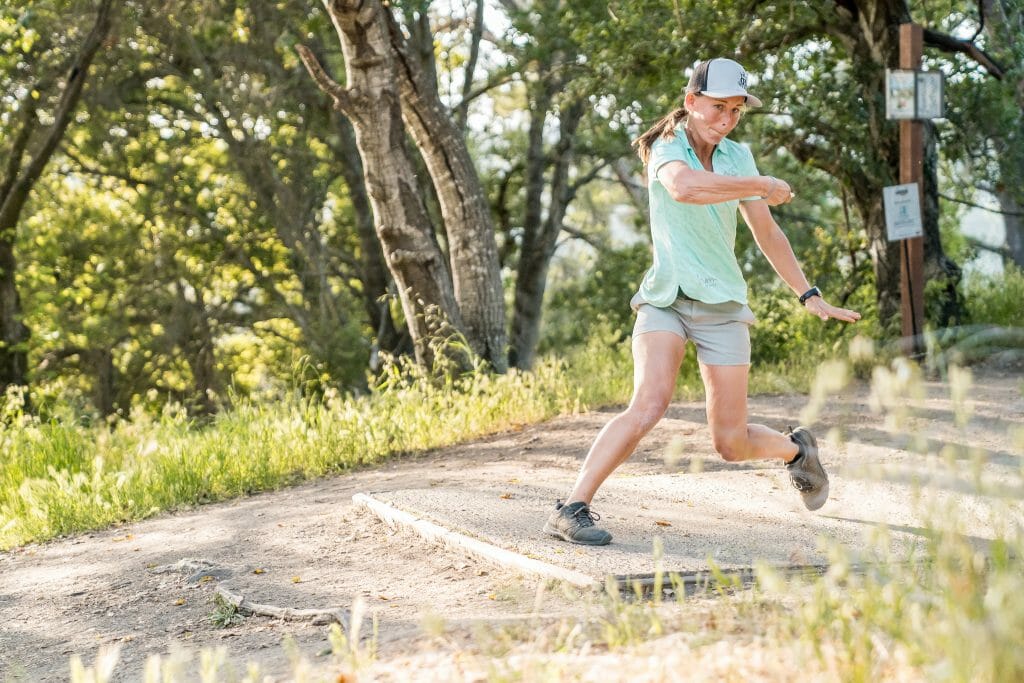 Masters Cup, and more specifically DeLaveaga Disc Golf Course, have a demanding way of bringing out the best in golfers.
Treacherous drop-offs and roll away potentials are everywhere, and par saves often feel like birdies. When you're playing close to your peak though, and your game is firing, there may be no better feeling than slaying DeLa.
On moving day, there was one woman who walked away with that feeling.
Paige Pierce shot the hot round at 1-over par 73. She is sitting in first at 7-over par 151 total and has a four stroke lead over Valarie Jenkins, 11-over, and a six stroke lead over Catrina Allen.
Pierce hit her circle one putts all day, and canned 57 percent of her circle two putts, vastly better than the rest of the women's field. The long bombs included a 60 foot birdie on hole 12.
On the day she also increased her fairway hits and scramble percentages, as well as stacking more 2s than during round one. All that added up to five strokes better than her Friday score and some 990-rated golf.
Jenkins and Allen both continued to play efficiently from the lead card. Jenkins, the day one leader, was dialed in with the putter, going 96 percent from inside circle one. Allen, would really like to have hole 8a back.
The short shot does have its DeLa dangers but has one of the lowest bogey rates at the disc golf course. Allen's double bogey there will not make her happy. She would calm down over the final 13 holes, playing 1-over on the back stretch, best in the Open Women.
Staying on 8A
While we're on 8A, a big congrats to Kelly Muth who aced the 200 footer.
The other Allen
Jennifer Allen's 5-over par 77 gave her the second hottest round of the day and moved her up six spots into a tie for fifth. She may be able to make up some ground once the fairways open up at the DeLaveaga Golf Course during the final round. Allen is only three strokes back of a podium finish.
Big putted
Making an even bigger jump than Jennifer Allen was Madison Walker who vaulted seven spots into a tie at eighth. She was tied for first in circle one putting percentage at 96 percent with Jenkins and Anni Kreml. Putting matters, kids.
Out of the woods
The final round finishes at the golf course, meaning players will be switching up the strategy to solidify their spots and to make a run. The golf course retains some of the tricky basket placement reminiscent of the disc golf course, but peppers in longer par fours and trims six holes back down to a traditional 18.
The Open Women's lead card of Pierce, Jenkins, Catrina Allen and Lisa Fajkus tees off at 10:20 a.m local time and will be playing the DeLaveaga Golf Course. You can follow along with live scoring of their round at UDisc Live.