Observations from a round and interview with the German star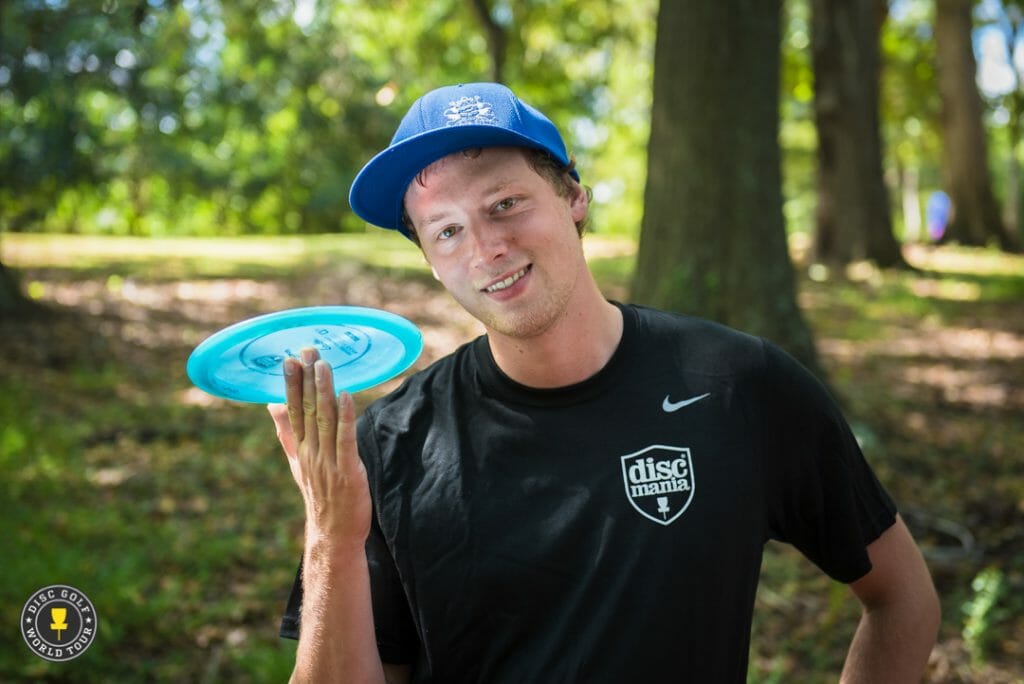 During an interview with Avery Jenkins back in the dead of winter, Simon Lizotte announced at he had moved to Worcester, Massachusetts. I went to college in Worcester, and live about an hour and a half away. "Maybe I'll see him around some time," I thought. Then I started writing for Ultiworld Disc Golf and thought, again, "I should see if Simon wants to do an interview." So I asked, and Simon said yes, which was equal parts surprising and awesome. We decided to meet at Maple Hill.
I got there early and played a round on the white-to-white setup, which is significantly shorter than the Gold tee layout you will see the big boys play at the MVP Open this August. I finished my round, checked my phone, and saw that Simon told me he would be there in ten minutes. Unfortunately, he had sent that message a half hour prior. Damn. I decided to hang out and maybe I'd catch him warming up or looping over to hole 3. Instead, I look over to my right, toward the tee for hole 3, and Simon emerges from the woods in black shoes, white shorts, and a red shirt and hat. He was holding a stack of putters and looking as in his element as you can imagine, calm and serene.
"Simon?" I asked—even though I know full well it's him.
"Yeah?" He responded. I introduced myself and asked if he wanted to play or just chat. "Let's go to Pyramids and play, I've never played there," he said. "I need a guide."
And so we hopped in our cars and drove the half mile or so down the street to Pyramids, home of the famed Marshall Street pro shop. We pay for our rounds and hit the course.
For those of you who are unfamiliar with New England courses, Maple Hill counts as pretty wide open by our standards. Pyramids is a much more typical New England style: tight with many, many trees. The course features two pin locations each hole, and much of the front 10 holes is spent navigating a rain-swollen creek and a lot of elevation change.
"This course is a little tighter than Maple Hill," I warn Simon. He doesn't know me from Adam and shrugs it off. I will have an opportunity to say "told ya" later on.
I should note that even at Pyramids and Marshall Street—hotbeds of disc golf culture in New England—Simon was not as instantly recognized and set upon by fans as I would have suspected. Part of this may be due to his unassuming and low-key personality. And part of it is likely just a reminder that even our sport's biggest stars aren't as recognizable in public the way David Ortiz or Tom Brady would be.
We start playing, and we each set the tone for the round pretty early. I throw a very flippy Star Tern too high and it hyzers out a touch past 300 feet, about halfway down the fairway with an 'okay' upshot look. Simon rips his second run C-Line FD on a huge 450-foot-plus turnover that puts him maybe 50 feet out from the basket with a look for eagle. Watching him throw in person is unreal. The sound the disc makes coming out of his hand is like a miniature jet engine. You hear baseball people talk about how contact just sounds different with the real talents. This is similar. He is also really good at putting. These are well-known facts — I'm just confirming. If you ever get a chance to do something with a world-class talent, you should take it. I am not very good at disc golf — never shot even or under par. Simon will go on to be nine down through eight during this particular round.
Once his putt hits the chains on our first hole he fires another, both hit dead center pole and he says to himself, (to me? to the discs?) "once you get the mechanics down and the technique, it's all in your head. Those were good enough, a little high though. Never be satisfied."
"Is this still fun for you, do you still play for fun or is it a job for you now?" I ask.
"It is still a lot of fun for me. It's still a hobby which I love," Simon says.
~
I tell Simon that we are operating at very different skill levels. This should go without saying, but I say it anyway. This is confirmed when I take a sidearm hyzer through a gap to set up my upshot on a long straight par 4.
He says, "this looks like an eagle opportunity." He proceeds to rip his drive dead, laser straight. His yellow disc comes to rest about 10 feet short of the pin, which disappoints him. "This [hole] is a little longer than I thought," he says with a shrug.
At this point, he might be warming to me a bit, I think. He is also feeling very confident that the course is no match for him. The phrase "course record" may or may not have been uttered. Simon strikes me as the disc golf version of a plainclothes kung fu master—he's just doing what he is good at and doesn't need to have anyone else tell him so. He isn't as toweringly tall as I expected, nor is he as stick thin as he seems on film sometimes. He's a 25-year-old who is exceedingly gifted, disciplined, and in love with his craft. He doesn't feel the need to impress me or anyone else. He's German Fonzie and what is Fonzie like? Fonzie is coooool. (I would link to the famous Pulp Fiction scene, but this is a family program.)
Simon tells me after notching another birdie, "Sometimes the first time I play a course I absolutely murder it, and then it gets harder again, all mental." I try to remember that I'm here as a journalist and try to press him on a couple items: the performance of other pros, developments in the business side of the sport. He gives me honest, passionate answers which, for this piece, I don't think would be appropriate to share, but he always finishes each spiel with a laugh and a qualifier along the lines of: "but again, I don't really care." He takes things seriously and is not as aloof as I may have initially thought or how he can sometimes be perceived through his more public persona. Like a good Bavarian pastry, the man has layers.
~
Playing one of the several uphill tee shots, Simon hits the hillside early. I throw a bit higher, with perhaps 1/800th of the power and grace as he does, and my disc skips uphill past his. Incredulous he asks, "did you just outdrive me?" I suggest that maybe he's washed up and I'm the next big thing. My second shot hits a tree three feet in front of me.
~
As we approach the end of the front 9, the course moves uphill and the trees just get tighter. This annoys my German card mate. He gets some bad kicks and rollaways, "you little monkey!" he says, admonishing his discs.
We are on a long uphill hole which spits out of the woods and into a field. The pin is guarded by woods on the left and a smaller stand of trees on the right. My second shot put me just short of the stand of trees, maybe 60 feet from the pin. There is an easy flick layup option but I'm feeling saucy. "I'm taking the Simon route," I say. I cringe a little once I say it, but whatever. I throw my Conrad stamped JK Aviar as high as I can. For a moment, it has a chance. And then the moment passes and my disc is Plinko-bouncing down through the branches.
"Fail," Simon says. Maybe affectionately? Definitely good-naturedly.
Our conversation is getting a little more fluid, and the unassuming kung-fu master starts to let his hair down a bit. I ask him if there are any Europeans we should be keeping an eye out for this season. He tells me, "It's hard to predict, getting an athlete visa is really hard, for some reason they don't consider me one of the top talents…if I had world championships or whatever it would be easier but for some reason, I'm not considered a top talent, which is weird. I'm lucky that I have a Visa which lets me stay in the country for six months at a time, but for others, it might be harder."
At this point, we are out of the woods, as it were, and on the final six relatively open holes on the track. He asks where the pin is. I gesture vaguely, "way down there."
With a wry smile, he says, "so it's a crush?" Simon then airs out three different bombs: straight, hyzer flipped, and a big sky anhyzer. I early release my drive and end up in the rough, but a decent way down there (for me).
Simon the showman is coming out a bit and he runs some trick shot video ideas by me. I think they're good ideas and tell him so.
"Most people try to golf before they learn how to throw," he says, unbidden. I tell him about the beer league I play in with my friends.
~
On the 16th he asks me to film him throwing three straight ace runs. None draw metal, but watching him like this, having fun with the game and letting me into his world a little bit, is a something I am grateful for.
We start talking about how he sees the pro-scene developing and what he thinks works and doesn't work. He launches into a mini-rant about his respect and admiration for Discmania CEO Jussi Meresmaa. Simon talks about Jussi the same way others talk about a respected and impactful teacher. He tells me, "if disc golf ever expands out of this little bubble, it will be because of Jussi. He is always working, sometimes like, 16 hour days. I don't know how he sleeps at night with everything he has in his head."
I ask, "what do you imagine yourself doing after disc golf?"
With a laugh and a wave, he says, "maybe Jussi's job."
A couple is playing nearby. Neither looks like they have ever been athletes of any kind. We agree that those types of people are the ones who are going to be responsible for disc golf becoming as popular as we both think it can be.
We wrap up our round. I ask Simon for an autograph. Neither of us has a Sharpie on hand so we walk over to the pro shop, on his suggestion, to borrow one of theirs. He signs the Glow C-Line FD3 I bought earlier that day. We chat on our way to the cars. Maybe I can show him around some of the other local courses? Maybe, he says.