Fajkus and Hokom make it close in low-scoring round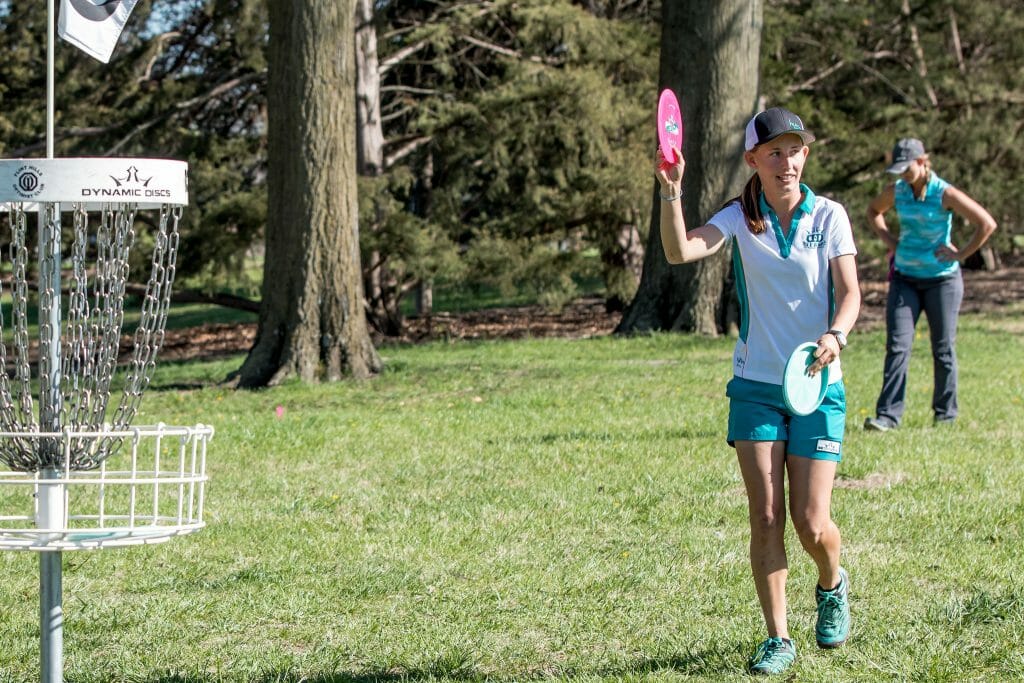 Saturday at the Glass Blown Open started with five women all within three strokes of each other, but by the end of the day, only two were still in contention.
Stepping up to the punishing 18th at Peter Pan, Lisa Fajkus had drawn to within one stroke of Paige Pierce and was teeing off before the leader.
Fajkus was keenly aware of her position heading into the last hole. The scoreboards were following the group and Pierce hadn't birdied in the past four holes. The only problem was, Fajkus hadn't yet practiced this particular layout of the 460-foot par 4 18th.
"I knew it was within my reach and I got too aggressive off the tee shot," Fajkus said. "It was right in front of me. I didn't execute."
With a Champion Tern in hand, Fajkus overcooked her drive, getting a fortuitous bounce off an early tree to land in the fairway but effectively out of position for the birdie she needed. She was unable to scramble and tapped in a bogey five. Pierce played the hole oppositely, nailing the drive and playing very safe to lay-in a par and secure her fourth career GBO title.
Fajkus finished in second with a 4-under par 53 and 5-under par 169 total for the tournament. Pierce tied Fajkus' hot round and finished at 7-under par 167 total for the win.
"I've been really pleased with my play overall," Fajkus added. "What's big for me is minimizing my mistakes. I feel like I played really boring golf, in a good way, and not getting many bogeys."
On the weekend, Fajkus recorded only seven bogeys, and her lone bogey during the final round was on hole 18.
Close behind Pierce and Fajkus was stalwart Sarah Hokom. She had a slow start before finishing the day at a 971-rated 3-under par 54. She picked up four birdies during a bogey-free back nine and did so while hitting 95-percent of her circle 1 putts.
"I think I just threw better approach shots," Hokom said. According to UDisc Live, Hokom did not have to putt outside of five feet but twice, and those were still inside circle 1.
Even Hokom admits, though, that perhaps the most interesting story of the weekend continued to be Emily Beach, playing in her first PDGA National Tour event and finishing tied for fourth with Jessica Weese, playing from the lead card during the final round.
Beach averaged 951-rated golf, more than 75 points better than her current player rating.
"Think if Paige [Pierce] did that she'd be shooting 1050," Hokom said, adding some perspective to Beach's performance. "It's amazing. It was cool to see a new face on the scene."
Hokom also said she enjoyed the presence of the lefty-Beach on her card because of the similar golf lines the two were taking. That is until hole 13 when, unexpectedly, Beach pulled out a right-handed backhand upshot, and pured it:
Zoe Andyke moved four spots up into a tie for sixth with Valerie Jenkins and Ellen Widboom. Madison Walker and Kona Panis tied for ninth, rounding out the top ten.
Many from the Open Women's field head to the Nick Hyde Memorial next weekend in Rockwall, Texas, before spreading out around the country to tournaments in the Women's Global Event in two weekends. The Masters Cup in Santa Cruz, California is the next PDGA National Tour and high-profile event on the calendar.