Wysocki, Lizotte remain within striking distance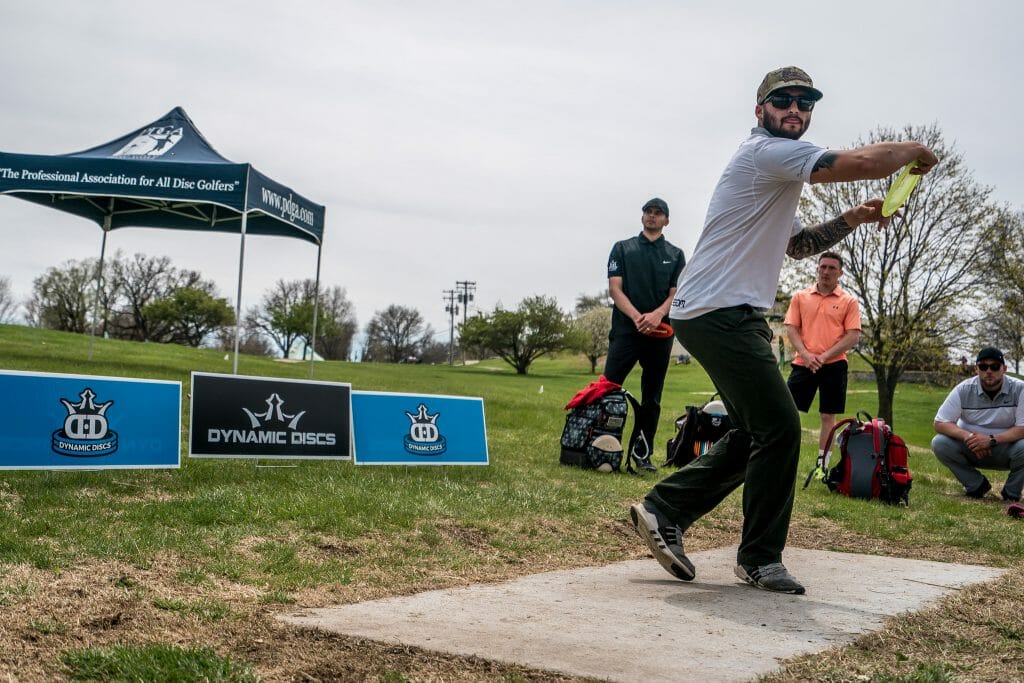 Moving day at the Glass Blown Open started with a five-way tie for first, and a cluttered top ten. At the close of round two action we have young guns Drew Gibson and Eagle McMahon sharing the lead with 17-under par 109 totals, three strokes ahead of Simon Lizotte and Ricky Wysocki who are tied for second at 14-under par 112.
At first glance, McMahon played a pretty ho-hum round. He didn't string together a whole mess of birdies nor did he putt extremely well, but a throw-in on hole 14 sparked some late fireworks. The 766-foot par 4 14th played .24 strokes over par on day one, making it the sixth hardest hole at the Emporia Country Club. In round two, it came in at just the 12th hardest at 0.15 strokes over par. But, McMahon was still the only player to get the eagle — skipping it in from 380 feet out. Further comment would be superfluous. Here's the highlight, and the celebration:
For his part, Gibson took two OB strokes on holes 8 and 9, but those were his only mistakes on the day. The Californian rarely found himself out of position, hitting 84-percent of his fairways. Plus, his average putt was a mere 13 feet away from the pin. His birdie make on the 364-foot par 3 11th, however, was from way downtown. Here's that 50-footer:
Nate Sexton made the big move on the day, jumping up six spots to fifth after shooting a 1063-rated 8-under par 55 for the day two hot round. His former tour mate Paul McBeth is in sole possession of sixth place, five strokes behind the leaders. Grady Shue wasn't able to replicate his day one magic, slipping to a tie for seventh with A.J. Risley, who moved into the top ten along with Prodiscus pros Kevin Jones and Austin Hannum.
Clean, But Not Quite Clean Enough
Lizotte has only one bogey over two rounds which is incredibly impressive. Unfortunately, that bogey was a triple-bogey on hole 13 in the midst of a birdie-less streak that lasted from hole 11 until the end of the round. After starting seven-down through 10, he finished 4-under on the day. You can see exactly why Lizotte is three strokes off the lead.  He at least improved on his circle 1 putting by 14 percentage points, improving to 94-percent in round two.
If Lizotte is able to get his accuracy from the tee back to where it should be — his fairway hit rate dropped nearly 20-percent in round two — he may still be able to challenge for the title. Lizotte's Discmania teammate Colten Montgomery was the only player able to finish today's round bogey-free, helping him jump an impressive 26 spots to a tie for 14th with Gregg Barsby. But the highlights weren't all for Lizotte's teammates. He had one of his own from the drop zone on the island hole 16:
Teepad Accuracy
Fan favorites Risley and Jones broke into the top ten with their performances on day two. Based on what the stats and scores showed us yesterday, it should be no surprise that they were able to do so. Both were able to hit their fairways and limit mistakes off the tee. Risley and Jones each hit 84-percent of their fairways off the tee, avoiding the OB strokes which bit Lizotte and Wysocki, keeping them off the leaders' pace.
McCabe Falls
After finishing 9-under after day one, there was some buzz around tournament founder and three-time winner Eric McCabe perhaps making an unexpected bid for his fourth title. The Dynamic Discs veteran struggled on day two, shooting a disappointing 4-over par 67 which knocked him down to a tie for 19th.
The lead card of McMahon, Gibson, Lizotte and Wysocki will tee-off at 3:00 p.m. local time.. Tune-in to the SmashboxxTV YouTube channel at 4:00 p.m. eastern time for the live broadcast of the lead card, and follow UDisc Live all day for live scoring.