Pierce maintains slim advantage but the field came to play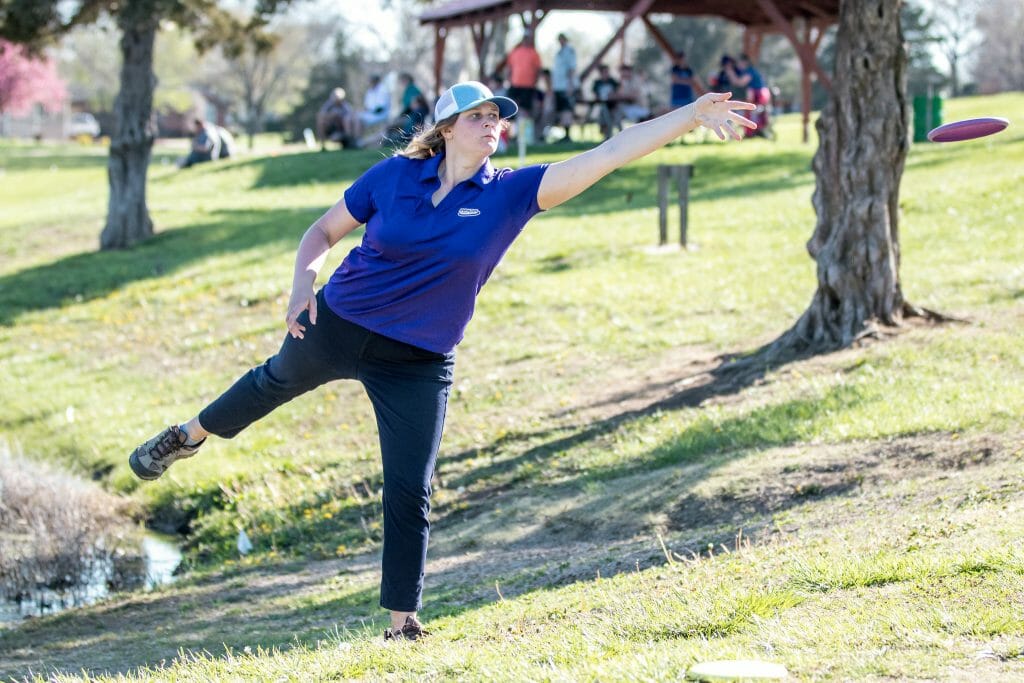 Just as things change, things remain the same.
Round one Open Women's leaders at the Glass Blown Open struggled early on at Jones Park East, but when the dust settled it was still Paige Pierce sitting in first after a wild day in Emporia.
Whether it be within a single round or spread out over a weekend, Pierce is continuing a tendency she'd rather shed by starting slow and relying on a late surge to keep her in contention. That trend reappeared Friday as Pierce was 4-over after seven holes, including three-putting inside circle one on two holes.
Pierce settled down over the back nine finishing at 2-over par 61, in the lead at 3-under par 114 total. Throughout the round, she actually hit more birdie putts from circle two than she did inside ten meters. For the second day in a row, a birdie on 18 gave Pierce the solo lead.
Hot On Her Heels
A group of women tied for the hot round at 2-under par 57: Sarah Hokom, Jessica Weese, and Emily Beach, who proved round one was no fluke. The 983-rated rounds helped Beach move into sole possession of second place, while Hokom jumped to third and Weese to fifth. Lisa Fajkus was the only other woman to shoot below par, a 1-under 58, and sits in fourth. The top five women are separated by only three strokes.
The native Oklahoman Beach was hard to rattle, parking 28-percent of the holes (first in the division), hitting 90-percent of her circle 1 putts and never having to putt outside of 16 feet. Even after three consecutive bogeys near the end of the round, Beach responded immediately with two birdies.
She'll Want That One Back
As well as Rebecca Cox played Thursday, she'll be trying to forget Jones East for a while. An 11-over par 70 was rated more than 100 points lower than round one and dropped her 11 places to 13th. Cox didn't record a birdie.
The Open Women's lead card of Pierce, Beach, Hokom and Fajkus tees off at 3:00 p.m local time and will be playing Peter Pan Park. You can follow along with live scoring of their round at UDisc Live and watch for live cut-ins from the group included in the live broadcast of the Open lead card at 4:00 p.m. eastern time on the SmashboxxTV YouTube channel.