Räsänen and Blomroos take home victories in 2018's first EuroProTour event

Old man winter was reluctant to leave the first EuroProTour of the year alone last weekend in Vierumäki, Finland. But an old man's lingering snow and cold didn't matter much to 16-year-old Mikael Räsänen, who took the Open crown at the RE/MAX Open.
The 993-rated teenager ended up taking home his first A-Tier win after shooting a bogey-free, 1040-rated, 11-under par 48 final round to spring from third place to the top of the Open podium. Just behind Räsänen's 26-under par 151 total was Luukas Rokkanen's 24-under par 153. Teemu Nissinen and Mikael Häme tied for third with 23-under par 154s.
In Open Women, Henna Blomroos fought off chills by catching fire. The 929-rated Blomroos bested her nearest competition—the 940-rated Eveliina Salonen—by eight strokes. Many of those strokes came courtesy of Blomroos' 1003-rated second round, her first time earning a four-digit round rating. Blomroos ended at 9-under par 168, Salonen at 1-under par 176, and Estonia's Kristin Tattar took third with an 11-over par 188.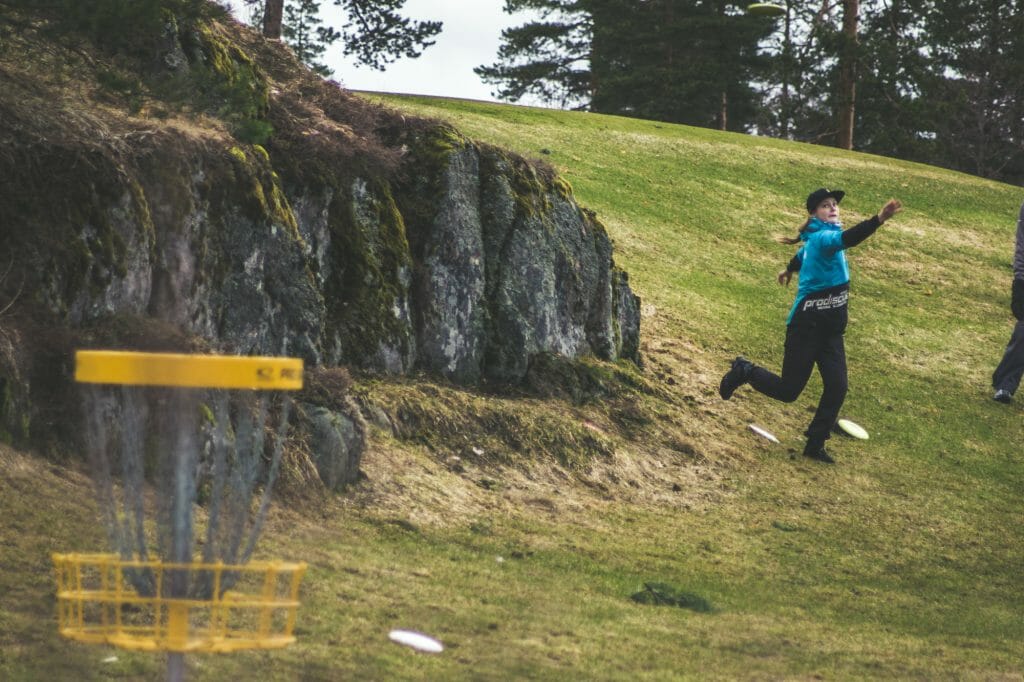 The tournament was played on a temporary layout set up on a golf course that is part of a training complex for Finnish Olympians. The planned course was supposedly so difficult that in early April an event organizer, Harri Blankenstein, guessed on the European disc golf podcast The Perfect Flight that "maybe somebody can hit negative four or five, but I don't think…much higher than that."
However, averaging 5-under par over three rounds meant just a 14th place Open finish.
A comment from Häme likely explains this discrepancy: "I know those guys managed to get the course in as good of shape as possible in these conditions…but it is a shame that spring here in Finland is coming so late this year. Some holes got shortened and may be a little bit easier."
Along with lower-than-expected scores, the altered course also produced little separation in the Open field. At the onset of the final round, Nissinen, Häme, Räsänen, Antti Mertanen, and Rokkanen were neatly organized in the first five spots on the leaderboard at 17, 16, 15, 14, and 13-under par respectively.
Based on UDisc Live data, Nissinen's main advantage over the first two rounds came from his 95-percent fairway hit rate—a number that would have tied for the best in the tournament had it held. However, in round three, Nissinen found the fairway just 75-percent of the time. This paired with just 70-percent circle 1 putting led the 1013-rated Nissinen to put up his lowest-rated showing of the tournament in the final round—a 992-rated, 6-under par 53.
With the door open, his competition didn't hesitate to step through it.
Playing his round on the chase card, Rokkanen had the longest way to make it over that threshold and claim his eventual second-place finish. Crediting an "on point" mental game and a decision to go for "high risk, high reward" shots, his final round matched Räsänen's bogey-free, 1040-rated effort.
"I enjoyed every second of that round," Rokkanen said. "Pretty much every drive and putt felt good, and when I saw the gallery out there supporting players, that gave me a good boost."
For Häme, the last round felt up and down. He carded plenty of birdies but also lost multiple strokes by just barely missing marks and creeping centimeters into OB areas. These lost strokes are why Häme felt pressure going into hole 18.
"I had only one option," Häme said, "to attack."
Hole 18, in Häme's words, was "super challenging, long and straight…and surrounded by OB bunkers." It wasn't that surprising, then, that being aggressive landed him in one of those bunkers, momentarily dashing his hopes of a top-three finish. However, Nissinen — who was tied for first at beginning of the hole — unexpectedly missed two putts inside the circle while Häme saved par, and the two finished tied in third.
As for Räsänen, he credited his win to playing two "smooth and secure" rounds and being "focused…more than normal" in the third. The teen—utilizing the term for disc golf widely used in Finland—called the win his "greatest achievement in frisbeegolf."
In contrast to the Open field, there were wide gaps at the top of the Open Women's leaderboard as the final round began. Though Blomroos had only a two-stroke lead over Salonen after round one, a combination of phenomenal play from Blomroos and mistakes from Salonen blew that gap open to 11 strokes by round two's end.
"The second round was so difficult for me," said Salonen. "I struggled with the wind and took so many bogeys and OBs."
Despite these struggles, Salonen was still three strokes ahead of the third place Tattar. With the win likely out of reach, Salonen went into the final round with hopes just to "stay in bounds, play under par, and have fun."
It's no surprise that Blomroos' plan for the final round was simply to "continue to play (her) own game."
Ultimately, though Blomroos did play her weakest round of the tournament and allowed a relaxed Salonen to gain three strokes, she still coasted to the win.
That is if you consider someone playing six points above her current rating to be "coasting."
The next EuroProTour event is the Sula Open in Langevåg, Norway, taking place June 22nd and 24th.