Allsalu collects her first career FPO win outside of Estonia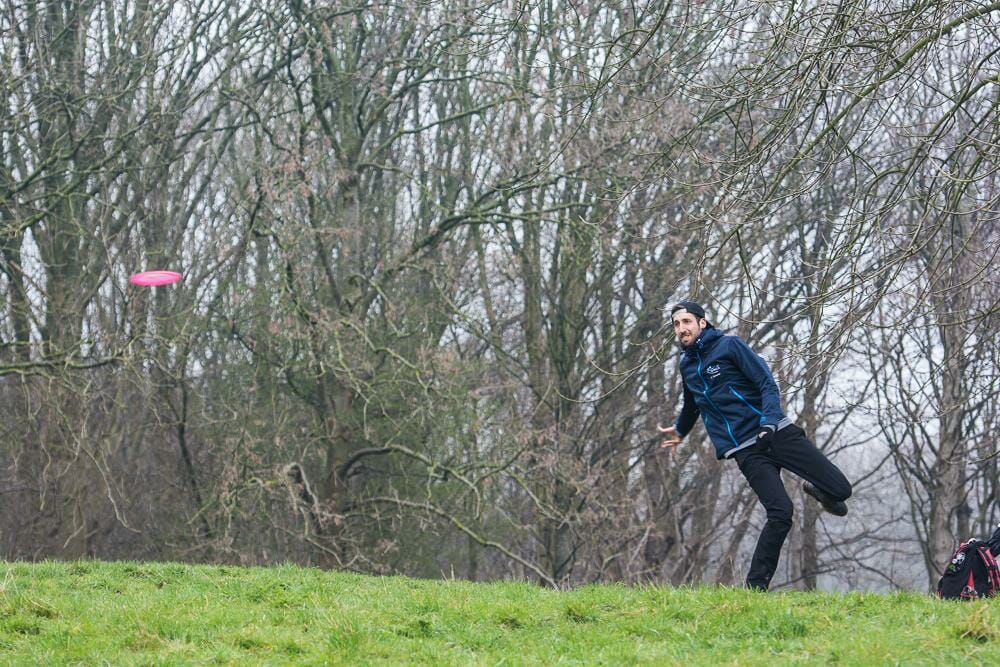 Two strokes were all that separated the leaders of both the Male and Female Professional Open divisions from their closest competitors at the start of the nine-hole final of last weekend's Dutch Open in Rijswijk, Netherlands—the year's first PDGA EuroTour event. German Dominik Stampfer had Swedish native and resident of Norway Niklas Eriksson on his heels, while Estonian Kaidi Allsalu was closely trailed by Switzerland's Natalie Holloköi.
In the end, Stampfer's 12-under par 198 over 63 holes earned him a wire-to-wire win by a margin of three-strokes over Estonian Albert Tamm and Germany-based U.S. Air Force member Phillip-Tyler Belt, who overtook Eriksson in the final and ended tied for second with twin 9-under par 201s.
Allsalu also held on to her lead, with her final score of 242 strokes being just enough to keep Holloköi—who ended with a 243—at bay. It was Allsalu's first win outside of Estonia.
The tournament, which consisted of three full rounds and the aforementioned final, was played on an 18-hole, par 60 temporary course in Elsenburgerbos Park in Rijswijk. The park's expanses of grass and brush-filled woods grow over a former trash dump, and what were once great mounds of refuse lend the area something unexpected in the Netherlands—drastic elevation changes.
The varied tee shots and upshots produced by the course's topography, along with its blend of open and wooded fairways, often treacherous greens, numerous out-of-bounds areas, and water hazards proved hard to master for both divisions. On the MPO side, only Tamm managed to stay under par every round of the tournament, and both Allsallu and Holloköi had seven-stroke differences between their best and worst full rounds of the weekend.
These inconsistencies made for many unexpected turns at the top of the leaderboard. After the first day of the tournament, it seemed that MPO would be a two-man race. The 996-rated Stampfer averaged 1031-rated golf over his first two rounds and the 992-rated Belt averaged 1014, leaving him four strokes back. Belt's closest competition was six strokes behind.
Stampfer had also grabbed his first PDGA tournament ace during his second round on an 86-meter (282-foot) island hole where players contend with throwing up a hill that offers an 11-meter (36-foot) elevation change.
However, Stampfer and Belt ended up shooting 958-rated, 2-over-par third rounds, where they each took triple-bogeys at different points.
Belt's came courtesy of difficult positioning following an attempt at a towering hyzer shot on hole six—a hole where the intended line is a downhill, 120-meter (393-foot) right-hand forehand or left-hand backhand—that went awry. The shot came out low, caught the uppermost branches of a tree, and ended up falling in a crack in its trunk. This lie meant that Belt not only had to contend with low-hanging branches and being surrounded by thick, tall shrubbery, but also that his best option was to play his next shot while standing in the tree.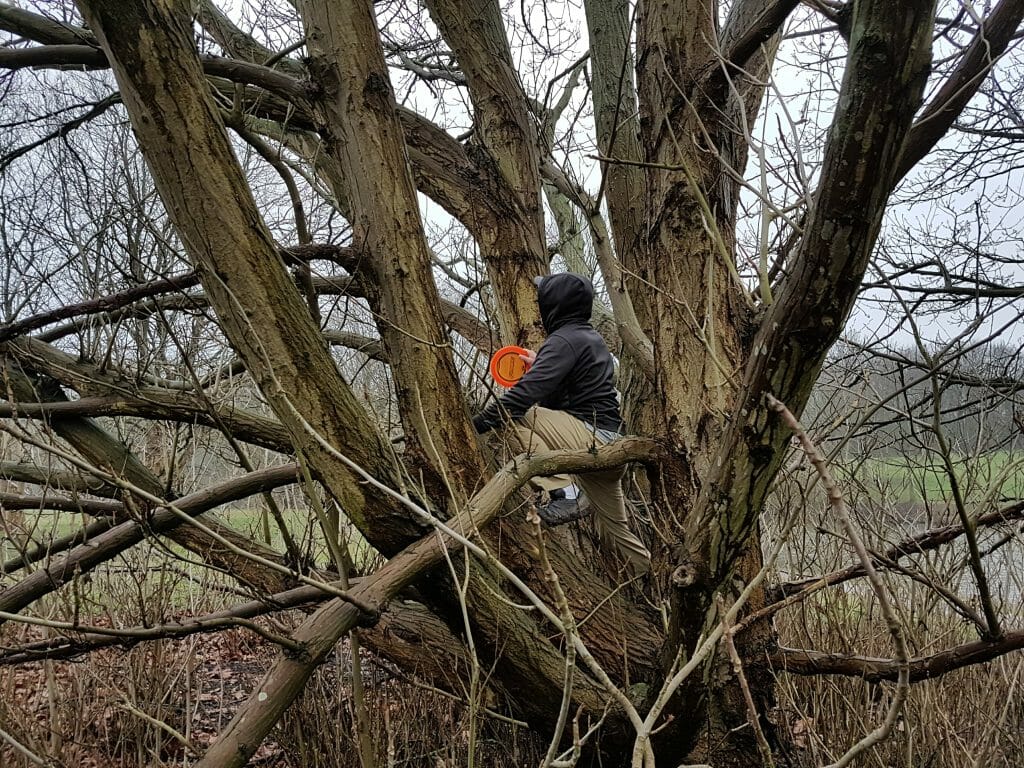 Stampfer's own triple bogey came on the final hole of round three, where he found himself missing a putt inside the circle for bogey as well as the comeback putt for double-bogey from even closer. However, Stampfer was able to take something positive from the experience.
"I always think that every putt you miss is a good putt because the percentage is higher that the next one will go in," Stampfer said. "It's good that it happened because it's less likely to happen again in the future."
These mistakes and other smaller ones by the leaders opened the door for the 953-rated Eriksson, who said that during his third round "everything just went smoothly…and I took the birdies that I got and played solid." That solid play led him to shoot a bogey-free, 1035-rated, 7-under par third round and go from fifth place and 11 strokes back of the lead to second place, just two strokes behind Stampfer.
The 964-rated Tamm also played a strong third round, shooting a 1018-rated 5-under-par that jumped him from a tie for sixth place to fourth place and a spot on the lead card in the finals. This meant that at the start of the finals, Stampfer sat at 168 strokes, Eriksson at 170, Belt at 172, and Tamm at 173.
Though Eriksson said he felt no stress entering the final and planned only to play "as normal" because he didn't think it was possible to "do anything crazy" on the holes used for the final nine, he simply "couldn't get off the tee in a good way." His struggles meant that even though Stampfer felt "weird, crazy, and not really confident" going into the finals, the German's strong play on the first day still meant that he only had to play a decent, 1-under-par final nine to hold on to the lead.
Eriksson's tee troubles also gave Belt and Tamm the chance to take his spot on the podium. Belt did so by returning to form and completing a respectable 2-under par final. Tamm was able to do one better and reached 3-under par in part by birdieing the downhill, 140-meter (460-foot), par 3 17th—the last hole of the final—after putting a forehand into the circle and cashing in the putt.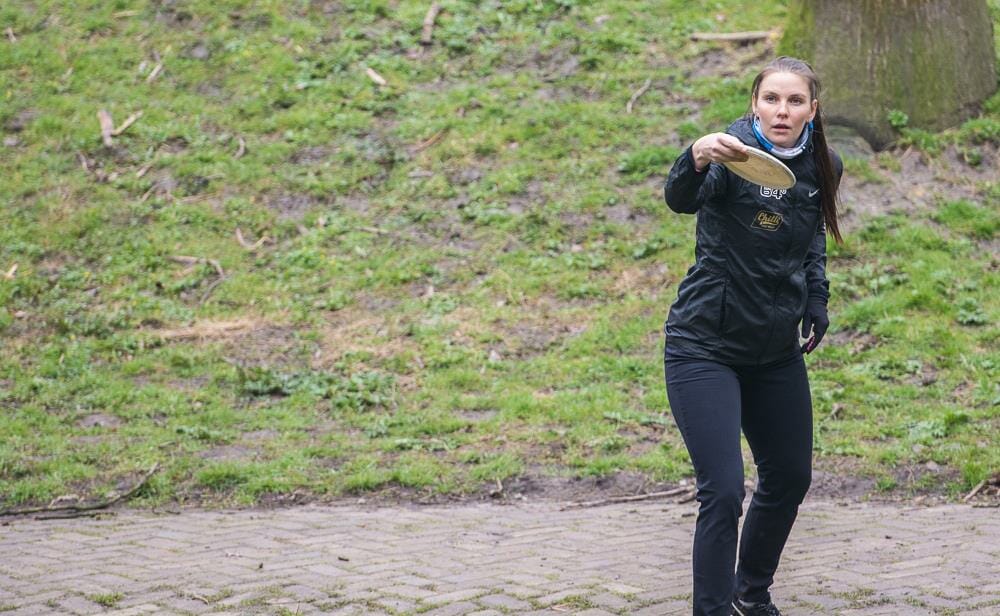 The third round also saw strange twists in the FPO division.
When starting to talk about her experience during it, the only preface Holloköi could come up with was, "my third round? Oh my god!"
She continued, "I started with a six-stroke lead, my body was fit…but it felt like my body and brain weren't connected. I couldn't even make 3 or 4-meter putts. I just missed like seven of them, and that's too much!"
She added that the "youngster" Allsalu played a "brilliant" third round.
Holloköi's woes and Allsalu's brilliance meant that the Swiss veteran's lead vanished, allowing the young Estonian a two-stroke lead going into the finals.
Though she admitted to being nervous, Allsalu's plan to maintain that lead during the final nine was simple: "Try to stay calm, just do my thing, and a keep a little bit of an eye on the others."
That plan was tested when, with a lead of three going into the penultimate hole of her final nine, she dropped two strokes to Holloköi after a triple-bogey on the elevation- and out-of-bounds heavy hole 4, a par 5. This left Allsalu with a mere one-stroke advantage going into the tightly wooded fairway and brush-filled rough of hole 5; one that offered ample opportunity for small mistakes to lead to big numbers.
Though Allsalu bogeyed the last hole, Holloköi did as well, and Allsalu was able to eke out the victory. Holloköi placed second with a four-stroke advantage over Finland's young Anna-Sofia Haipus, who took third by four strokes over Norway's Lydie Hellgren.
"It was my first big win," Allsalu said. "And I'm really, really, really happy!"
An additional note is that, impressively, the best score of the Dutch Open did not belong to the MPO winner. Danish Pro Master 40+ player Thomas Rasmussen averaged 1018 golf—28 points over his 990 rating—and finished with a 19-under par 191, putting him eight strokes ahead of Stampfer's MPO-winning total.
The next EuroTour event takes place April 14th and 15th at the Bluebells Woods Open in Dunbar, Scotland, and the EuroTour's big sibling—the EuroProTour—kicks off with the RE/MAX Open in Vierumäki, Finland on April 20th and 22nd.