An interview with Madison Walker about her return from injury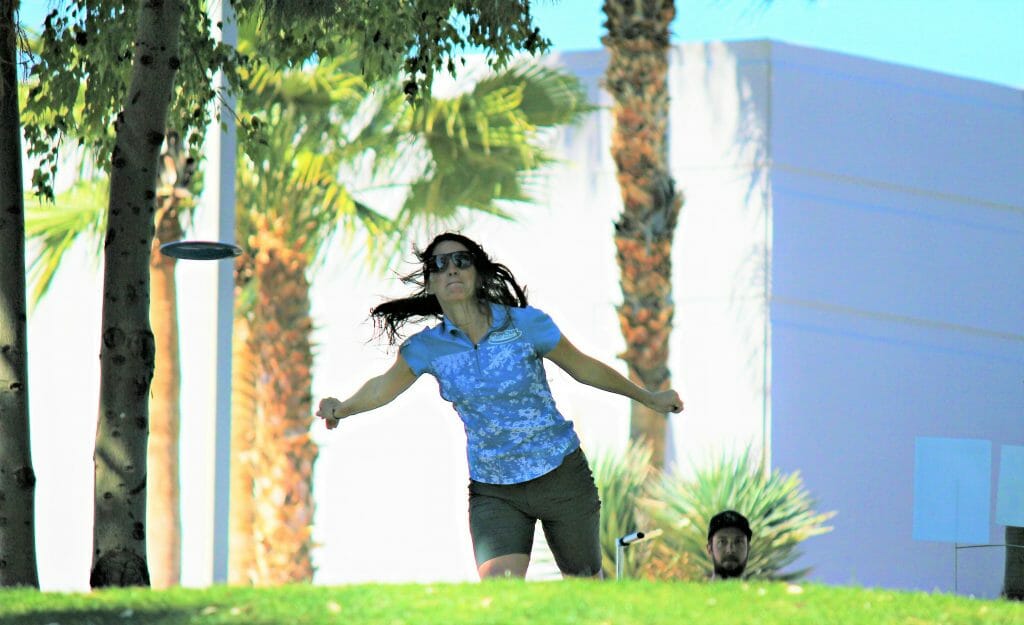 "I was so excited to be playing I didn't even care how I finished."
That was how Madison Walker summed up her first experience back on the professional touring scene since last year's PDGA Professional World Championship. Walker spent the early part of last season dealing with a wrist injury suffered in March. After trying various treatments and playing through the pain through Worlds in late June, it was time to take a step back and let things heal.
A little over six months later and feeling near to 100-percent again she was back on the course at a small C-Tier event, but her first real test would be coming back on a bigger stage, and even in the days before the Las Vegas Challenge, she wasn't sure that it was where she would make her comeback.
"I don't particularly love this type of disc golf so I wasn't going to play. But I decided last minute to go for it," Walker said. "I played very, very consistent even in the wind and it was early and cold and I wasn't necessarily warmed up before each round so I feel good about, given the circumstances, how it all went. I was expecting more of a rollercoaster."
By the end of the third round, Walker found herself in ninth place, having made the cut, while avoiding any lingering issues from her injury. Feeling healthy and with the cut giving her "a little mental freedom" now that the worst she could finish was 10th place, Walker decided to cut loose and push for as many strokes as she could get.
"I had no expectations or goals heading into Las Vegas. If I made the cut or missed the cut or any of it, I was going to be okay with it," Walker said. "This is tough golf to come back to after an injury. I gave myself a break, and was patient, and made the cut which was great. I just decided to say, 'screw it,' and go for it and play aggressive, to see how high I could finish. I was able to gain five strokes and get up to eighth place and two strokes away from seventh."
In keeping with her last minute decision to even play in the event Walker initially was going to take things slowly and try to play, in her words, "Elaine King or Des Reading golf." While she did begin the event taking some power off her drives and focusing on quality approaches and putting, she found her familiar distance quicker than she was expecting.
"Once I got out here and started throwing some drives I was not having to really work very hard to get it to go far, or about as far as I was throwing before," Walker said. "So I stuck with my backhand, throwing it 325 or 350, which is enough in the women's field. And, then I couldn't really throw max-power forehands yet … I was throwing forehand approaches, and there's a bunch of holes with forehand drives that normally I would 100-percent pick that. So I was kind of forcing a backhand occasionally and that was the only thing that was different."
Walker credited working with Seth Munsey from Disc Golf Strong since her injury and over the offseason for her ability to bounce back quickly. Though she was quick to note that she isn't fully back in disc golf shape, noting how fatigued she was after the first round in Las Vegas, Walker was keen to acknowledge that it wasn't just physical rehab that made a difference. Just as significant was an adjusted mental approach to alleviate any unconscious doubt leftover from the injury.
"Seth helped me with some strength training and some mental training," Walker said. "Just like prepping myself for when I get back out there to be okay with things maybe not going exactly how they did when I left. He influenced me to work on my putting routine and the muscle groups that I would use in throwing drives to make my buffer zone for getting re-injured smaller. He's really big on confidence and resilience."
Walker is already feeling confident about returning to The Memorial on courses she says she's very familiar with.
"These courses [at the LVC] are sort of like doing field work because it's so open, so I felt like the courses in Las Vegas were a good prep for The Memorial," Walker said. "It was a good chance to relearn my bag going into an event where it's a lot more about throwing placement shots rather than bombs."
Even with the confidence that comes with feeling prepared and injury free, she is ready to take a healthy perspective into the opening Disc Golf Pro Tou event of the season, being sure to remember to keep her expectations in check.
"I'm not getting my hopes up too much because I am still coming back from an injury and anything can happen," Walker said. "My muscle memory is still coming back, but I'm ready for it and excited."
Walker teed off for the first round of The Memorial earlier this morning and through the front nine, she has stayed consistent with an even-par score.