Told in the words of the players themselves, a look at the conditions, challenges, tactics, and -- yes -- rewards that come with being a disc golfer in some of Northern Europe's harshest climates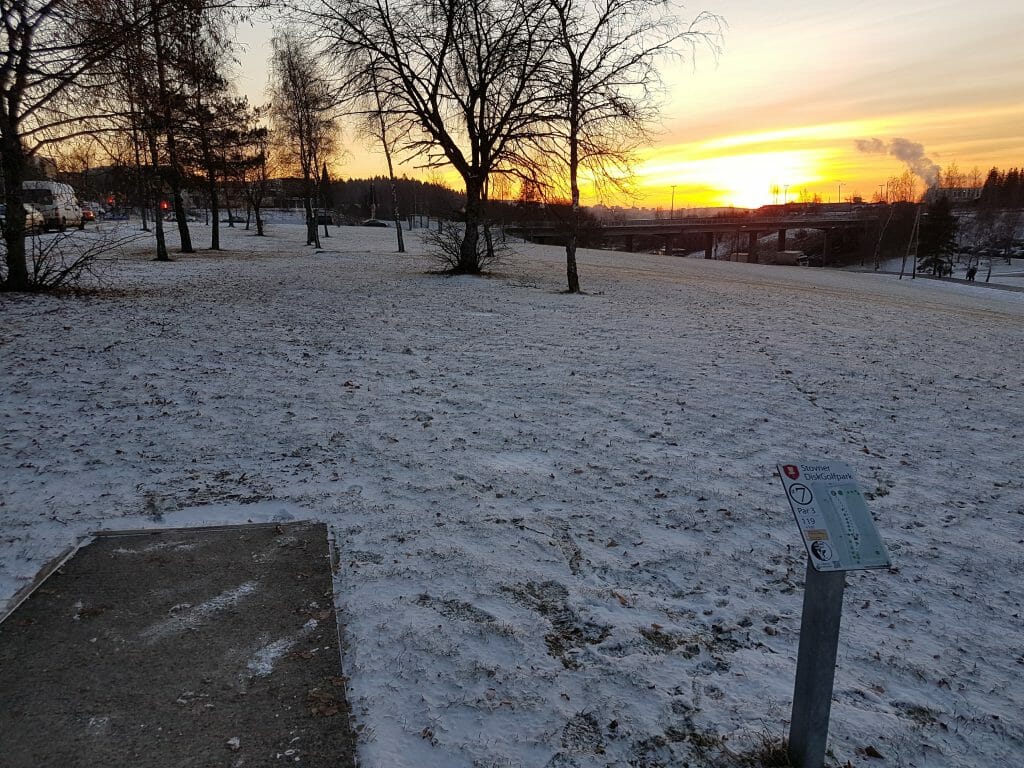 As is the case for many living in the Northern Hemisphere, most of Europe's disc golfing populace doesn't eagerly await the time of year between late October and late March. Disc golfer Tapani Aulu's description of Turku, Finland, during such days offers a perfect example of why.
"We have six hours of daylight, it rains all the time, and the streets are covered in ice most mornings," Aulu said. "It's pretty bleak."
Sure, there are some advantages to winter play. For instance, scrambling on wooded courses gets a bit easier and fewer picnickers spread blankets in the middle of fairways. However, even in central and southern Europe — where temperatures are generally mild enough to allow relatively comfortable year-round play — the shorter days often push practice routines and rounds to "weekends and special occasions-only" status for many players.
Given the difficulties of late fall and winter play even in hospitable climates, it's surprising that the places in Europe where disc golf is most popular also experience the longest, harshest winters. The northern lands of Finland, Sweden, Estonia, and Norway are the top four countries in PDGA membership in Europe. Together they are home to a whopping 74 percent of all European PDGA members, with Finland alone accounting for 41 percent. With enthusiasm for the sport so high in these areas, it seemed unlikely that even a meter (3.28 feet) or two of ice and snow could bury it completely. Conversations with players from these four countries prove that to be true and also speak to the human capability of making the best out of less-than-ideal situations.
In Fairways, Snow Is Glistenin'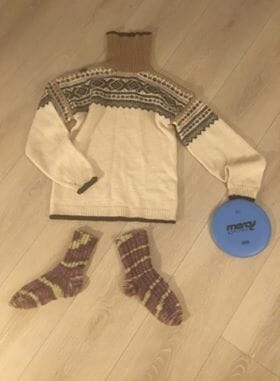 Differences in latitude — Sweden, Norway, and Finland are all within the top 10 countries in Europe by land area — and proximity to the sea make it impossible to say that there is a "typical" northern European winter. However, the conditions described by Finnish player Mikael Hakala, who also hails from Turku, had many similarities with the responses of a number of others I spoke with for this story.
"The first snowfall usually comes in November, but permanent snow comes after Christmas," Hakala said. "Normal temperatures are from about zero to -20° [C] from November to March. When daylight is shortest, we have under six hours."
Some have it better, others worse. Despite a coastal wind that he bluntly described as "pretty damn cold," Tomas Rosenqvist of Gothenburg, Sweden, enjoys a relatively balmy range of temperatures between 10° and -2° C. On the other hand, for PDGA Europe Board of Directors President Kajsa Wickström, who lives in Oulu, Finland — "on the shore of the Bothnian Bay, 600 km (or 373 miles) [north] from Helsinki" — temperatures of -25° C or more aren't unheard of. And just to add to the fun, she said that "during the winter solstice on December 22, the sun rises at 10:29 a.m. and sets at 2:04 p.m.," yielding a meager three and a half hours of daylight.
To Face Unafraid, The Round That We'll Play 
There's an old Norwegian rhyme that goes, "Det finnes ikke dårlig vær, bare dårlige klær." It translates to the adage, "There's no bad weather, just bad clothes." While all interviewees mentioned something resembling the familiar warm hat, gloves, and jacket combo as necessary for wintry outdoor play, both Norwegians I spoke with for this story added something else that a good winter outfit should consist of: wool.
"I usually try to layer thin merino wool with a light jacket," said Fredrik Runsjø of Oslo. "Merino is light and comfortable, easy to layer, and not itchy. It keeps me warm and isolates and transports sweat and moisture out from the body." He added: "It's also not smelly."
For Sigrid Sandum, who lives near the more northerly city of Trondheim, just one layer of wool won't do. "I always wear wool from top to toe, both a thin layer near the skin and a thicker home-knitted one under my outwear."
Yet even the warmest wool won't be of much help during a round if you can't stand up, but that seemingly simple act isn't always easy to accomplish during northern Europe's winters. Aulu explained that in Turku "there are times when the entire course is like an ice rink and it would be easier to play with ice skates." He exemplified his point with this video of him going after a missed putt:
According to Aulu, many people in his area battle unsure footing by sporting the studded BUGrip line of shoes produced by the company Icebug, who he said "really has the market" in the region. Due to the conditions where she lives, Wickström simply stated that "spiked shoes are a must."
In The Meadow We Can Lose A Disc, Man
Along with wearing the right gear to stave off the cold and keep upright, denizens of Europe's upper reaches have other concerns while playing winter rounds. One of these is dealing with the regular presence of snow.
One of the snow's downsides — just like all precipitation — is its effect on grip. To combat that, both Runsjø and Wickström advised making sure discs are cold before the start of play so that snow doesn't melt on them. Another, more nerve-racking problem that snow presents is the constant danger of losing discs under a mass of white.
Sometimes it's enough to follow Runsjø's common sense plan to "throw bright-colored discs, look closely during the flight, and try to spot signs of where the disc entered the snow," but there are also occasions when that won't do. That's when players bring out the ribbons, which are taped to discs so that the ends stick out from the snow, making discs easier to find.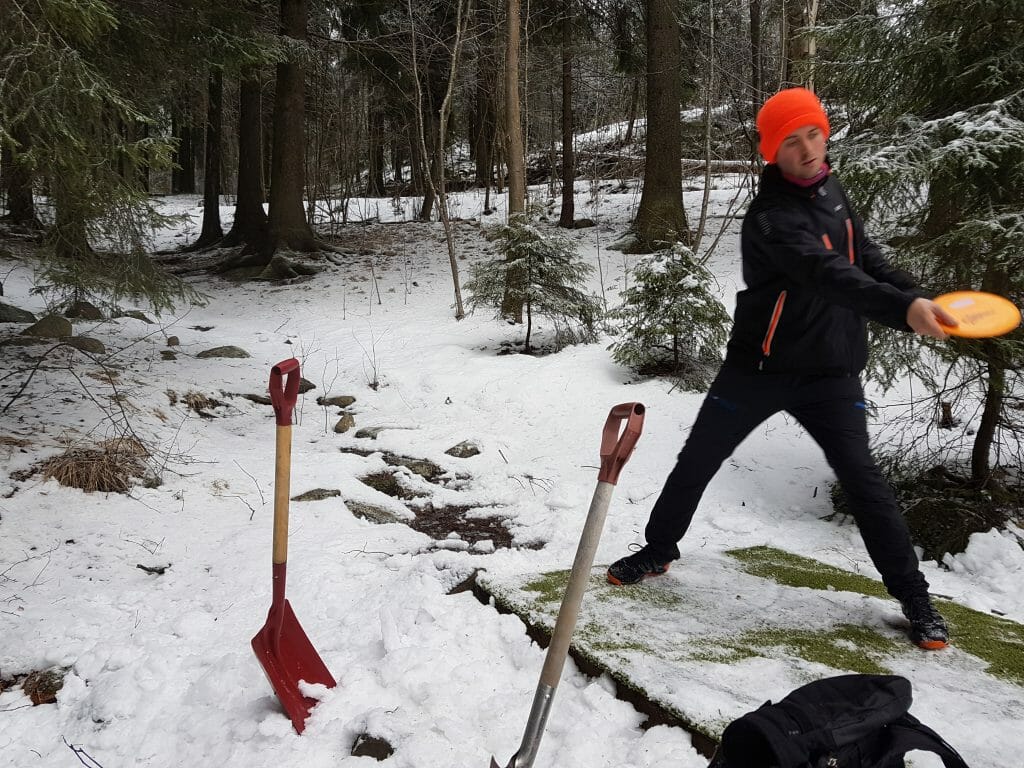 The fickleness of where players might need a ribbon and where not was brought up by Sami Hyvönen, who lives in Finland's capital: "Helsinki rarely gets more than eight inches of snow, so
there's no need to have ribbons on your disc to find it. But if you go up north, just 20 minutes' drive, the ribbons are a mandatory thing to have."
Sandum recalled one Easter tournament in Norway when not just any ribbon sufficed. "There was so much snow and extreme wind," she recounted, "that by the time we walked to our discs, all traces of them were gone." She continued, "Only players who used long ribbons with bright colors didn't have their discs disappear in the snow."
As We Putt By The Fire
Though there are plenty of tactics that make playing outdoors in even the worst conditions possible, it doesn't mean everyone finds it pleasant. Yes, some players mentioned popular winter leagues. One example in Wickström's area, where regular features include LED lights taped on discs and headlamps for navigating pitch-black forests, has attracted 80 players already this season. Others spoke of having lighted, heated outdoor soccer fields for fieldwork. Still, most revealed a preference for more comfortable, brighter environments.
"The bulk of all [winter] training is done indoors," explained Aulu. "We have regular training hours at an athletics arena where we can practice just as the javelin throwers do: condition with hundreds of reps by throwing against the wall."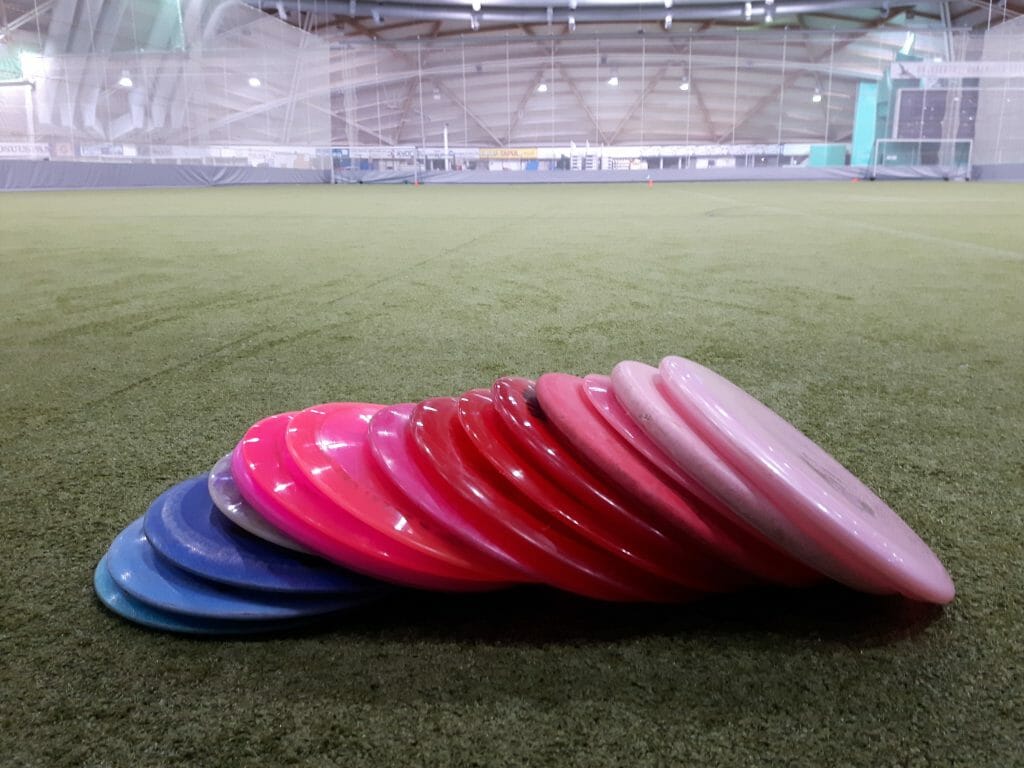 Aulu said that such arrangements, as well as providing baskets and space for indoor private putting practice or a putting league, are standard for "many, if not most clubs around the country." Both Sweden's Rosenqvist and Norway's Runsjø also mentioned that indoor training was a possibility in their areas, but Estonian Ralf Rogov's account of the development of indoor play in his country was particularly noteworthy.
"Two years ago when we all were beginners in Estonia, we rented a sports hall and paid a lot of money just to practice putting," Rogov recalled. "We also wanted to practice drives, but there were no options. So we came up with the idea to make our own center with all the needed equipment and start our own training groups."
In relatively short order, that idea has been realized. "Today we have two centers: one in [Estonia's capital] Tallinn with three trainers and 120 trainees, and a second in Tartu, which also has three trainers and about 100 trainees," Rogov said. "Trainings take place from Monday to Friday in different groups, and the plan is to start training young people, also." As a youth football trainer (or, to U.S. residents, soccer coach) with 10 years of experience, Rogov plans to work with these younger groups personally.
In Helsinki, Finland, Sami Hyvönen, one of the country's first disc golf coaches who teaches the sport to more than 3,000 kids per year, also sees winter training as a chance to spread the sport to a new generation. "I feel that I'm in a privileged position in the wintertime because I get to be indoors for an hour per a week to teach disc golf to youngsters," he said.
A Bearable Sight
Like those who put on the multiple layers, strap on the shoe spikes, and switch on the headlamps to play in the dark, snow-blanketed woods of Oulu, Finland, it seems that people who truly have the disc golf itch will find a way to scratch it no matter the hardships. Rogov and Hyvönen offered examples of how tough outdoor conditions can lead to innovations that help the sport grow during the winter in places where it could otherwise easily remain dormant. All in all, my conversations with citizens of the North appeared to show that while no one preferred the difficulties of winter play, they possessed a resolve, resilience, and creativity that helps explain why humans are able to live in such places at all.
Or, it could just be that they're willing to put up with the overwhelming darkness and bitter temperatures for a few months because, as Wickström put it, there's light at the end of the dark. "To make up for it, the sun hardly sets in the summer and we can play all night long if we want to."