'Lie area,' reorganization of rule book headline the moves
The PDGA presented its official Rule Book and Competition Manuel for 2018 in an announcement earlier this afternoon, and it contains a number of significant alterations to how the sport is played. Indeed, the announcement says that the changes are "a large step forward" and that more effort has gone into these revisions than in any past version of the official rules.
Identification of the lie is one of the major changes. No longer is the lie a point behind your marker; instead, it is now defined as an area: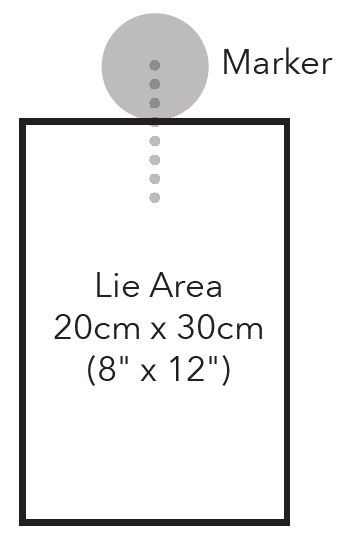 The lie area — in instances where a player is not teeing off or throwing from a drop zone — consists of a 20-centimeter by 30-centimeter rectangle centered behind the marker. Additionally, a stance violation is no longer given a warning and a re-throw. Instead, the throw will count and a player will receive a penalty.
The rule book itself has been "restructured to more closely follow the order of events during the play of a hole." The PDGA suggests that this reorganization of the rule book should make it easier to find the correct rule and keep similar rules closer together in the text, while rules that govern more infrequent scenarios can be found near the end of the book. Additionally, there is now an index in the back of the book, which can be used to reference specific terms.
Three more new aspects of the rule book deal with out-of-bounds areas. First is the designation of a Relief Area, which is a penalty-free OB area that a tournament director could use to "keep players out of certain areas of the course. Second is a Hazard, where a player receives a penalty but does not relocate their lie. And third, a new OB option is available at a tournament director's discretion, where a player would "play from the closest in-bounds point (similar to lateral hazard in golf)." Other new additions include rules for Match Play and Doubles formats.
The changes to the rule book mean there will be a new PDGA Certified Official Exam. Members who are currently a PDGA Certified Rules Official will retain their status until its current expiration date, but a new exam will take effect in the future.
The current rules remain in effect through the end of 2017 for all PDGA-sanctioned events.