Leiviska, Oakley tied for second as play shifts to Fox Run Meadows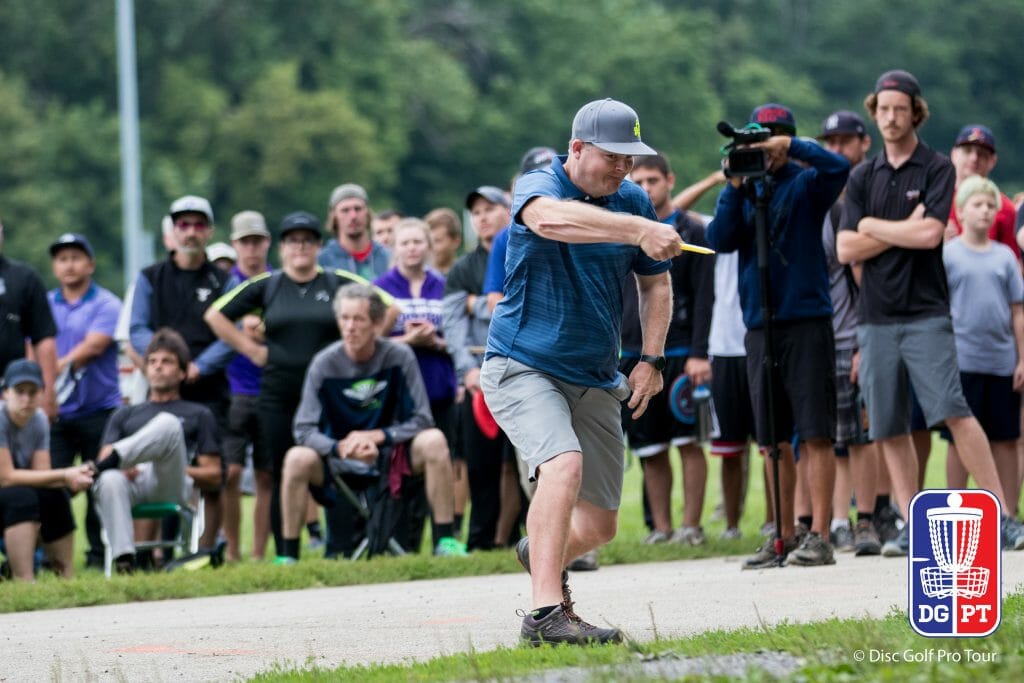 Ultiworld Disc Golf's coverage of the 2017 Green Mountain Championship is presented by Smugglers' Notch Resort; all opinions are those of the authors. With three disc golf courses on site, plus a fun zone and numerous outdoor activities, Smugglers' Notch has staked its claim as "America's Family Resort." Learn more about the facility and book your next vacation here.
Nate Doss had held the Brewster Ridge course record for four years after setting a 12-under par mark during the first round of the 2013 Green Mountain Championship. That number stood until yesterday afternoon, when Michael Johansen fired off a 13-under par 47 during the first round of the 2017 Green Mountain Championship.
Minutes after Johansen established that new pinnacle, though, he already had some familiar company in the record books: Doss.
"M.J. shot a 13, [and] we were in the group right behind them," Doss said. "And I came in with a 13, so it was cool. It was cool."
The lucky number gave both Discraft pros a share of the GMC lead, as their 1075-rated offerings put them ahead of Cale Leiviska and Eric Oakley, who each tossed 12-under par 48s to end up tied for third place. Paul McBeth has solo possession of fifth place after an 11-under par 49, while seven players are tied for sixth place with 10-under par 50s.
For Doss, the performance rated as his best of the season, topping his third round of the European Open by two points. And even as he was happy to have reclaimed Brewster Ridge's best score, he wasn't even sure he should have been credited with the previous record for much longer in the first place.
"The course has changed quite a bit since then, you know?" Doss said. "Not drastically, but like maybe one longer tee and two or three pins moved, and then this year there were, like, three pins moved into more difficult positions. In my mind I thought, 'Well, how do I still have a course record when the course is changed?'"
That didn't stop him from chasing it down for a second time, though. The three-time PDGA World Champion put together a masterfully accurate round, ranking second in the 125-player field in fairways hit (89 percent) and parked shots (33 percent) and first in both circle 1 (67 percent) and circle 2 (94 percent) hits in regulation.
"I really do think it comes down to the game plan," Doss said. "There's so many midrange shots, and in previous years I've played Brewster with some drivers off the tee on holes that, this year, I'm now throwing Buzzzes off the tee. I think it just allowed me to be a little more comfortable, knowing that I could hit those shots. They didn't have to be quite perfect — I can work a Buzzz a little better than I can work a driver — and I think that was a huge contributing factor."
Johansen, on the other hand, said he struggled with driving accuracy on the back nine and had to rely on his scrambling to land birdies on holes 11, 13, and 17. On two of those frames, he finished the job with putts from 40 feet.
"It was fun," Johansen said. "It was a slow, sluggish start, but once I got going it just kind of seemed to work…I made a bunch of mistakes off the tee and still got birdies off of bad shots on some of the par 4s. That helped keep the round going."
Johansen and Doss shared more than just the new course record, too. Both players putted with 94 percent accuracy from 30 feet and in, and neither carded a bogey. But it was the chance to have their names next to each other in the annals of history that left the biggest impact.
"It's cool with Nate," Johansen said. "He's been such a good player for such a long time. It's always nice to share a record with a teammate, too — especially one that's on a course that's had a lot of good players play through in the last several years."
"M.J. is a wooded course specialist, and he's a great guy and a great player," Doss said. "I enjoy playing with him a lot, and when I heard he shot that 13 I just really wasn't surprised, you know? I was like, 'Oh, of course. Of course he did.' But it's really cool to share it with him, and for both of us to shoot that round it had to be a very special day for both of us."
The pair of hot rounds managed to dwarf some otherwise impressive showings. Oakley's 1066-rated performance bested his player rating by 72 points, as the gregarious road warrior connected on four putts from outside the circle and successfully scrambled on five of the last eight holes to keep a clean sheet. Leiviska led the pack in parked shots (44 percent) and birdie percentage (72 percent), but offset those successes by two-putting on holes 9 and 13. McBeth splashed a 110-foot jump putt with a hyzer line around some trees for a birdie on the par 4 11th — "It wasn't anything too crazy," he demurred — and connected on a 50-footer through the foliage on the 555-foot 13th. Even with those highlights, he still said he left some strokes on the course.
"I had a lot of 40-footers that I didn't have fall or had really good runs on them," McBeth said. "There were some like that that were a little tricky."
The rest of the double-digit crew sitting in sixth place is headlined by four-time GMC Champion Ricky Wysocki, who struggled off the tee to a 67 percent fairway hit rate. Wysocki is joined by Grady Shue, who is trying to roll together another strong performance after coming in 10th place at the Vibram Open, and Peter McBride, who stands to improve his place in the Disc Golf Pro Tour's Championship seedings with a high finish this week.
As play shifts to Fox Run Meadows for today's second round, the fairways get not only wider, but much longer. With an extra 2,160 feet on the agenda, Johansen was looking to stick to his own game and not get caught up trying to chase anyone else off the tee.
"You might see that guy just park the heck out of a hole, or play it really well, and you're like, "Man, I should do that.' No, no, no — don't do that," Johansen cautioned. "That's usually how you end up throwing stuff way away [laughs]. It's definitely something I've learned over time. I definitely used to get suckered into watching someone do a shot and going, 'Hey, I can do that. Why haven't I ever tried that on that hole?' and then do it in the round. And it usually doesn't pay off so often."
Doss, meanwhile, planned to dial up the attacks, even as penalty lines loomed on every hole.
"I really feel like, if you're gonna play Fox Run well, you have to be aggressive," Doss said. "The course really calls for it. There's so much OB that if you are not confident with your shots, and you're not just going at your lines, you're gonna come up just that 10 or 15 feet short that could put you in the out-of-bounds. I'm gonna certainly stay as aggressive as I can."
He also acknowledged that the vast shift in style could lead to some serious shake-ups on the leaderboard. But with three rounds left to play, he was also trying not to get too far ahead of himself.
"The courses are so different from each other that, really, guys that maybe did great [yesterday] might not do so good [today], and vice versa," Doss said. "I want to try to put my head down and try to get as many birdies as I can and avoid the big number."
Unless that big number is another 13. With a minus in front of it, of course.