Bennett, Conrad tied for second heading into today's final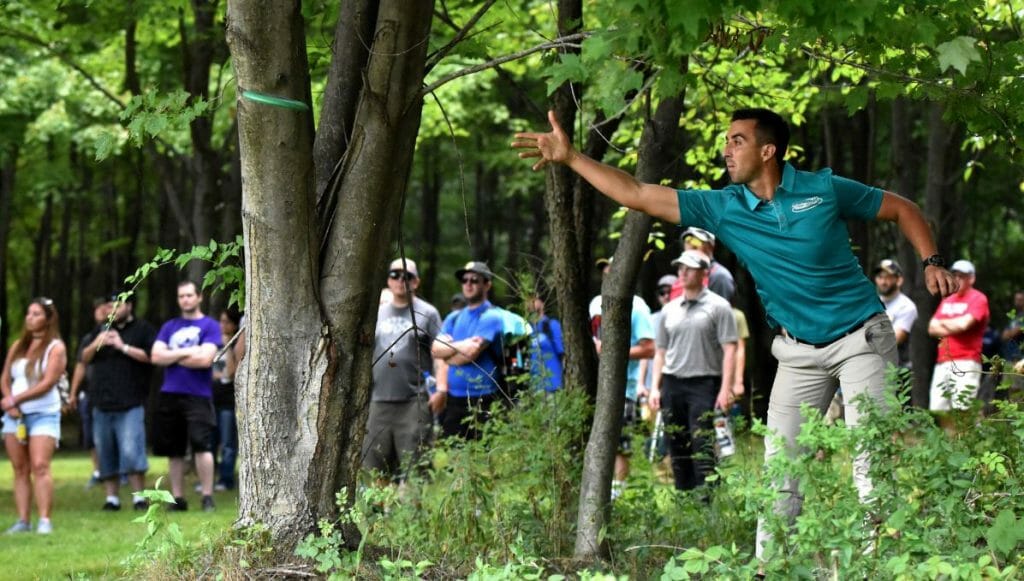 Ultiworld Disc Golf's coverage of the 2017 Pittsburgh Flying Disc Open is presented by the Butler County Sports Commission; all opinions are those of the authors. Find out more about disc golf in Butler County here.
During round one of the Pittsburgh Flying Disc Open, reigning PDGA World Champion Ricky Wysocki took comfort in the friendly confines of Moraine State Park, a track where he feels he has a virtual home-field advantage.
After yesterday's second round, though, it was Wysocki's world title predecessor who was making himself comfortable.
Paul McBeth tossed a 12-under par 54 for the second straight day at Moraine, a feat that moved him into sole possession of first place with a 24-under par 108 through 36 holes. Veteran pro Geoff Bennett matched McBeth's hot score to move into a second place tie, as he and James Conrad share a spot on the leaderboard with 22-under par 110 totals. Michael Johansen carded a 9-under par 57 to slip to fourth place in the standings with a 21-under par 109, while Wysocki, Chris Dickerson, and Simon Lizotte round out the top 5 at 20-under par.
McBeth's performance during the round hearkened back to his 2015 Pro Worlds scorcher, a 1091-rated fifth round where he wasn't always close to the basket with a look for birdie, but instead made it look close by hitting multiple big putts. He connected consistently from beyond the circle yesterday and attributed his numerous runs at Moraine with making him feel at home.
"I always play pretty well there," McBeth said. "I'm really comfortable there. Wooded courses, fair wooded courses — this is a fair wooded course. Last week [at the Idlewild Open] was kind of too tight. This is the kind of woods golf we should be playing, kind of similar to the IDGC courses.
"It's one of those wooded courses where, even if you throw a bad shot, you can scramble out and save a par or possibly get a birdie by throwing a really good shot," McBeth continued. "A lot of courses don't seem to do that…This kinda allows you, if you throw not so great shots, you can at least still save a par or fight out of it and show why we're pros, show why we have so many different styles of shots."
And while McBeth stuck to mostly conventional routes down the fairway, Bennett embodied the "many different styles" ideal. The 36-year-old often eschewed the traditional backhand lines in favor of forehands, as well as a smattering of forehand rollers, that left fellow competitors in disbelief.
"There's just some holes I can take advantage of that forehand roller," Bennett said. "That works really good for me, and I can gain that extra stroke. I've been coming here for over a decade, and I probably play this course better than the other ones [in Pittsburgh], it seems like."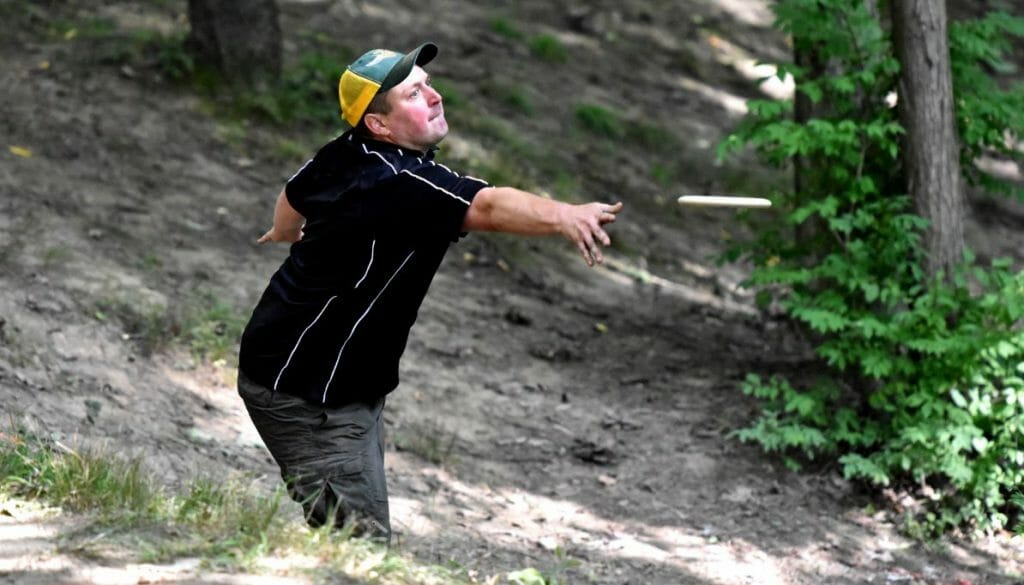 Indeed, Bennett is looking for an on-course renaissance as his summer comes to an end. He hit the touring circuit for roughly ten years after turning pro in 2005, but has played closer to home the past couple seasons as finances dictated a break from travel. He may not be the household name that McBeth is, but he's certainly no stranger to success: Bennett's 103 career victories, albeit at mostly B and C-Tier events, are the second most of today's lead card competitors (Johansen leads the pack with 129).
Bennett has never won a PDGA National Tour event, but has had close calls in the Steel City. He took a six-stroke lead into the final round of the 2009 PFDO, when it was an A-Tier, but battled through a bout of heatstroke — plus a well-timed Avery Jenkins ace — before finishing in second. Bennett still holds onto the anguish of that tournament as he looks for a career-defining victory today.
"I've been in this situation and not gotten through before, so I just want to play the best I can," Bennett said. "And if it happens to where I have the lowest score, then that'd be life-changing for me, really. It really would be. After all the heartbreak in Pittsburgh I've had, this would mean the world for me."
To do that, he'll have to not only chase down McBeth, but also gain separation from Conrad, who continued the hot streak he's been riding since mid-July with a 1058-rated round. The Virginia pro has yet to card a bogey in his first appearance at Moraine and rattled off seven consecutive birdies on the front nine yesterday. Though his pace cooled toward the end of the round, the consistency he has brought to the scoresheet has been the result of a balanced game.
"[Friday] was a little more scrambling, a little more big putts, but [yesterday] was just real clean," Conrad said. "I think I only missed probably off one teebox, and even then I was able to scramble well. So never really in any trouble, and just getting birdies where they came."
Conrad held off a surging McBeth last week at Idlewild, and he said he'd rather be doing that again this week than looking up at the leader.
"I guess it would be better to be leading going in, but I'm happy with where I'm at," Conrad said. "I've put together two good rounds, and with another one I think I'll have a shot at it."
Plenty of others are in still contention, but have more work cut out for them after moving day slides in the standings. Lizotte closed play yesterday with an eagle on hole 18, a 489-foot par 4, but offset that bonus with a double bogey on hole 6 and a bogey on 12. Wysocki went bogey-free, but never managed more than three consecutive birdies, while round one leader Charlie Goodpasture could only muster a 4-under par 62 yesterday and fell to eighth place.
McBeth is now on the cusp of his ninth win of the 2017 season, and he said he would make few, if any, adjustments leading into the final at Moraine.
"I think it's just a course you can be aggressive on," McBeth said. "I feel really comfortable out here, and I'm just gonna play it the same way. I talked to Jomez [Productions] earlier — they did a little interview  — and I feel like if I shoot a 12 [under] I should win. That's a score that I'll be looking for, but if I'm not shooting that hot I'll have to do some score watching and see when to take my shots and not. This course, I feel like I can almost take a shot on every hole."
Bennett, meanwhile, was planning on dining on a little more than his Wheaties as he looked to handle the jitters that accompany an appearance on a lead card during the final round of a National Tour event.
"I might be [nervous], but I was today, so we'll see," Bennett said. "I took care of it pretty good. I ate those butterflies after the first two holes."
Lunch will be served for Bennett and the rest of the lead card at 2 p.m. local time, with live scoring and updates available on PDGA Live.