Hokom and Fajkus five shots back after day one at Moraine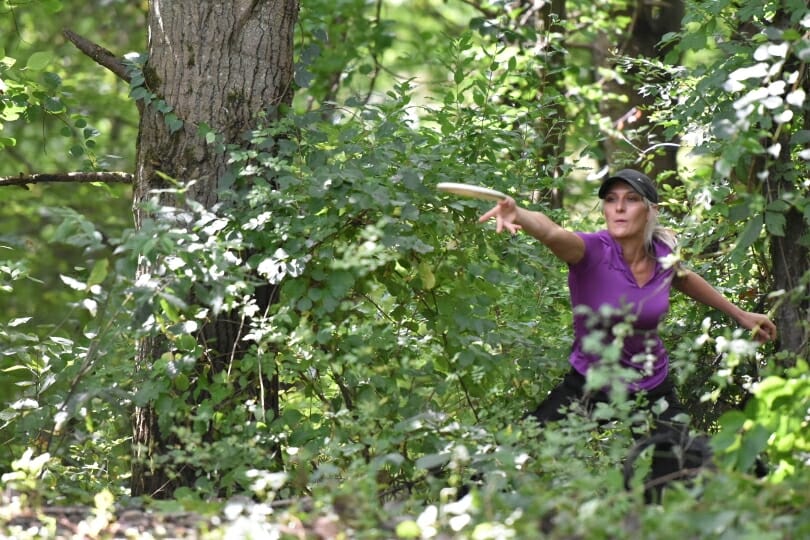 Ultiworld Disc Golf's coverage of the 2017 Pittsburgh Flying Disc Open is presented by the Butler County Sports Commission; all opinions are those of the authors. Find out more about disc golf in Butler County here.
The first round at the Pittsburgh Flying Disc Open is in the books after a mild summer day on the western edge of Appalachia, and the two highest rated players in the Open Women's division are knotted up. Paige Pierce and Catrina Allen tossed matching 987-rated 8-under par 58s to jump out to and early lead, and their tie on the leaderboard is followed up by another, as Sarah Hokom and Lisa Fajkus both carded matching 3-under par 63s. Jessica Weese rounds out the top 5 with a 1-under par 65 with two rounds left to play.
For Allen, yesterday's success could perhaps be credited to the relief of moving from the tight confines of last week's Idlewild Disc Golf Course to a Moraine State Park venue that, by comparison, brought a breath of fresh air.
"Moraine normally feels tight," Allen said. "But for some reason it felt a little more relaxed and a little more like you were playing in an open course. Paige and I were even chatting about that earlier today."
Pierce and Allen both got off to impressive starts, with the current PDGA World Champion birdieing three of the first five holes as Allen added two of her own. Allen missed a par saving putt from inside the circle on the par 5 6th, but quickly made up for it with a birdie on 7.
Allen picked up some steam heading into the back nine, as she snagged three straight birdies on holes 10 through 12, a difficult stretch with two par 4s that features heavily wooded fairways and elevation change. Allen described hole 12, in particular, as one of the "two hardest holes on the course."
"It's not super long or anything," Allen said. "It's just the landing zone — if you can call it that — is very, very, very small. And even if you do get in the landing zone, it's such a tight gap. It's almost like — it's the hole that would remind me the most of Idlewild, I guess. Honestly, I was just praying to hit the gap and get up left where I could pitch over, and luckily I had the look and made a 45-footer. I wasn't actually trying to 3 it. I was just trying to make sure I had an easy 4."
Pierce was able to keep pace, though, also birdieing hole 10 before getting holes 13 and 14. Allen then made up for the stroke she lost after the hole 6 bogey when her turnover drive on the par 5 16th — the twin to hole 12 in terms of difficulty, per Allen — made the top of the hill on the right side of the fairway. After her approach roller curled inside the circle, she faced a 25-foot putt at a green that slopes steeply behind the basket. She took a knee and canned the death putt for the eagle.
Allen played some mental gymnastics before lining up her conversion, and the round she had put together leading up to it played a role in her attack.
"I kinda knew I was playing okay," Allen said. "It was a good round. It wasn't the best round I've ever played, but I felt like even if I take a 5 here it will still be okay. So I felt like the risk/reward was good because of how my round was going."
Pierce birdied 16 herself and followed that up with another on hole 17 to finish out her round. Allen closed play with a birdie on hole 18 after her drive was just 60 feet short of the pin, allowing for an easy lay-up to keep the pair tied.
"I played pretty solid. If I got out of position, I laid up to make sure to take par," Allen said. "I think I did miss four putts in the circle, though, so I did leave some out there. But I also threed what I think are two of the hardest holes on the course. So that kinda makes up for a couple missed putts here and there. I did make three or four good putts just inside the circle, so yeah — it was a pretty solid round."
Allen credited the change in scenery from the unforgiving rough of last weekend's event for her ability to scramble for par more successfully yesterday.
"I know two years ago [during Pro Worlds] I remember being frustrated because the lines felt really tight [at Moraine]," Allen said. "So it might just be refreshing to not be on a course like Idlewild.
"I feel like Moraine has — there's a little more golf and a little more room to work," Allen continued. "Like, if you get out of position you can still kind of advance down the fairway, and you know whether or not to be on the left or right side to make sure you get up and down for par. Where if you got off the fairway at Idlewild, who knows what you were going to take?"
Staying relaxed and letting the round come to her was at the forefront of Allen's mind heading into today's second round, where she's looking for a similar result.
"I'm not going to change anything for tomorrow, just hope to make a few more putts," Allen said. "I feel like if I just do exactly what I did today and maybe — I kinda feel like I would love to sit here and be like, 'Well, if could get hole 1, and get up and down on hole 2 and make a putt on hole 3, like I could shoot better.' But I think overall it was solid round, and I would love to shoot anywhere near the same round tomorrow. I'd be happy."
Allen, Pierce, Hokom, and Fajkus tee off for the second round at 1:10 p.m. local time, with live scoring and updates available via PDGA Live and Ultiworld Disc Golf on Twitter.