Leatherman cruises to ninth victory of 2017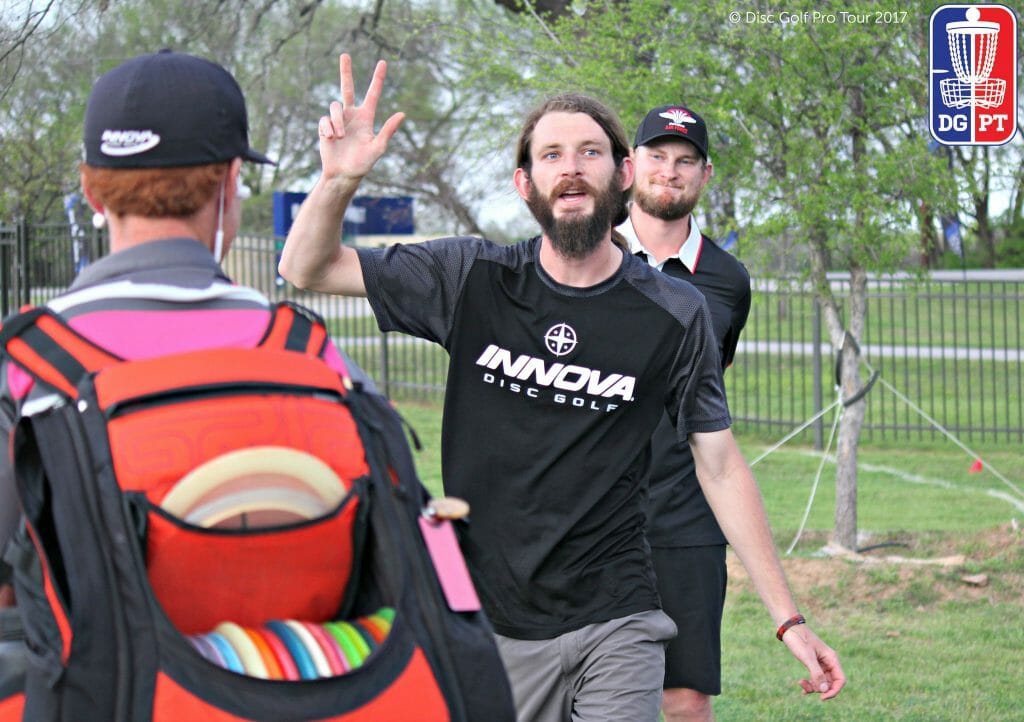 While Paul McBeth was slaying The Beast in an epic comeback at the European Open, several stateside events gained the attention of other pros.
The CCR Open in Lansing, Michigan, was the only A-Tier event of the weekend. James Conrad came into the event as the the highest rated player at 1024, and he showed it as he took the victory. Conrad shot a 30-under par 153, averaging 1028.7-rated disc golf in the process. Calvin Heimburg was the second highest rated player (1019) in attendance and averaged his rating over the weekend to take second place with a 27-under par 156 total. Brenden Tetloff used a 1070-rated hot final round to jump into third place with a 26-under par 157 total, while Tim Barham rounded out the top four by tossing a 25-under par 158. Sandi Hendel took the solo victory on the women's side after she shot a 14-over par 197.
In B-Tier action, Steve Brinster found himself five strokes out of the lead heading into the final round of the Sellersville FISH Bowl in Sellersville, Pennsylvania, but battled back to win in a playoff. Brinster outlasted Craig Culter after the pair tossed 21-under par 111 totals this at the two-round event, while Devin Frederick finished one stroke back to take third place. Hannah Leatherman shot a 4-over par 136 to take the Open Women's division over Marci Klinger, who tossed a 25-over par 157. The win was Leatherman's ninth of the 2017 season.
Chris Dickerson got back to his winning ways at the Old City Open in Knoxville, Tennessee, firing off two straight hot rounds to pull away from the competition. Dickerson finished with a 25-under par 89 total, while Joey Lutz took second place with a 19-under par 95 showing. Brandon Harrill and David Diehl tied for third place with 15-under par 99s, as Harrill played averaged 975-rated golf on the weekend, well above his player rating of 919.
The Open Women's field was small for this event as well, boasting just three players. Kelly Tucker took a 10-stroke victory, finishing with an 18-over par 132 over Beth Foister.
When looking at the registration list for the 2017 PA State Disc Golf Championship one name stood out: Nikko Locastro. It was 996-rated Sam Shiley who stole the show, though, securing a six-stroke victory with a 24-under par 90. Owen Hileman took second place after an 18-under par 96 performance, while Locastro finished in third place — despite having the lead after round one – with a 17-under par 97.
Logan Bowers took his sixth victory of the season and his second B-tier win at the Battle at Beech Bend. Bowers and Dutch Napier indeed "battled" it out on the 21-hole, par 65 temporary course in Bowling Green, Kentucky, as Bowers finished with a 39-under par 156 by tossing back-to-back-to-back 13-under rounds. Napier finished in second place with a 36-under par 159 and shot the hottest round of the weekend with a 15-under par, 1024-rated first round. Kevin Jones took third place as he tossed a 34-under par 161, and Jay Bellamy finished in fourth place by shooting a 30-under par 165 for the event.
Out on the West Coast, the 10th Annual Jelly Jam drew a crowd. The favorites coming into the event were James Proctor and Shasta Criss, and Criss pulled away with the victory after a 1033-rated hot final round to push to a 20-under par 155 total. Mike Sale fell one stroke behind Criss, shooting a 19-under par 156 for second place. Sias Elmore and Joshua Castle tied for third place, both shooting 18-under par 157s, while Proctor tied for fifth place with Jason Olcese at 17-down.
The Jelly Jam's Open Women's field may have been small, but was still hard fought. Kristine King and Amanda Zaccone were deadlocked at 17-over par 192s after two rounds, and King won in a playoff to take home first place honors.
Names like Kyle Crabtree and Scott Withers caught the eye at the Rose City Open in Portland, Oregon, but it was 972-rated John Kotansky taking the comoe-from-behind victory after a 1053-rated final round. Kotansky averaged 1027-rated play en route to a 19-under par 143 total, as Luis Nava and Withers fell one stroke short and settled for a second place tie with 18-under par 144s. Crabtree ended up in fourth place after shooting a 17-under par 145.