McMahon's rebound round moves him into sixth place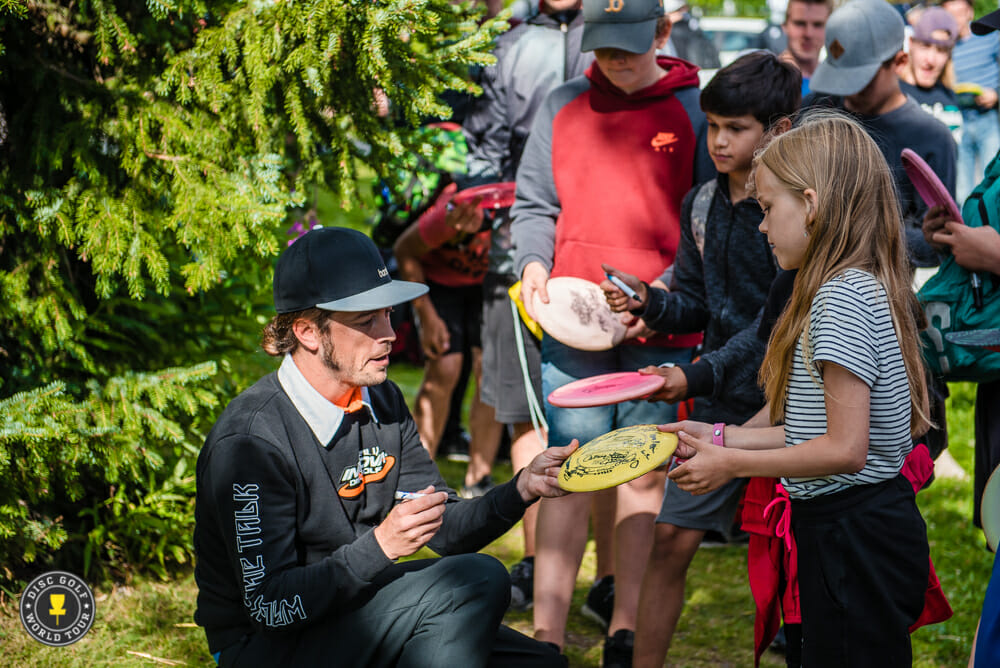 At the end of a front nine in which he held off a chasing Paul McBeth yesterday during the second round of the European Open, Gregg Barsby finally experienced his first real adversity of the event.
Looking to run for birdie from outside the circle on the 103-meter 9th hole, the Northern California native missed wide left with his KC Aviar, and it rolled to roughly 10 feet from the pin. What should have been an easy clean-up for par, though, quickly devolved into a bogey, as Barsby haphazardly tossed his putter off the right side of the chains for an egregious miss.
Instead of panicking, though, the 18-year veteran took a couple breaths, remained poised, and bounced back to throw the best back half in tournament history.
Barsby birdied eight of the final nine holes at The Beast, executing lines with precision on the way to a second straight day of 11-under par golf. The performance brought him to a 22-under par 106 total at the PDGA Major's midway point and extended his lead over McBeth to six strokes.
McBeth, meanwhile, dipped slightly from his day one pace with a 7-under par 57 second round, bringing him to a 16-under par 117 overall, while Simon Lizotte's 9-under par 55 moved him into third place with a 15-under par 113. K.J. Nybo and Nate Doss tossed matching 6-under par 58s, with the former slipping to fourth place with a 14-under par 114 total and the latter falling one spot to fifth place with a 13-under par 115.
For Barsby, the recovery after the tournament's 27th hole was about recognizing that he had to take ownership of the poor putt and managing the wave of emotions that can accompany playing on the lead card. And he did that by falling back not only on his experiences as a disc golfer, but also as a musician.
"In that regard, I was really comfortable. I felt loose today and just kind of flowing," Barsby said. "It was a good crowd today, so I kinda got numb there a little bit on the back nine. Just kinda like if you go play a show or something — you get on stage, there's kinda that heightened energy. You've gotta go numb, or you're buzzing almost. So I was just kinda riding that."
He also increased his accuracy. Barsby upped his green hits in regulation to 78 percent and trimmed his two penalty strokes from round one down to a single OB. It was part of an approach that he said was dictated by The Beast's difficult layout.
"Mistakes are really what gets you on this course," Barsby said. "I don't think that it's necessarily the amazing shots that get it done. It's the lack of mistakes."
Indeed, those miscues contributed to McBeth's score on the day. Though he hit seven of nine greens on the course's first half, he two-putted twice to take pars instead of birdies. He also lamented his driving accuracy late, as he sawed off his drive on 15 to take one penalty stroke, then turned over his approach on the same hole for another.
"The final few holes I just wasn't executing the shots," McBeth said. "I was missing the lines by a little bit, and it's really hard in that section."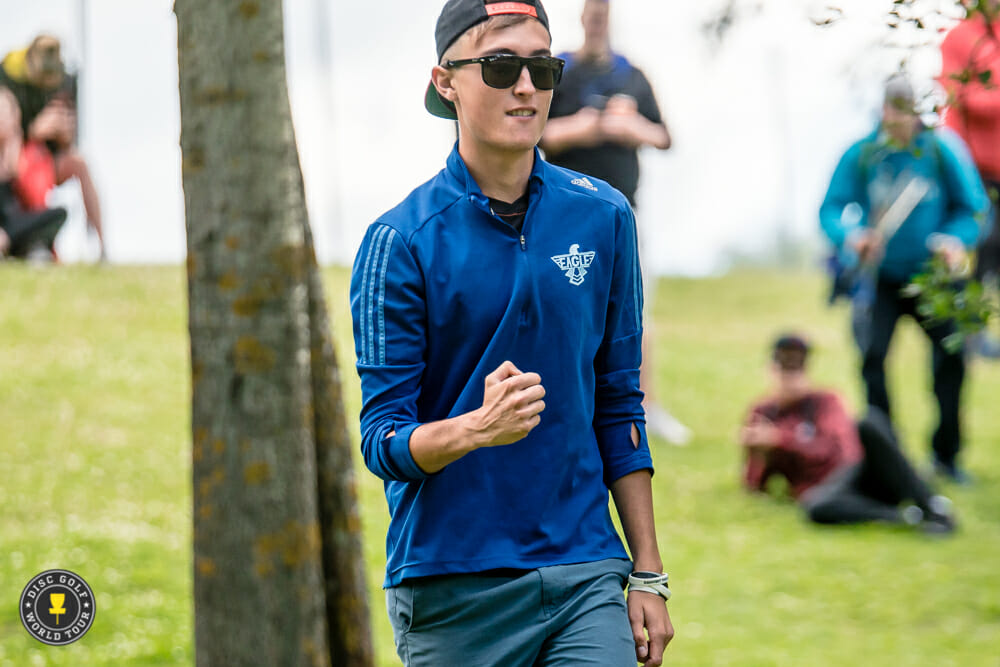 Though Barsby went big with another day of double digits below par, he didn't card the tournament's hot round. That honor went to Eagle McMahon, who fired off a 1074-rated, 12-under par 52 to rocket up the leaderboard. The 19-year-old Colorado pro started the day tied for 51st place and, on the strength of nine straight birdies to start the round, ended up in a four-way tie for sixth.
"The one thing that I've been trying to do is maintain my composure," McMahon said. "At Worlds, Beaver State Fling, all that — I played decent there, but I let every shot affect me too much, and what I'm trying to do right now is just kinda take a step back and relax, and just throw the shot and try not to be so attached. I had that mindset throughout the entire round yesterday, but even though I had a really terrible finish I didn't really let it affect me. I just kinda let it bounce off.
"I just want to find that even playing ground, to where I can stick to a good mindset even when I'm playing bad as well as good," McMahon continued. "The main thing, I just go out and play. I went out and played and did all I could, and it resulted in a really hot round."
McMahon shares sixth place with Teemu Nissinen, Mikael Häme, and Seppo Paju, the latter of whom carded a 10-under par 54 yesterday to move up from 34th place. Five players are tied for 10th place with 11-under par 117 totals, including Jeremy Koling and Devan Owens, who aced hole 9 while — surprise, surprise — sharing the card with Koling.
Now forced to dig out of a deeper hole as he aims for his fourth consecutive European Open title, McBeth said he was not worried about being able to overcome Barsby's advantage with 36 holes left on tap.
"Six strokes is a lot, but it's — I'm not trying to say this in a mean way, but it's Gregg Barsby," McBeth said. "He shot two [minus] 11s, he's playing really well now. But it's not someone like Rick [Wysocki], who just thrives with the lead. Gregg needs to — he's been around the game for a long time, but he still has to prove himself. He's gotta prove to us he can hold a lead, but he's also got to prove to himself he can hold the lead. It'll be seeing him fighting his inner demons down these next two rounds."
Lizotte, who said he had opportunities to play "really well" but was still pleased with his improvement over round one, echoed a similar sentiment regarding the top of the leaderboard.
"I mean, Barsby is, of course, a guy who knows how to win tournaments, and of course he's been in this position a couple times — maybe not during Majors," Lizotte said. "But I would be really surprised to see him keep dominating like this. And I'm gonna make sure that he — what's the right word? I mean, I'd be surprised if he keeps this going."
Barsby, though, shrugged off any suggestion that he might crack under the pressure and was confident he could remain in the zone.
"I'm sure they're pretty curious if I can do it or not, but I'm not really concerned with what they think or any of that stuff in regards to playing the tournament and what not," Barsby said. "I think they want to see me do it."
Lizotte did, in fact, say he'd like to see Barsby use those doubts to push him down the stretch.
"I would love to see him just win it straight out, shoot four 11-downs and win," Lizotte said. "I love when people think I'm gonna fail. That makes me even want to do it more."
Even as Barsby took an opportunity after the round to shout out his hometown of Grass Valley, California, and acknowledge the messages of support he's received while abroad, he still exhibited a zen-like calm. After a handful of close calls over the years, he's turned his gaze inward as he pursues his first career Major victory.
"I want it for me," he said. "I don't want it for them, or any of the sponsors. I'm just playing to play my best, and that's it."
Barsby and the rest of the lead group tee off at 2:00 p.m. local time, with live scoring and updates available via the Disc Golf World Tour's website and social media channels.