Finnish phenom Salonen sits in second place after day one at The Beast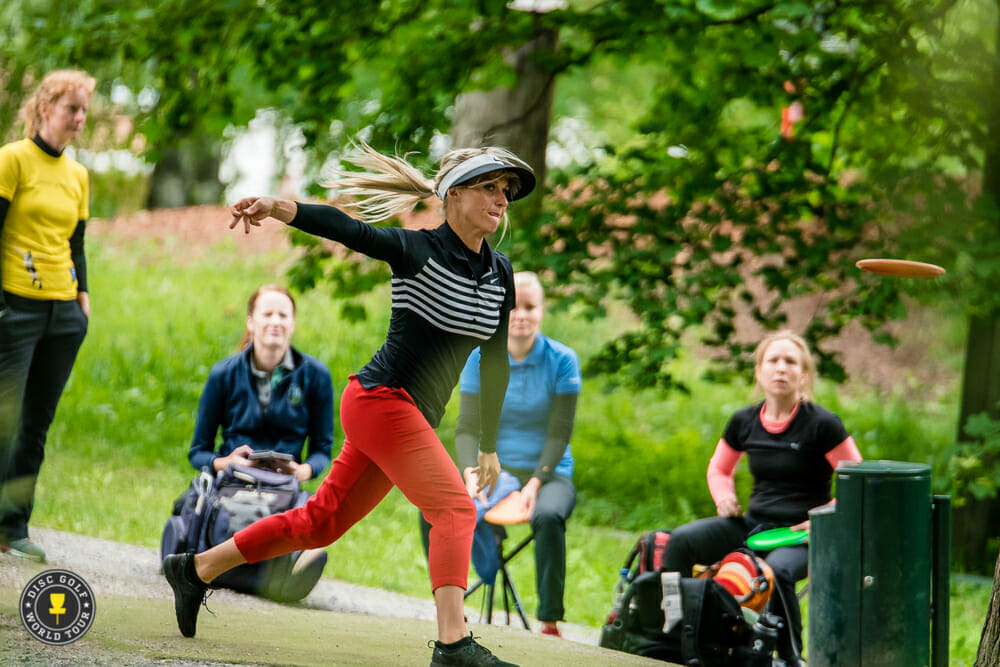 After one round of the European Open in Nokia, Finland, pre-tournament favorite Catrina Allen is out in front, her opening day 4-over par 68 giving her a slim lead over Eveliina Salonen, who tossed a 5-over par 69 yesterday at The Beast. Fellow Finn Henna Blomroos sits in third place with a 6-over par 70 total, while two-time European Open champion Valarie Jenkins rounds out the top four after a 7-over par 71 performance.
Allen's 963-rated score may be a harbinger of good to come: It's the same number she put up in the first round of her 2015 European Open win.
"I am not satisfied with my round, but I'm not upset about it either," Allen said. "Just a little too up and down. It feels good to birdie on this tough course, so to have so many bogeys was a little frustrating."
Indeed, Allen's round got off to a less than stellar start as she collected extra strokes on the first two holes, which played as the second and 15th most difficult, respectively, for the field. She turned things around quickly, though, hitting the green on both holes 5 and 7 and converting putts for birdie to return to even.
Allen accrued two penalty strokes through the first eight holes, then was the recipient of some unfortunate luck on hole 10. Her approach shot hit the basket, but then proceeded to roll out-of-bounds. What could have been a round-altering eagle turned into a bogey 5 after the penalty stroke and a missed putt.
Allen followed that sequence with another missed putt and bogey on 11, but again was able to turn things around by hitting an outside-the-circle putt for birdie on hole 12. Pars followed through the final third of the course, with one bogey on the challenging hole 16 mixed in. Allen's three birdies, three greens hits in regulation, and two putts from beyond 10 meters were each the top mark in the field.
Despite the inconsistent results, Allen only trailed Salonen by one stroke and Blomroos by two heading into the final two holes, where her pars gave her the edge — and some confidence — heading into today's second round.
"They are really tough," Allen said of holes 17 and 18. "But I feel good about my game plan on them."
Blomroos was the leader through much of the back 9, riding a round best 88 percent inside-the-circle putting percentage until reaching the final two holes. She followed a penalty-induced double bogey on 17 with two more penalty strokes, and another double bogey, on 18.
The rough patch saw Blomroos drop to third, while Salonen was able to maintain her second place standing despite two bogeys of her own on the final two frames. Holes 17 and 18 proved to be the second and most difficult holes for the field in terms of strokes to par, with 17 playing at a 4.3 average and 18 playing almost two full strokes over at 5.8. Allen and Katka Bodová, who carded an 8-over par 72 to land in fifth place, were the only two competitors to par both holes. Anne Kettunen recorded the field's only other par, on 17.
The strong finish helped Slovakian pro Bodová to her 934-rated showing. Estonian Kristin Tattar sits one shot off Bodová's pace after a 9-over par 73, while Kettunen and Hannele Määttä round out the chase card with 10-over par 74 and 12-over par 76 scores, respectively.
Allen, Salonen, Blomroos and Jenkins tee off on the lead card at 1:00 p.m. local time. Follow along with live scoring at Disc Golf Metrix and keep an eye on the Disc Golf World Tour social media accounts for updates.