The biannual affair is tailor-made for real-time viewership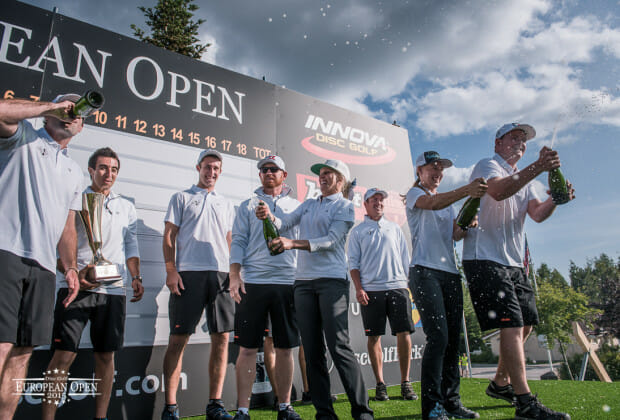 USA versus Europe. The Beast. Six of the top 10 players in the world battling for continental supremacy.
It's back.
The Presidents Cup is today, returning for its biannual soirée ahead of the European Open to deliver a team challenge to the forefront of the disc golf world. The United States brings a seven-Cup winning streak into this year's tilt, which features a unique combination of stroke play1 and match play2 before one squad hoists the Presidents Trophy into the Finnish sky.
But as the States aim for the half gallon — that's eight Cups, for those keeping score at home — we'll only be able to see the action play out in real time via social media posts and live scoring. And sure, we understand the logistical challenges live-streaming can present — especially an event of this nature, which would assuredly require multiple cards being shown in whiparound-style coverage — but that doesn't mean we can't dream of what could be.
So before you tune into the post-production recap on The SpinTV, we present five reasons why we wish the Presidents Cup was on our screens this instant.
1) It puts Europe's top talent on display. Most stateside disc golf fans who aren't living under a rock know Simon Lizotte and K.J. Nybo, the two men anchoring the Team Europe squad at the event. Fewer spectators, though, have had the chance to take in the stylings of 2016 European Champion Leo Piironen or lefty Teemu Nissinen. And Slovakian pro Katka Bodová, who is one of the few devoted touring professionals to hit the road sans a manufacturer sponsor, deserves our attention. Add in the Finnish firepower coming from Juho Parviainen, Jalle Stoor, Seppo Paju, and Eveliina Salonen, and it's front and center for the European disc golf movement.
2) It's only a one-day event. Realistically speaking, it can be difficult for viewers to devote all of the hours required to follow a three-to-four day Major event. One day, though? That's perfect for big-time advertising blasts so fans can have the event drilled into their conscience. Organizers could ask players to coordinate publicity on their own social media channels, as well, to boost the coverage.
3) The time difference would have worked in the event's favor. With a 3 p.m. Finland start today, that puts the event in prime viewing hours for much of Europe. Plus, that's 8 a.m. on the East Coast, lining up perfectly for many disc golf viewers' preferred haunt: the office. With the final round going off at 5 p.m. in Finland, that means those on the West Coast could enjoy a cup of coffee with their live disc golf and cheer for their homeland team. Plus — and this circles back to reason number two — it's only one day to carve out of the schedule for an early wake up call. If you can pull an all-nighter for multiple World Cup games every four years, there's no doubt you can spare some Zs for a team disc golf event.
4) Everyone loves a good rivalry… Ohio State versus Michigan. Johnson versus Bird. Rocky versus Drago. Rivalries make sports, and the Presidents Cup is no different. As stated above, it's a team disc golf event, one of the most rare formats in the sport, and the USA versus Europe showdown gives the tournament a Ryder Cup-style vibe that begs to be seen.
5) …But rivals also join forces. Paul McBeth and Ricky Wysocki have spent the better part of the last four seasons exchanging blows at the top of the sport. But for one day, they come together on the same team to try and bring home the eighth straight victory for the Stars and Stripes. We don't expect them to be too jovial, but it'll certainly be worth noting how they communicate and cooperate before getting back to their usual on-course fisticuffs tomorrow at the European Open. It's a 24-hour reprieve where, instead of training their sights on one another, they'll direct their gaze across the pond.
Presidents Cup Facts
The Presidents Cup will utilize nine of the 18 holes at The Beast: Holes 1 through 3, 9 through 11, and 16 through 18. Groups will take two turns on this selection to make up their full round of 18.
USA Captain Dave Feldberg is the only player to have participated in all seven previous iterations of the event.
Valarie Jenkins is making her sixth consecutive appearance on Team USA. McBeth is on his fourth straight go, while Wysocki is making it three in a row.
Nybo is the longest tenured player on Team Europe, now making his fifth straight appearance. Lizotte trails the Danish Champion by one.
Salonen and Bodová are both making their first appearances for Team Europe.
Additional reporting contributed by Ultiworld Disc Golf Staff Writer Alex Colucci
---
In round one, teams play individual best shot in four groups of four players. Seven points are available for each of the four groups (three men's groups and one women's group). The best score in a group is awarded four points for their team; the second best, two points; the third best, one point; and the worst, zero points. If two players tie they split the available points for the position in which they ended (first, second, etc.). ↩

In the second round, eight opposing pairs play for three points in a match play format. Whoever wins the most holes out of the nine played between each pair wins. The winner gets three points, and if the pair ties each player gets 1.5 points for their team. A total of 52 points are available between the two rounds, and the winning team must accrue at least 26.5 points to win the Presidents Cup. In the event of a tie between teams at the end of both rounds team captains nominate one player each to compete in a sudden-death playoff, repeating holes 16, 17 and 18 until there is a winner. ↩