Brian Lamoreaux took charge of the layout for this weekend's Nissan Stadium Disc Golf Experience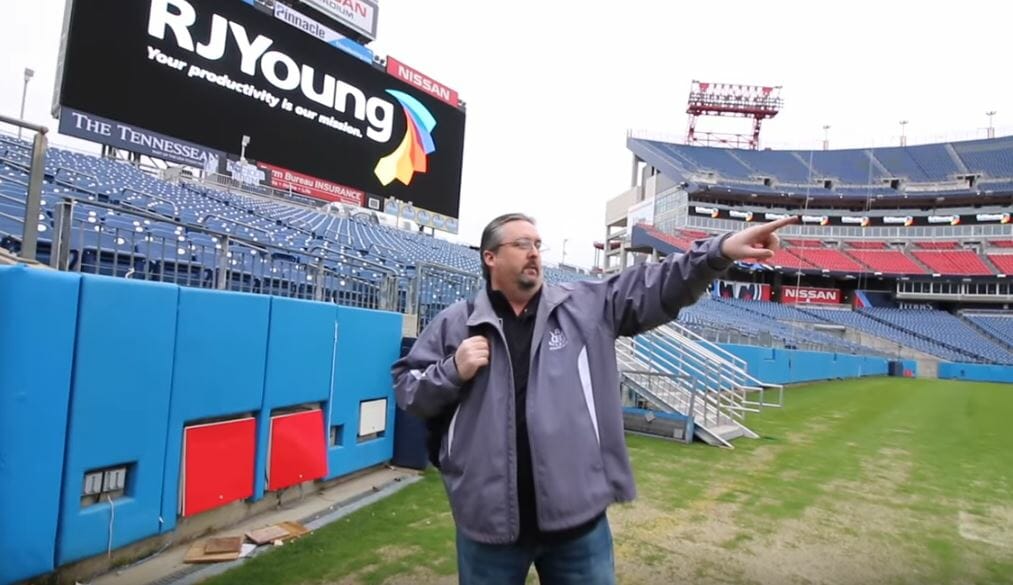 Brian Lamoreaux has a good thing going.
By day, he buys video games as part of his duties as the merchandise manager for the Army and Air Force Exchange Service. And by night, he does "pretty much whatever Jeremy Rusco needs me to" as a part-time employee of Dynamic Discs. The latter role has led him to his newest adventure: After three years of throwing discs around the Dallas Cowboys' AT&T Stadium, the Emporia, Kansas-based company is picking up its Disc Golf Experience stadium event and moving it east to Nashville, Tennessee, where this year's DGE will take place at Nissan Stadium, home of the Tennessee Titans. And Lamoreaux took the reins on designing the layout.
The concept for the Disc Golf Experience is simple: Players can sign up for a variety of packages, with the most common giving participants two discs and a nine-hole round in and around the concrete and artificial turf jungle that makes up a professional sporting venue. It's a far cry from the fairways of your typical disc golf course, but Paige Pierce, Zach Melton, and Eric McCabe will still all be on hand to pump the event.
We caught up with Lamoreaux before he jetted off to Tennessee to talk about the challenges of designing a stadium course, what he thinks about other companies jumping in on the stadium disc golf action, and his dream venue for course design.
◊◊◊◊
How did it come together to take this year's Disc Golf Experience to Nissan Stadium?
In this case, I reached out to the Titans [about] our making a venue change. As much as we enjoyed doing AT&T Stadium here in Dallas, three years in a row was great, but we wanted to try something different. We just wanted to kind of branch out and see what else was out there and what we could do. So I contacted the Titans, we did a little, of course, fine tuning — some negotiating on what it would cost to pull something off — and [Dynamic Discs founder] Jeremy Rusco, [media manager] Bobby Brown, and I went out in January did a site visit, finished with signing the contract, and Rusco and I did a preliminary layout with Bobby filming us the entire time.
What are you looking for when you create a stadium layout? What are the main differences between that and a conventional course?
I kind of refer to this as a non-traditional course, because when you're looking at designing a course at a public park there are certain aspects you take in mind that you don't have to worry about inside a stadium.
But in a stadium, [there are] a couple things that jump out. One of them, obviously, is safety. There are many things we have to take into account, from where do tunnels lead, to are the surfaces slick? Is there a spot for someone to fall, unfortunately, out of the stands? That type of thing that you don't have to worry about when you're doing a traditional course.
So not only does it have to be safe, but it also has to fall under the guidelines that the stadium puts you under. Obviously they don't want to see damage to their property — whether it be signs, guards being hit in the side of the face with a disc, other things that kind of limit you — which again makes it a little more challenging. But you work with the, you know, the parameters up front, so then you're left with knowing [with] what space you have, how much fun can I make this? Because that's what it's all about — you've gotta have fun. So it has to be something that's fun enough to play, that people feel like they got a good experience out of it.
What is the biggest challenge during the design process? Is it safety, or the other aspects?
For this particular event it was a challenge based on where we were able to go within the stadium, and again working within those parameters of being safe and fun. They did give us some latitude in certain areas, and in others we were told straight up, 'No, we can't do this.' So we had to get creative in some areas.
What specifically did you have to get creative with?
Well, trying to utilize how much space can we put anything on the field, then how do we connect it all  by going through different tunnels or areas of the stadium that were allowed to go through based on their security requirements? It's connecting the dots. It's really working through what does a good nine hole layout look like, and how do we piece it together?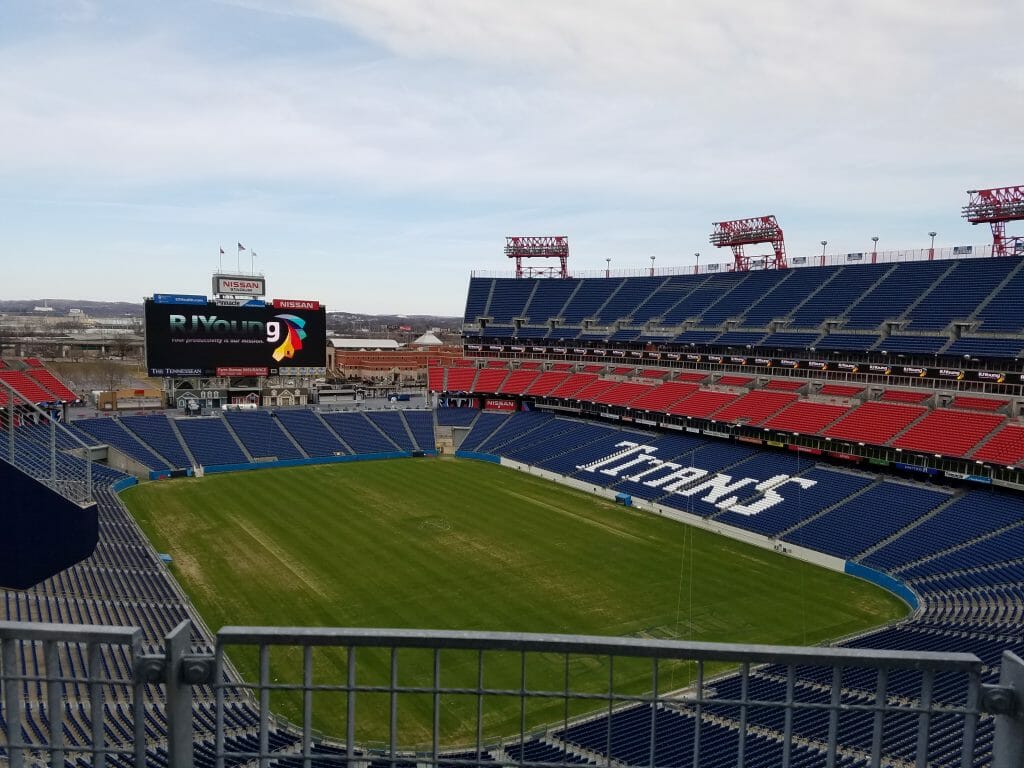 What's your favorite hole for this event?
For this stadium, frankly, I think hole 8's gonna be a lot of fun. It's hard to tell from the [online map] layout, but it's really a shot from an entryway down over the lower deck of stands to a basket on the field. I think that's gonna be fun. It think hole 1's gonna be fun, which is also from the concourse level, over the stands onto the field.
But really, I think the one that's gonna really get people to say 'Wow!' is the hole that we're using for the VIP event. That was opened up to everybody, I think we had 64 people that signed up for the VIP event. Those people will be throwing from the upper level to a basket on the field. That's gonna be amazing. The folks at AT&T kind of let us do that last year, and it was just a small group of us that went to the upper decks and threw from up top. After doing that, we really had to find a way to make that happen [again]. So in this case, the folks over at Nissan are allowing us to have a private party up on the upper deck, and everybody gets to throw from there to a basket on the field, and we're having a CTP [closest to the pin] contest.
Any there any unique features at Nissan Stadium you were looking to highlight in the design?
That's kind of a tough one, because obviously with the history at AT&T Stadium and being 'the place that Jerry [Jones, Cowboys owner] built,' it's a little more ostentatious and over the top compared to what they have at Nissan. It's obviously several years older. Yeah, it's a stadium. It's kinda hard for me to talk about anything too special about it, other than it's a great location with great fans. That's what we were looking for, is people who love both sports to kind of put them together to come out and have a good time.
Are there other stadium events in the works?
I think what I'll say is that this will be our only visit to Nashville, at least for the foreseeable future. And we are in negotiations to take this to a different location next year.
What would be your dream facility on which to design a course?
Oh, wow. I don't know, the Great Wall of China? Somwhere that I can go and really get to travel and see some more of the world? That's a tough one — there are so many places that I really want to go. Really, I think for now our goal — and it's been the goal of Dynamic Discs since it was founded in 2005 – is to grow the sport. For us, especially with the intention of the stadium events, it's about growing the sport and reaching, hopefully, new customers. And I say customers, but I mean disc golfers, people who really want to get out and enjoy the sport regardless of if it's Dynamic Discs or whoever else. I just want people to grow up and have some fun and enjoy the sport. For me, a wish list location would be somewhere that maybe hasn't experienced the joy of what disc golf is yet so we can spread that word to them and go out and have fun together.
Dynamic Discs was the first to really bring disc golf to a large stadium, and now other brands have followed suit. Do you see that as sort of imitation being a form of flattery? What's the internal view of things at DD?
It's interesting – I've had a few people reach out to me with the imitation-slash-flattery comment. But again, kind of what I just said about Dynamic Discs' enthusiastic mission about growing the sport: As long as people can go out, have a good time, and help grow the sport in general, I'm all for it. I hope they have a great time.
Any word on if Tennessee Titans players might show up this weekend? I'm betting Marcus Mariota can sling a mean Frisbee.
[Laughs] Not saying we haven't made the request, but I'm not aware of anybody with a firm commitment.
Registration is still open for the Disc Golf Experience at Nissan Stadium, which takes place Saturday, July 15 in Nashville, Tennessee. Per Lamoreaux, day-of sign-ups will also be available.