Jenkins and Fajkus each move up a slot at the tournament's halfway point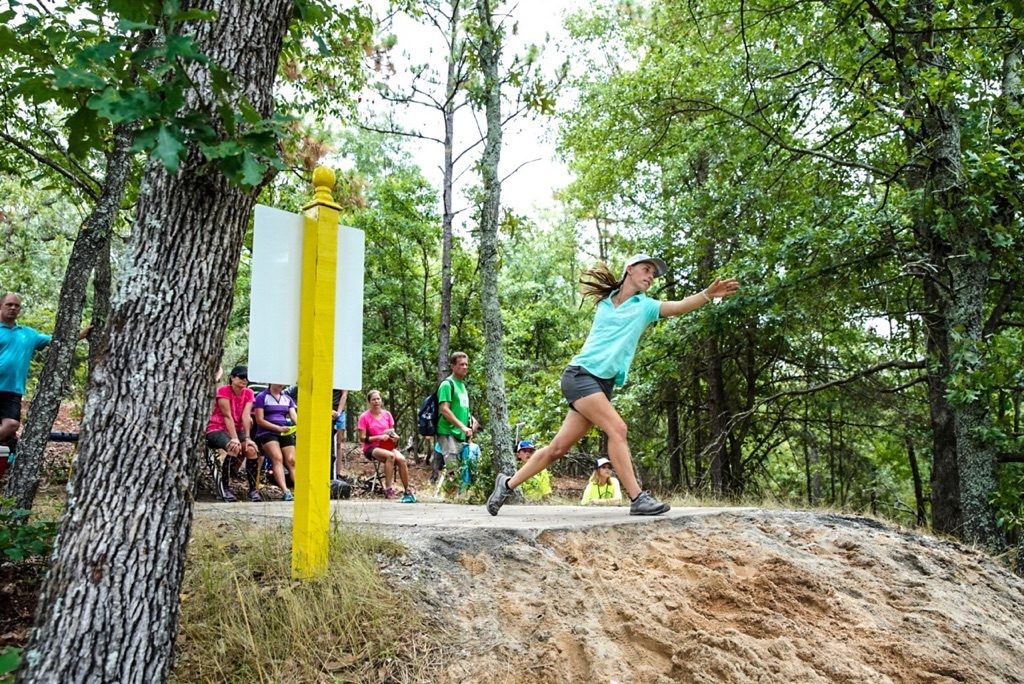 FORT GORDON, Ga. — An out-of-bounds stroke, a missed putt, and the resulting double bogey 6 on the opening hole of a World Championship round might be enough to derail the hopes of just about any player. That player, though, is decidedly not Paige Pierce this season.
Despite some early struggles with her release on distance shots and putts, Pierce rebounded expertly to card the hot score for the second round in a row and pad her lead through the halfway point of the 2017 PDGA Professional World Championships.
Her 992-rated, 6-under par 60 at the Fort Gordon Marine/Navy Course moved her total to an 8-under par 125. Pierce birdied half of the holes on the long, undulating track that featured two holes over 750 feet; two more measuring in at over 1000 feet; and thick rough and tree-lined fairways.
The impressive showing moved Pierce six strokes clear of defending PDGA World Champion Valarie Jenkins, whose 3-under par 63 took her to a 2-under par 131 overall. Lisa Fajkus again relied on a solid putt and approach game to stick on the lead card going into the third round after a 2-under par 64 score brought her total to an even-par 133.
Sarah Hokom and Catrina Allen, meanwhile, are tied with 2-over par 135s. Hokom's up and down 3-under par 63 round moved her from a ninth place tie and onto the lead card for today's third round at the International Disc Golf Center's W.R. Jackson Memorial Course.
Pierce's first hole hiccup was just the beginning of an inauspicious start. A misfire from the tee on the birdieable hole 2 resulted in a par, and after a lengthy backup on hole three her drive ended up far to the left. She was left with a flex shot over a tree-lined out-of-bounds area and the hope of progressing down the fairway far enough for a birdie run on the 1067-foot par 5.
Her shot, though, did not flex back for the added distance she was looking for, and instead turned over too far right. After the miscue, Pierce walked away from the group in an attempt to sort out her early round struggles, and that would be the last significant error of her round.
She responded on her third throw with a towering hyzer that traveled well over 400 feet and over the guardian trees on the right side of the fairway to land with a 40-foot look at birdie. She just barely missed the putt, hitting the chains too high, but she captured the momentum from the hole to go on to birdie six of the next eight holes. The run included an impressive birdie on the 1060-foot, par 5 hole 9 that featured two max-distance shots and a long look at eagle from roughly 80 feet out.
Pierce finished out her round with three straight birdies, but she wasn't the only one in the Women's Open division pulling off highlight reel-quality throws. Jenkins and Fajkus got in on the action, as well.
Jenkins got off to a quality start, executing for a drop in par on hole 1 and parking hole 2 inside five feet. From there she rattled off 10 pars over the next 11 holes before stepping up to the downhill hole 14. Her tee shot hugged the left side tree line, sneaking through no less than three small gaps in the foliage before taking a hard right kick off a pin-high tree and just missing the ace.
She seized the momentum to birdie the next hole, then grabbed another on hole 18 to finish out her round.
While Jenkins' highlights were found off the tee, Fajkus' were found on the green. Competing in just her third World Championship, the Texas native's putter got going after a fortunate turn of events on hole 5.
"I was super lucky — almost — to stay in bounds on the third shot," Fajkus said. "It was definitely exciting, I was pretty sure I was out, so it was kind of a bonus feeling to save a stroke there."
After the elation of remaining safe, Fajkus took out her trusty Nova and just barely missed the chains from 80 feet to take an easy par. Her putter stayed hot on hole 6 when she grabbed her first birdie of the day with an uphill jump putt from 40 feet. She then mixed clean drives and solid putts to birdie the next two holes, as well.
Fajkus' putting stroke picked up again down the stretch. On hole 16 she converted an obstructed 33-footer for birdie, then snagged another birdie on 17 before running into some trouble on the day's final hole. An errant upshot on the 798-foot par 5 kicked and rolled back off a guardian tree, and she then two-putted to collect a bogey to end the round.
"I hate to be hung up on that last six," Fajkus said. "It's a bummer. I should've thrown the Nova on 18. That would've been a good correction, but, you know, it's okay. Mistakes happen."
Five-time PDGA World Champion Elaine King struggled on the lead card at Fort Gordon, logging a 5-over par 71 to fall out of second place and into a seventh place tie with a 6-over par 139 total. She shares that spot Ragna Bygde Lewis and Oregon pro Melody Waibel, who tossed a 2-under par 64 on the day.
Despite the late struggles, Fajkus was upbeat heading into the third round back at the Jackson, planning to prepare with the same routines she's used before the first two rounds to get "ready to go and attack."
Jenkins had similar plans for the remaining two rounds as she looks to keep Pierce's lead in check in her attempt to capture back-to-back world titles and her fifth overall.
"Playing one round a day, but only four rounds, it's going to be challenging," Jenkins said. "But I have to make sure Paige doesn't get too far ahead and get comfortable and start shredding the course. So I have to be nipping at her heels the whole time."
Pierce, Jenkins, Fajkus, and Hokom tee off for round three at 1:10 p.m. Eastern. Follow along with Ultiworld Disc Golf's Twitter for live updates throughout the day.