Defending champion Jenkins, five-time champ King lurk in second place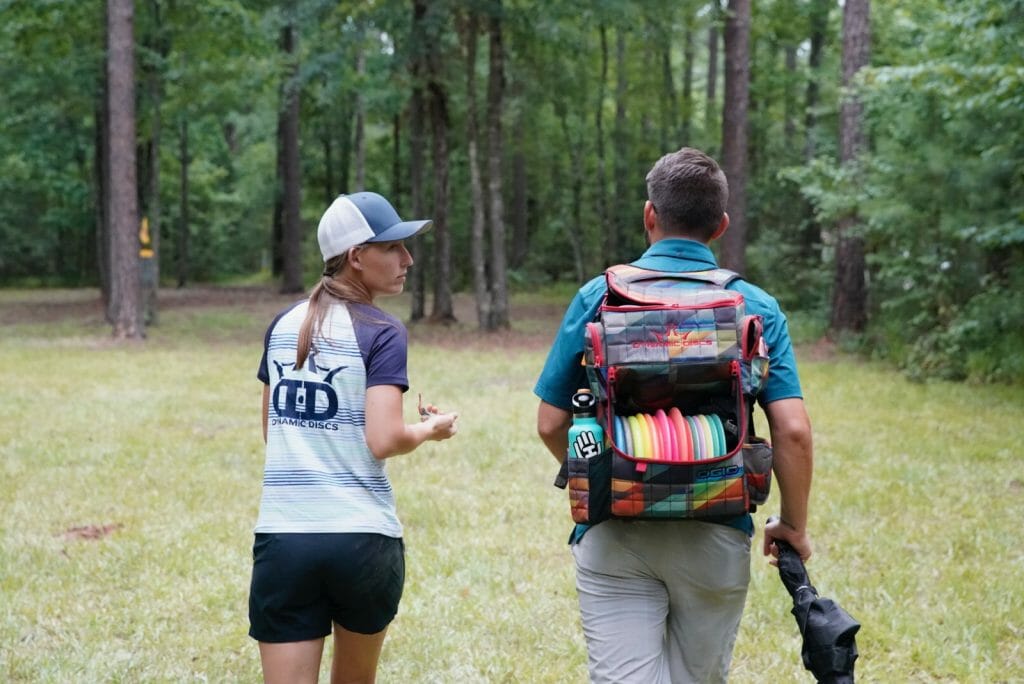 APPLING, Ga. – Another tournament means another lead for the name that is a fixture atop leaderboards in 2017. This time, though, the margin is for disc golf's biggest prize.
Paige Pierce is out in front at the 2017 PDGA Professional World Championships after throwing a 2-under par 65 at the International Disc Golf Center's W.R. Jackson course. Pierce's first round is initially rated at 989, a full 20 points above her current rating. Hot on Pierce's heels, though, are a pair of world champions, as Elaine King and Valarie Jenkins are tied in second place after tossing matching 1-over par 68s. Lisa Fajkus rounds out the top four with a 2-over par 69, while Katka Bodová and Sarah Lamberson are tied for fifth with 3-over par 70s.
Pierce got off to excellent start, easily birdieing the 660-foot par 4 opening hole. Her tee shot easily made the left turning corner, and her approach landed no more than 15 feet past the pin. Pierce stepped up to hole 2 and threw an equally impressive shot, landing her hyzer pin-high and 25 feet out on the 390-foot par 3. From there, Pierce collected seven more birdies to four bogeys and one double bogey before finishing out her round on a high note with one last birdie.
Pierce has declined interview requests during the tournament.
While Pierce clearly relied on her combination of distance and accuracy to jump out in front, Jenkins alluded to how a strong mental game and thoughtful decision-making can make the difference when navigating long, tree-lined fairways like those at Jackson.
"Even off the very first throw, the very first tee I was focused on throwing the shot that I wanted to," Jenkins said. "Even with the really hard holes, long par 4s and par 5s, and with the humid weather, I just kept trying to focus on the shot at hand. You never know what's going to happen in the woods, with bad kicks or rolls or whatever. But I think I stuck to my game plan and I executed some really good shots."
Assessing risk and working through disc choice was at the forefront of King's mind coming into the first round, especially as she debated between higher and lower speed discs on some narrow fairways down the stretch.
"On these woods courses, getting too greedy never works out well," King said. "You have to throw smoothly, you have to hit your lines, and if you try to really rip one there's just not enough room in the woods for that little margin of error when you try to throw hard."
Even though making it down the fairways cleanly is always important, the disc still needs to drop in the basket in the end. On that front, Jenkins started well, hitting four early jump putts and gaining momentum, then pinging the basket to save par on numerous occasions. Likewise, Fajkus — who teed off toward the back end of the Open Women's field in the early afternoon — relied on her strong putting to come in with the fourth best score, making an early jump putt from 50-feet that set off a run of inside the circle makes for the Texas pro.
"My putting felt so good in warm ups after feeling so bad yesterday warming up for the putting World Championship," Fajkus said. "So it really felt like a revenge day on my putting, because my putting felt so much more like usual."
Bodová, the Slovakian pro who is competing in her second ever Worlds, had one of the last tee times of the day. And by virtue of her quality score, she will again have to wait to tee off on the chase card for today's round at Fort Gordon. While the distance at the Marine/Navy course won't faze the long-throwing former Ultimate player, she is looking forward to the scoring opportunities the new track presents.
"There are places where you can just enjoy and go for a birdie," Bodová said. "And hopefully you can manage sometimes [when the birdies aren't there]. There's a lot of risk, of course."
King is also looking to take advantage of the similarities between W.R. Jackson and Fort Gordon during the second round, but was also willing to laugh at herself a bit as she assessed her prospects on some of the course's long fairways.
"I think most of the holes it's going to be the same strategy: Hit your gap, don't overpower it, throw smoothly," King said. "But then Fort Gordon you also have some throws out in the open, so those holes are going to favor the power throwers. So I may lose a stroke or two on some of the 1000-foot holes, and that's just the way it is until I learn somehow to throw farther."
While King is optimistic about remaining at the top of the field, Jenkins was focused less on her round two odds and more on the bigger picture as she eyes her fifth world title.
"It doesn't matter until the last putt in the last round," Jenkins said. "I didn't have the best round ever so I can't expect to be at the top, but I know that I'm definitely battling and I'm in a good position to continue to shoot well and keep dialing it in."
Just like Jenkins, Fajkus plans to capture the momentum of her strong putting performance and channel it into all-around quality shots at Fort Gordon.
"It's another challenging course," Fajkus said. "You have to really focus and bring your game on every shot there. There's just so much that can happen. I just want to continue to take my momentum. I'm feeling really good and just want to take that into tomorrow."
King, a five-time PDGA World Champion who now generally sticks to the East Coast circuit, was looking forward to the rest of Worlds as an opportunity to see how she compares to the sport's up-and-comers.
"We'll see how it goes," King said. "[We'll] see how I'm going to measure up to this really deep field of women with all kinds of budding talent, and I'm very excited."
The Open Women's lead card of Pierce, King, Jenkins and Fajkus tees off at 9:40 a.m. Eastern. Follow along for live updates on Ultiworld Disc Golf's Twitter account, and keep up with real-time scoring at PDGA Live.