GBO-style event the biggest of its kind in Finland, but still saw a small Open field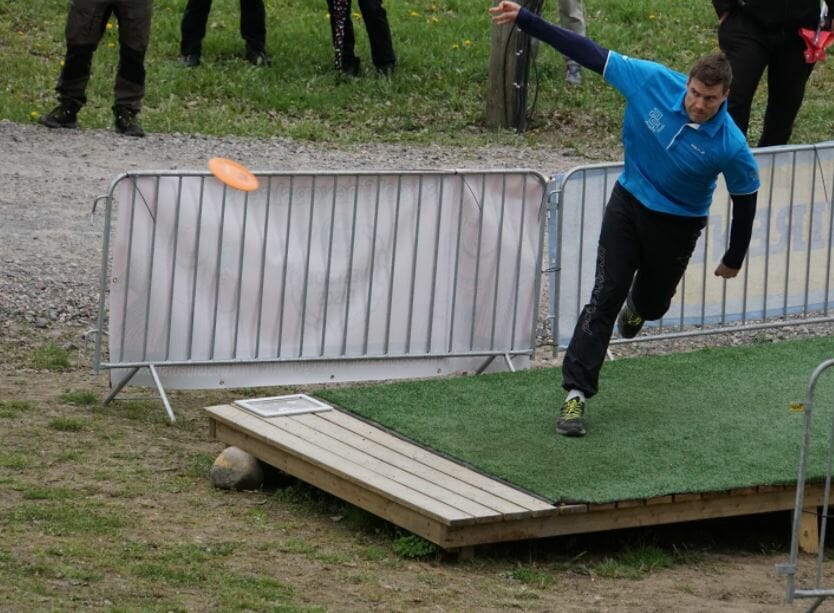 The EuroTour stopped off in Finland for its fourth installment of 2017, and the host country proved again why it is considered the disc golf capital of Europe.
Played over three courses around Helsinki, the Westside Discs Tyyni broke the record for attendance at a disc golf event in Europe, with 468 players from 12 countries enjoying a full disc golf week reminiscent of stateside tournaments like the Glass Blown Open. Amidst all the fun, some familiar names played some great golf to land at the top of the Open leaderboard.
Juho Parviainen showed that he is still a dominant force on the continent with a wire-to-wire, 21-under par 151 victory. Parviainen was the lone competitor to break the 1000-plus rating threshold in the first two rounds to take a commanding lead into the third and final day. Shaking off a few disappointing performances — he came in seventh at the Dutch Open, 11th at the Tali Open, and 35th at the Konopiště Open — Parviainen is rounding into form in preparation for late July's European Open in Nokia, Finland.
In a closer battle for second between Finnish stalwarts, Pasi Koivu shot a 17-under 155 to edge out Nils Iso-Markku's 15-under 157. This marks back-to-back top five results for both Koivu and Iso-Markku, as they finished third and fifth, respectively, at Tali. Iso-Markku seems to be firmly on the comeback trail since rehabbing a torn ACL suffered on the eve of the 2015 United States Disc Golf Championship.
Further down the leaderboard, Fredrik Runsjø of Norway finished tied for sixth by shooting the highest rated round of the tournament — unofficially a 1037 — with an 11-under par 49 on the Sibbe Course, generally regarded as the most challenging of the three played during the event. File Runsjø's name away, as the relative newcomer is showing some serious talent on some of Europe's biggest stages and will also be at the European Open.
On the women's side, it was more Finnish dominance, with Susanna Virtanen winning with a 25-over par 197. Soile Mutikainen, also from Finland, finished second with a 30-over par 202, while Estonian Virge Andre earned a spot on the podium with a 33-over par 205.
Tournament Director Juha Kytö dreamed up the idea for Tyyni on a trip to the GBO, where he was inspired to bring the same style tournament to his home country.
"I was confident that I could organize an event like this," Kytö said. "It took countless hours of work, driven only by passion and the hunger to make it happen, to make an impact on people's lives, to make something no one will ever forget easily."
Indeed, Emporia's influence was apparent throughout the weekend. The emphasis on the amateur player pack; the flex start C-tiers; the three separate courses; ladies event and side events; and social media presence were a departure from the traditionally more disc golf-centric and serious European tournament scene. Even more impressive is that this was all accomplished with only 30 volunteers, a fraction of the crew at GBO.
The crowd of players were happy and smiling throughout the week and Kytö looks to build on the success heading into future iterations of the event.
"I'm calling it a 'practice run,' because organizing an event of this scale is something I — or any of our organizing staff — has never done," Kytö said. "Now we have a lot of information and knowledge on how to do certain stuff, so it will be even better." A possible partnership with a local golf course is also in the works.
While Tyyni is officially the largest event in European history, the Open divisions only had a small percentage of the total number of players. That fact was not lost on one of the division's most recognizable participants.
"Tyyni Open felt more like a smaller EuroTour tournament for me because there was not too many Open players," Koivu said. "When we got to the prize ceremony I realized how much amateur players were there. This tournament was clearly made for amateurs. Atmosphere was great, a lot off raffles going on, bonfires, official tournament beer, etc. I saw many players say Tyyni was their highlight of the year, so I would say the crew succeeded. For me as MPO player, I'm waiting more the European Open and other DGWT events."
Iso-Markku had similar feelings.
"Honestly, it didn't feel like the biggest tournament I've played in Europe," he said. "For me, it was just another tournament. I was curious how it plays out being the first of its kind in Finland, which is played on three different courses. I'm a bit disappointed that the Open division was rather small, but I guess the reason is there was three big tournaments in a row before this one, so most of the top players were not curious or tired. I'd say some Open players were skeptical."
The field size problem is not unique to Tyyni. The EuroTour is really trying to find its identity in this regard, pulling in good amounts of quality amateur players but struggling to find its footing amongst the better Open players. The Dutch Disc Golf Championships only had 27 Open players; The Isle of Mull Classic had 9; and the Kokkedal Open had 45.
The EuroTour continued with the Battle at Bluebell Woods last weekend in the United Kingdom. A full recap is forthcoming here at Ultiworld Disc Golf.