17-year veteran of the sport looks to bring "passion," corporate connections to the table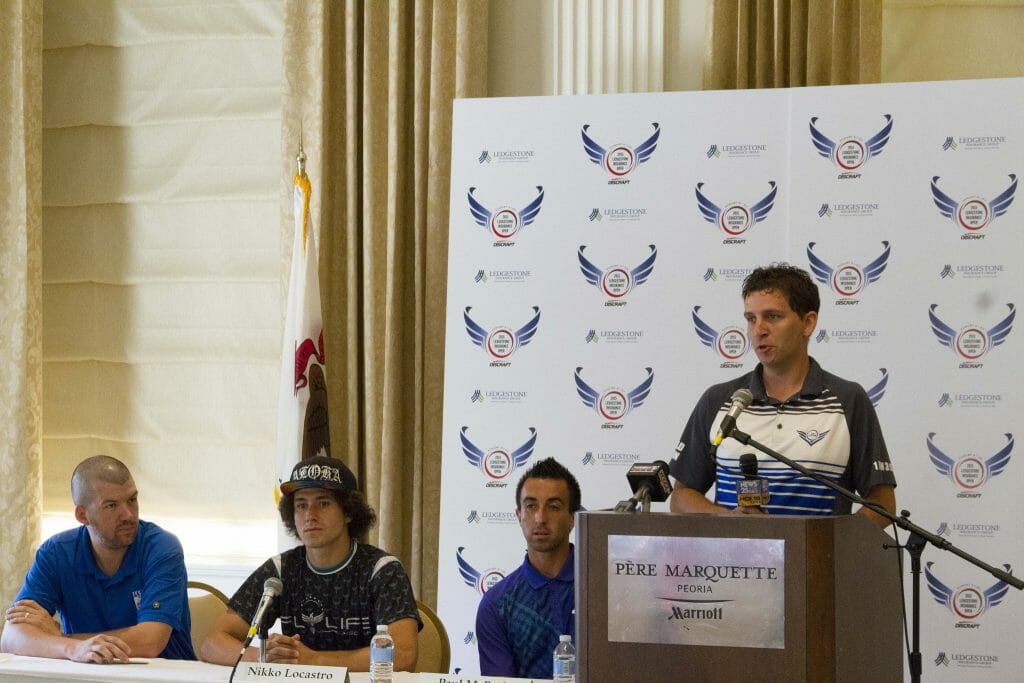 The man behind disc golf's richest event is aiming to take his ambitions to a wider medium.
Ledgestone Open Tournament Director Nate Heinold will run for one of the two open positions on the PDGA Board of Directors, he told Ultiworld Disc Golf this week, as he looks to bring his experience from seven years of running one of the sport's biggest tournaments — the event paid out upwards of six figures in prize money in both 2015 and 2016 — and apply it to the governing body.
"That just affects one tournament out of many thousands, and one little weekend, and so I thought that I could be valuable to the PDGA with my business experience," Heinold said. "…Disc golf is my passion, and I want to see disc golf become bigger and better."
Heinold, 37, said he wants to continue to cultivate the relationships he has built as the Vice President of Marketing for Ledgestone Insurance in hopes of attracting larger corporate sponsors to the sport. And as a 17-year veteran of the game, he also feels like he is in a unique position to speak for the desires of players across a variety of age and skill levels.
"As the game is growing exponentially, I feel like I can help make decisions faster because I'm right there," Heinold said. "I play tournaments, I play big events…I feel like I have a pretty good idea of the pulse of am and pro players and their needs."
As a result, Heinold's candidacy is built on appealing to both ends of the sport. On the pro side, he emphasized that he would like to see the PDGA continue supporting the efforts of the Disc Golf Pro Tour — on which the Ledgestone Open is a premier stop — and the Disc Golf World Tour, and that he feels the governing body's discipline procedures need to be re-evaluated.
Still, the Washington, Illinois, native said he would not be joining the board simply to advocate for professional interests. A key tenet of his platform involves building disc golf at the high school level in an effort to bring more amateur players to the game.
"I feel like that will grow the sport more than anything else. I think that's probably the main thing we can do," Heinold said. "At least in the Midwest, you don't see that at all. You see it at the college level more, but I feel like that is the best growth avenue for disc golf. I think that's the primary thing that I think I would try to push to the PDGA."
Though Heinold's interests are wide-ranging, he does have support from the world's top-rated professional player.
Paul McBeth, who won the Ledgestone Open in 2016, said he has seen Heinold's event evolve as a result of player feedback, but that he was not a pushover. That balance makes him a strong candidate.
"He listens to a lot of the players, which is good — that's what we want from a board director," McBeth said. "He still has his own twist on certain things because he's gotta have his own opinion. I think he fits well for the board because he listens to the players, but he also has a vision."
Candidates have until next Friday, June 9, to apply for board positions with the PDGA, with voting set to begin July 1.