Paju puts on the pressure with course-record round; Salonen comes back for Open Women's division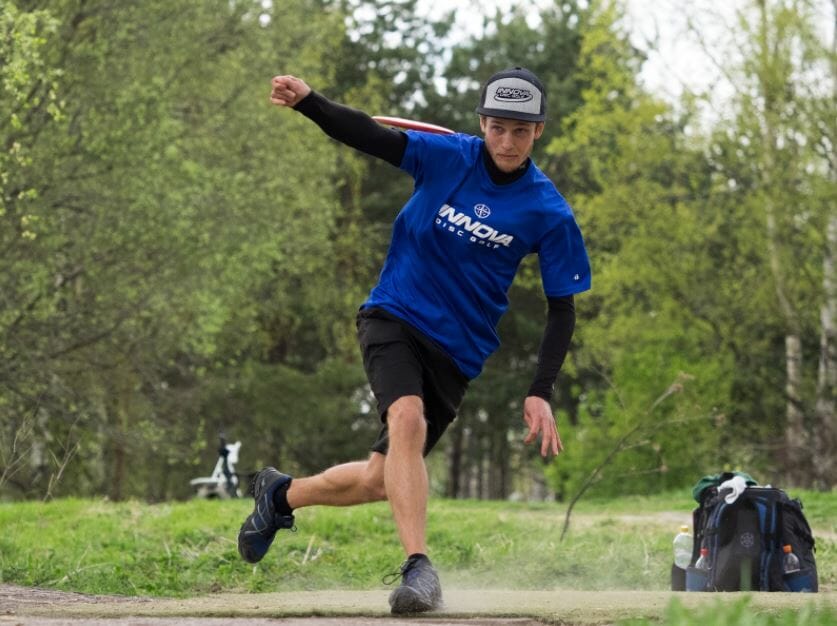 The 2017 Tali Open marked the beginning of the new EuroProTour last weekend in Helsinki, Finland, and a local hero held off a late charge to take the title.
Seppo Paju carded a scorching final round of 12-under par 58 to set a new Tali DiscGolfPark course record, but it wasn't enough to knock off Jalle Stoor, who entered the final round with a nine-shot lead and used every bit of it on the way to the win. Stoor's 21-under par 189 total was just better than Paju's 20-under par 190, while Pasi Koivu and Janne Hirsimäki tied for third place with 16-under par 194s. Nils Iso-Markku and Dick Lampinen rounded out the top 5 with matching 15-under par 195s.
For Stoor, his steady play throughout the final took a bit of an urgent turn as Paju made his run down the stretch.
"Seppo played an awesome last round and I was surprised a little bit when I heard that he is 12-under par after 19 holes," Stoor said. "But I knew that I can handle those last three holes."
Of that final trio, hole 20 — a 670-foot par 4 — ended up being the most consequential. After a 370-foot drive off the tee, Stoor was faced with a 300-foot approach to the hole's island green and had to debate the best disc for the shot.
"It was a tough wind, and I thought that, 'If I make this shot, then I can play a safety par on [the] last hole," Stoor said. "I changed my DX Roc to the Champion Roc3 [at the last moment] and made that shot. It was an awesome moment."
Paju said he wasn't aware of the scores being close until the last tee and had to work through some mental gymnastics as he ironed out his strategy.
"I just wanted to birdie the last hole, but at the same time keep it safe so I don't automatically lose anything," Paju said. "That's why I left the drive short on the last hole, where I just barely missed my putt from."
The victory was Stoor's first on the season, and one that Paju said was well-earned despite his best effort to spoil it.
"Honestly, I was very surprised that I got as close to the win as I did," Paju said. "I gave my best that I could at that moment, so Jalle truly deserved the win as a hometown boy."
In the Open Women's division, Eveliina Salonen got a bit of redemption after her late-round loss at the Konopiste Open the prior week. After entering the final round in fourth place and five shots back of the lead, Salonen fired off a 931-rated hot round of 6-over par, netting her a two-stroke victory with a 25-over par 235 total. Hannele Määttä, who held the lead after two rounds, finished in second place with a 27-over par 237, while Henna Blomroos and Kristin Tattar tied for third place with 28-over par 238s. Jenni Eskelinen's 32-over par 242 was good for fifth place. The win was Salonen's first of 2017.
For Stoor, who grew up on the Tali DiscGolfPark fairways, the victory was a chance for him to reflect on how the sport has grown in his native country.
"I spent many days, from morning until night, in Tali," Stoor said. "I have been throwing thousands of shots out there, as well as my first hole in one in 2005. It's a place where I learned to throw those discs. Nowadays there is a lot of new players and the course is always full, so I practice somewhere else. But it's only a good thing that there is a lot of new players in the sport."
Tournament Director Markus Stigzelius also looked back fondly at how far Stoor has come over the years.
"Jalle has been Tali DiscGolfPark's wonder boy from the beginning," Stigzelius said. "His brother Arttu Stoor took him to play disc golf and [did a] good job teaching [his] younger brother."
The EuroProTour is a six-event series that will feature only Open and Open Women's divisions, as opposed to the long-running EuroTour that also features aged-protected divisions. The EPT will also put a premium on media coverage and a higher payout at the end of the season. The next EPT event is the Sula Open on June 9 in Sula, Norway, while the EuroTour resumes today at the Westside Discs Tyyni in Helsinki and Sipoo, Finland.