Learn more about a one-stop, up-and-coming disc golf course solution
Disclosure: Ultiworld Disc Golf was compensated for publishing this article. Learn more about DiscGolfPark and request a quote at DiscGolfPark.net.
DiscGolfPark® is a word disc golfers in the US are starting to hear more and more. You likely have heard about DiscGolfPark via the Disc Golf World Tour or, if you're lucky, you have had a chance to play a DiscGolfPark. Our friends in Finland have long been familiar with DiscGolfPark, so much of the following is nothing new. Let this article serve as an educational read on what has helped shape disc golf, for the better, in Finland and other countries.
Here's an infographic of disc golf courses in Finland compared to the biggest US disc golf states at the end of 2016. Finland's rapid growth continues. There are dozens of course projects going on. The largest of them is Tampere Disc Golf Center, which will be completed in 2018. It will become a top disc golf location in Europe.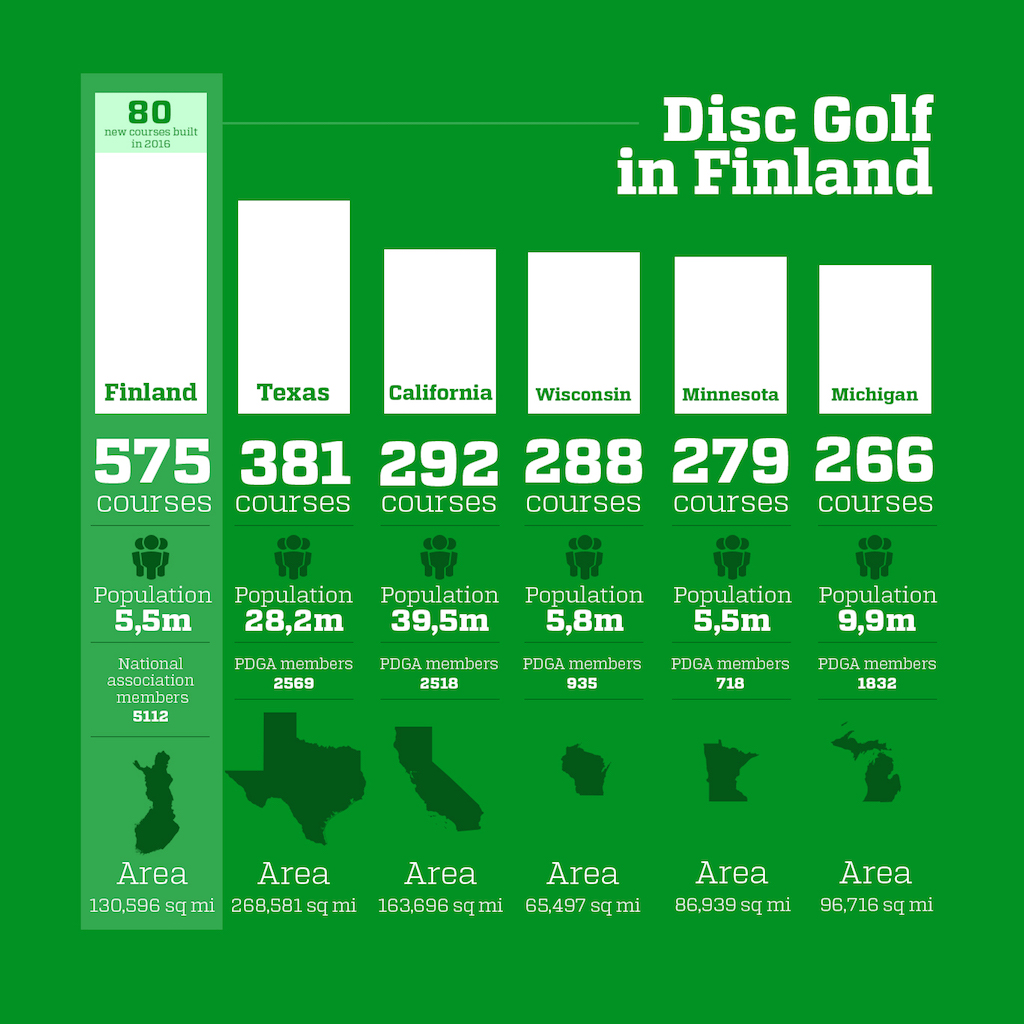 What is DiscGolfPark?
DiscGolfPark is a disc golf course concept developed in Finland. It is a complete solution for establishing a disc golf course. The DiscGolfPark concept includes professional course design, along with Targets, TeePads and Signage, graphics included. A short, beginner-style DiscGolfPark can be built on as little as five acres, while a standard 18-hole DiscGolfPark calls for a minimum of 20 acres. With about 500 DiscGolfPark courses worldwide, DiscGolfPark has experience with every type of style imaginable.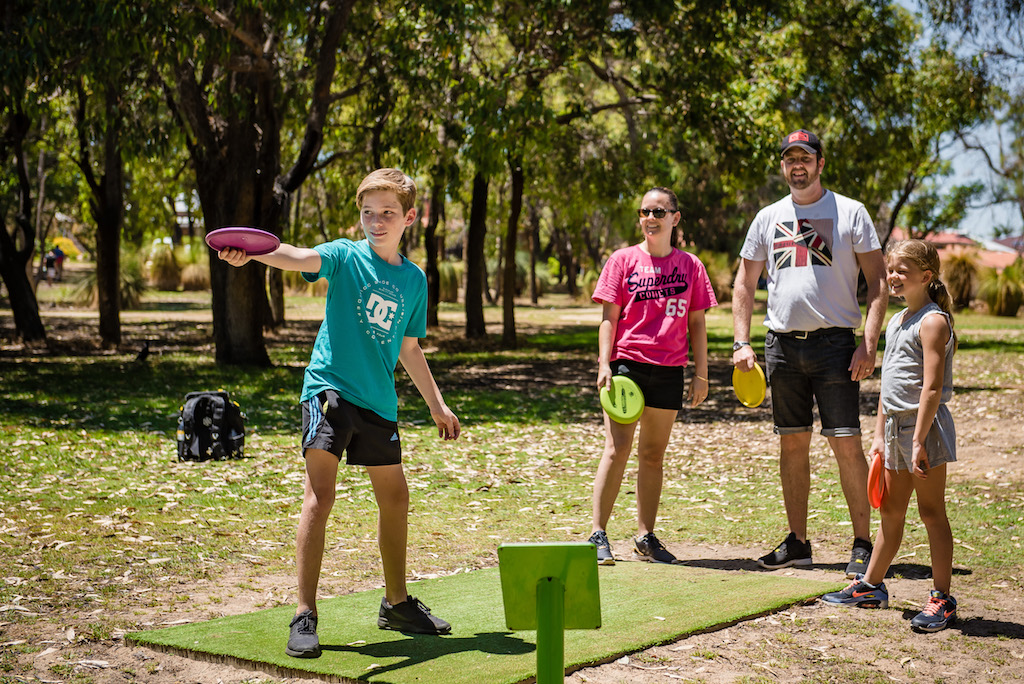 History
DiscGolfPark was started in Finland in 2005. The man behind DiscGolfPark® (as well as Discmania® and the Disc Golf World Tour) is Jussi Meresmaa. Finland has now roughly 200 DiscGolfPark courses, and you can also find DiscGolfPark in Australia, Germany, France, Sweden, Norway, Czech Republic, and several other European countries. Järva DiscGolfPark in Sweden is widely considered one of the best courses in the world.
DiscGolfPark launched in the US in late 2015. Langley Pond DiscGolfPark in South Carolina is one of the highest-rated public courses on DGCourseReview.com, while our first US DiscGolfPark, Pessimist DiscGolfPark in Fort Morgan, Colorado, is also highly-rated. We take part in various trade shows every year and we have a network of representatives across the country.
Equipment
Included in the DiscGolfPark concept is all the equipment you need for a course. No need to try and piece together a course anymore.
DiscGolfPark Target
At first glance, you may think you're putting on another great target Innova DisCatcher because the DiscGolfPark Target is based off of the DisCatcher. There are some differences in the two targets, though. The DiscGolfPark Target has a slightly shallower cage, a bigger pole, and only one ring for the chain configuration. Arguably the most important difference, though, is the arrow welded into the cage to point you to the next tee. Navigating a course shouldn't be hard and it shouldn't involve painting your target. It should also be noted that DiscGolfPark Targets are built in Finland. As a result, they have gone through several improvement cycles and have been tested in the harshest conditions over the years.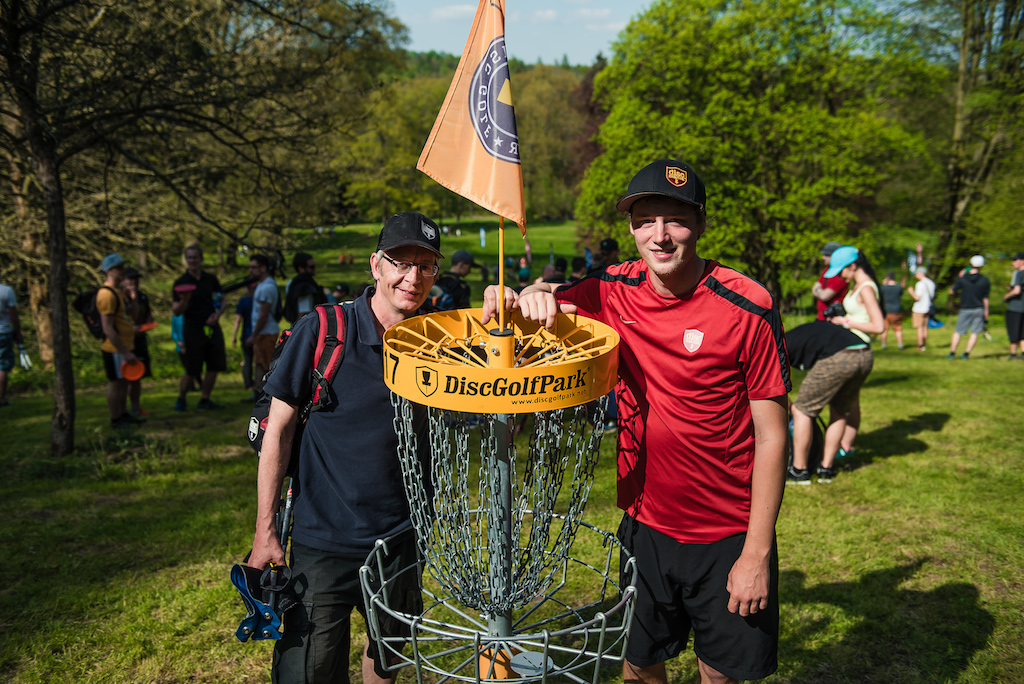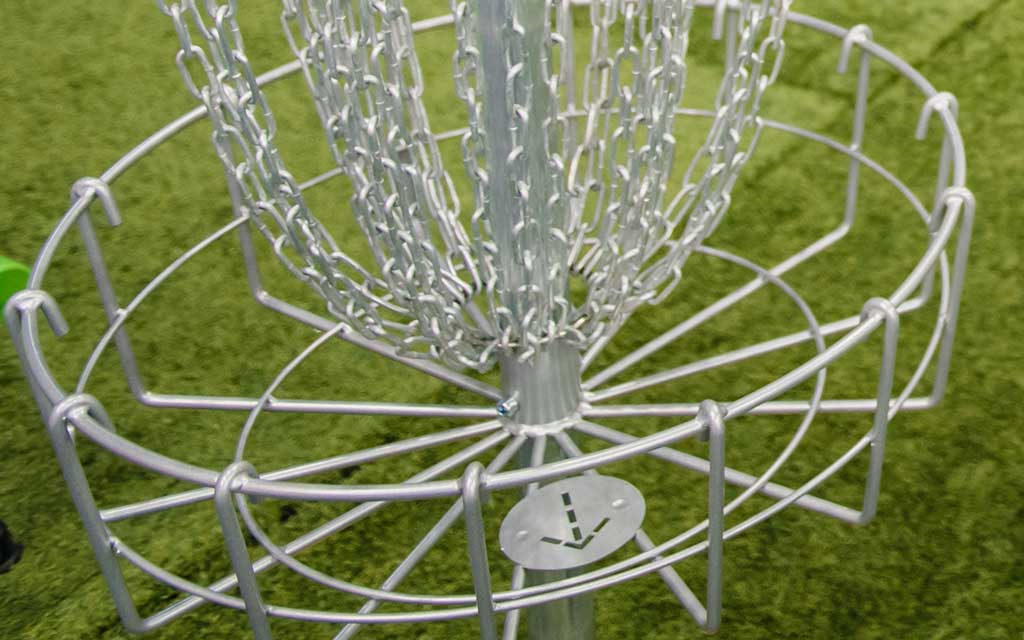 Turf TeePad
For years, US professionals have been going to play in Europe. Upon returning to the States, they rave about the turf teepads, and these are those teepads they are talking about! Before you say, "so and so course has turf, and it's…", please know that it likely is not a DiscGolfPark TeePad. Our turf measures ¾ of an inch, is made of polyethene, and is perfect for disc golf. If you properly install and maintain these pads by brushing sand into the turf a few times a year, they are going to be great in all weather conditions. These are built tough enough for Finland winters, so it's safe to say they can handle the snow and cold anywhere.
Not only are they more natural looking, they are durable and player friendly. You can bet you won't go through those $100 shoes as quickly if you're playing on these. DiscGolfPark offers two different sizes: Our Pro TeePad is 6.5' x 13.5' and Am TeePad is 4.5' x 7.5'.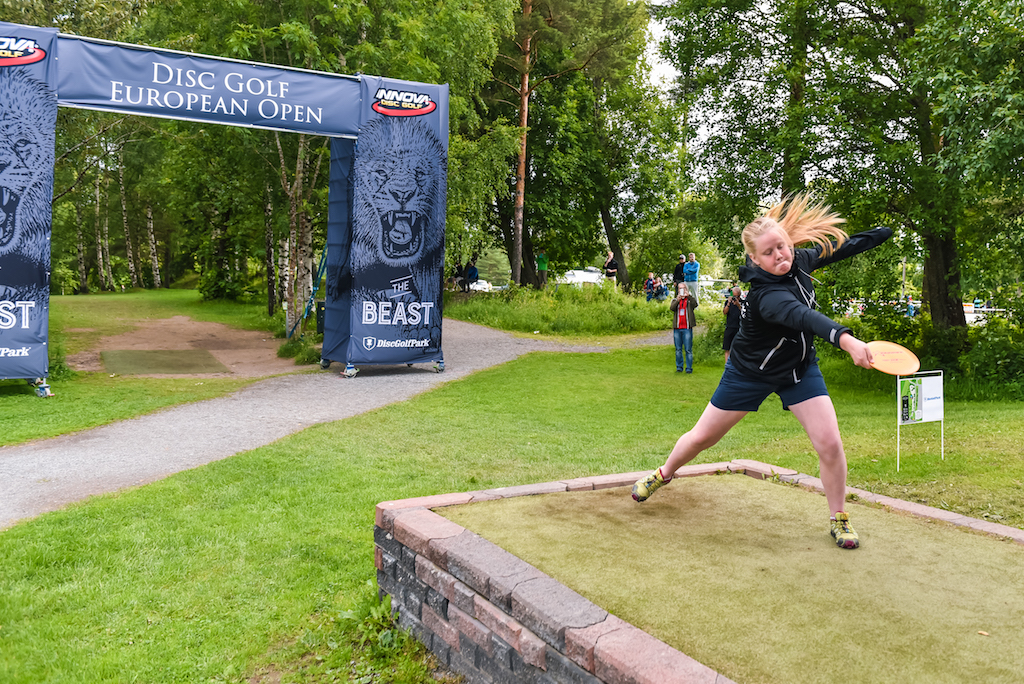 Signage System
You shouldn't get lost on the course! Lack of proper signage is a major issue in the US, as many courses simply just fall short. We set you straight right off the bat with our InfoBoard, which is usually found near the parking lot and hole 1. This has a map of the course, along with hole distances, park rules, and any other useful information, such as beginner technique tips. We believe the TeeSign should have a stylish and accurate map with hole rules, distance, and an arrow to point you to the next tee. Combine our signage system with the DiscGolfPark Target "Next Tee Arrow," and you can forget about getting lost on the course ever again.
Both our course designer and graphic designer work with customers to make sure you have the most accurate and quality signs possible. Any and all pertinent information can be and is included on your signage, and the hardware for our signs has a 10 year warranty.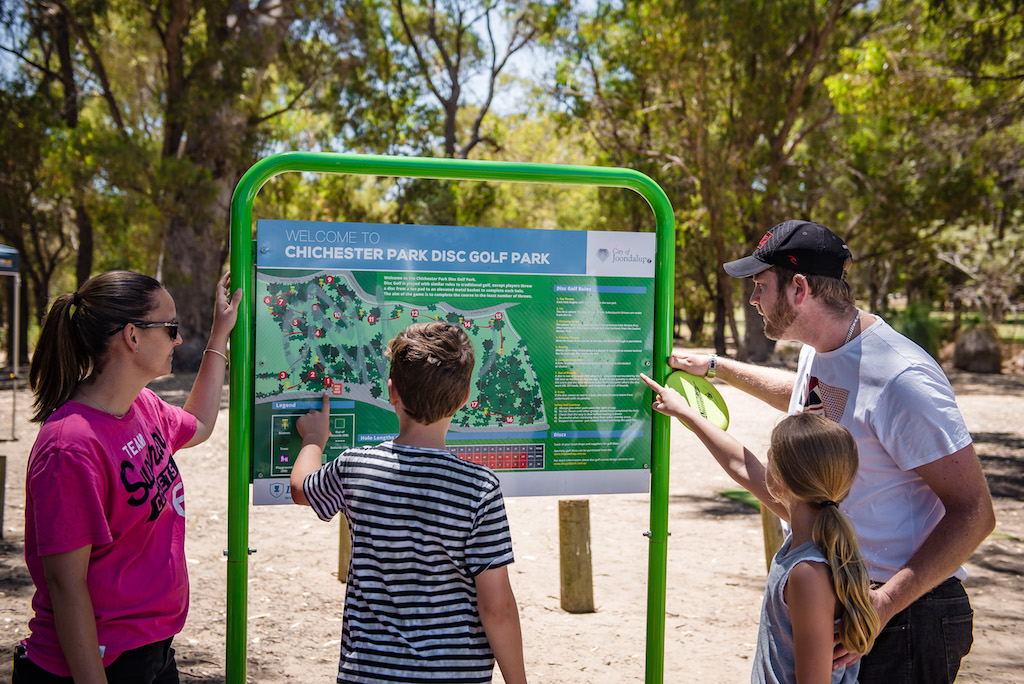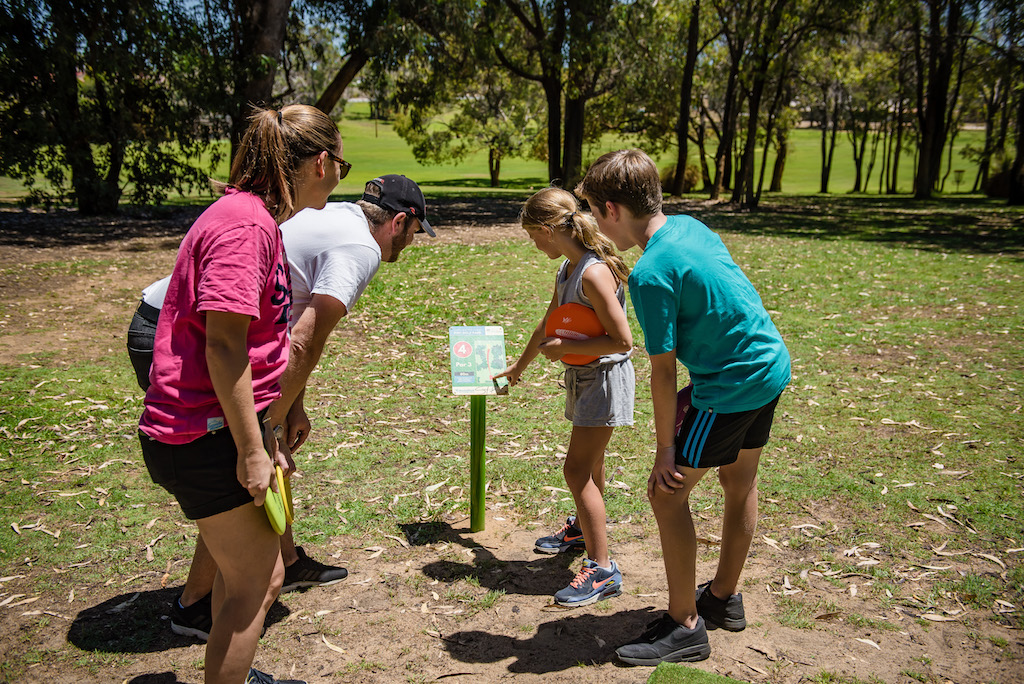 Why DiscGolfPark?
Admittedly, this is where we fully pivot from educational to persuasive. Our goal at DiscGolfPark is to grow the sport through safe, quality, professionally designed courses.
We believe that when you play disc golf that you deserve:
A safe and well thought-out design.
TeePads that provide excellent grip and safety in a variety of conditions.
TeePads that aren't an eye sore, but more natural looking.
Easy navigation! Getting lost on the course should not be the norm, even if it is your first time playing.
Long-lasting course equipment. No one in the business has a better warranty on Targets.
Our experience and strong marketing tools make it easier than ever to "sell" disc golf to a park district, city, resort, or golf course. The eye-catching DiscGolfPark binder (and concept) was carefully researched and constructed.
We want to work with you and your club! Or maybe you have an idea for a course but no time or experience to make it happen? Teaming up with DiscGolfPark can provide you with a powerful ally. There is even a DiscGolfPark Bounty for leads on new courses. Another very strong, but often not thought about reason is to protect yourself and your club from potential liability issues. It really only takes one unsafe hole to put yourself, your club, and disc golf in jeopardy. Let DiscGolfPark take the lead and minimize your risks.

In closing, DiscGolfPark is here to help grow disc golf. By opting to use DiscGolfPark versus putting together a patchwork course, you are doing disc golf a favor. No matter the type of course – whether a nine-hole beginner's playground or an 18-hole championship venue — making it a DiscGolfPark is a win for all parties involved. The sad truth is that there are more unsafe and poorly designed courses out there than good courses. Let's even the numbers out with DiscGolfPark! You can learn more about us by visiting www.discgolfpark.net.