Storied tournament's (possibly) final iteration brings together family and friends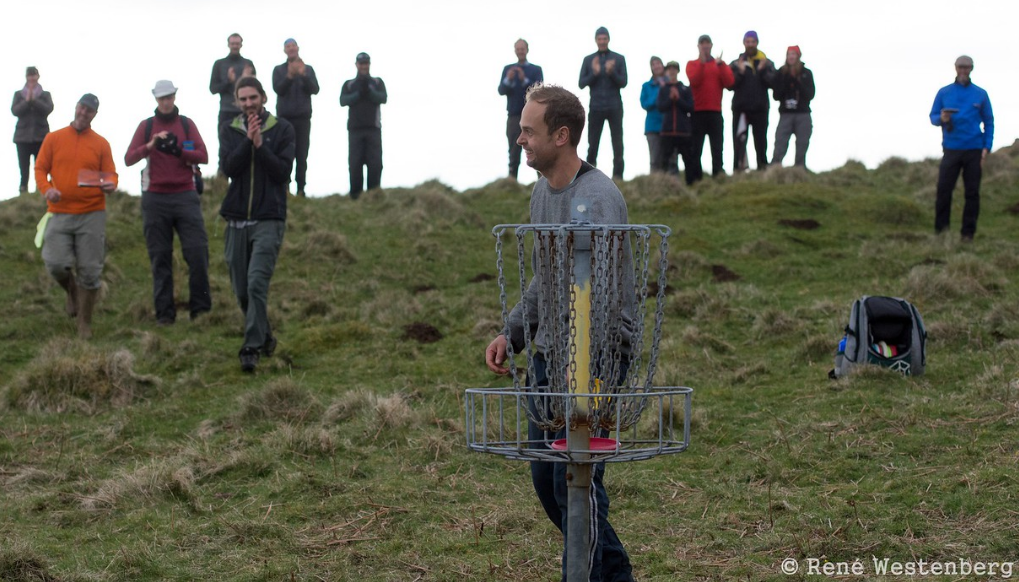 The second leg of the EuroTour visited the Isle of Mull off the coast of Scotland — or, as it's better known, the spiritual center of British disc golf. With pin placements amongst sheer cliffs, crumbling stone walls, and even the odd sun-baked sheep's skull, the windswept Isle of Mull Classic course provided scenery and challenges akin to the British Open lore provided by disc golf's refined cousin. Players come away from the croft with stories about upside-down slide putts and crazy roll-aways, but also with a sense of humility, fellowship, and respect for the game they all love. Twenty five years on, the Easter weekend tradition holds a special place for many disc golfers worldwide.
So it was only fitting, then, that a longtime professional added to the event's storied history by making it his first career victory.
Simon "Si" Luard started hot and held off a hard charging James Luton to take the event, his first win in 47 starts. Luard's 8-under par 248 bested Luton's 4-under par 252, while steady lefty Dan Ryan came in third place with an even-par 256 while playing his usual brand of consistent golf.
The well-liked Luard had acquired the tongue-in-cheek nickname of "bridesmaid" over the years, as he has always been close, but never able to secure a big win on tour. Luard's victory marked a culmination of sorts, then, as he has been playing on Mull for years.
"[I was] very emotional, as it's a special place for me and my family," Luard said. "I'd come so close to winning other tournaments and had choked fairly hard a few times, so I wasn't sure if that first win would ever come."
Ryan complemented Luard for his tenacity and attributed the victory to his strong play early in the event.
"Si was way too steady on Saturday in really challenging conditions," Ryan said. "His 'local' knowledge and silky smooth style of play helped him to get way out in front when others were taking big numbers in the rain and wind."
Tournament Director Charlie Mead, meanwhile, said Luton and Ryan waited too long to make their moves to chase down the leader.
"It has always been a contention of mine that if a player wants to be a winner, then they can't afford to play strategically when behind. They need to attack, even it means falling off the pace," Mead said. "Both Dan and James left it too late, maybe hoping Si would fade as he has in the past. They both took shots off Si Luard's lead in round four, and James took two more in the final 6 – but [it was] too little, too late."
While Luard and Luton have competed against one another since the Junior ranks, their rivalry has not tarnished the camaraderie and friendship that makes disc golf such a wonderful game.
"I've been playing since 1992," Luard said. "James and I knew each other as kids, as my dad and his dad are friends. I came back on the scene in 2014 and we were at a similar level, though he pulled away after going to USDGC that year. He's wicked to play with and battle against, and a great bloke."
That admiration ran both ways.
"As a young disc golfer, I aspired to be just like him, taking the game to the experienced players and coming out on top," Luton said. "He took a break from the game to focus on other things, and when he came back three or four years ago I was the young player coming through to win events, so it's funny how things work out, I suppose. Since his return we've had some amazing battles, and I couldn't ask for a better rival to go head to head with. It's like playing with my big brother."

On the women's side, Mull veteran Sue Underwood used her knowledge of the course and conditions to her advantage to shoot a 34-over par 272, defeating German Women's Champion Wiebke Becker (+53) and fellow Brit Sian Lee (+85). Despite surrendering 32 ratings points to Becker, Underwood had a decisive 19-stroke victory for her 21st career win.

The communal, family-friendly feel of the tournament is what Mead said makes it so special.
"From the first event, we realised that families and groups of friends would be at the heart of each tournament, so we made decisions based on players being at the event for longer than just the competition days," Mead said. "We always ran the event over extended holiday weekends, allowing players to take more time off work without costing them any wages. This week we calculated that over 50 percent of players at Mull in the past 25 years have been fathers and sons, mothers and daughters, mothers and sons, and fathers and daughters. Even in this last event we had seven sets of parents bringing or playing with nine children — some as old as 30."
Mead billed this year's 25th Isle of Mull Classic as the final edition, making the event that much more significant to players. The weekend held a special place for those in attendance and created bittersweet feelings and a calm reverence toward the disc golf destination.
The tournament's popularity comes with the added difficulty of its remote location. It makes for an expensive, long, and arduous trip for participants, and can be difficult to organize.

"It takes planes, trains, cars, and ferries to get there, and you need to be well-prepared and resourceful to succeed," Mead said. "The reality is that both Gremlin (the property owner) and I are finding it increasingly difficult to raise standards and make the event what we would like it to be. We are both well into our 60s and have invested 35 years into the course. It needs a refurb, as we do! The original baskets are falling apart,  the Scottish weather and sheep being unrelenting in their attack on even galvanised steel."
Dutch player René Westenberg spoke for many players, expressing his gratitude to the tournament's organizers, but still expressing his desire to see Mull's end be only temporary.
"Looking down from the mountain at the everchanging light on the sea — what a privilege to have been able to experience this," Westeberg said. "And we got to play disc golf as well! The Mull Disc Golf Classic — let's hope it returns someday."

Indeed, it seems that the "final" Mull Classic may be more like a hiatus, as it sounds like the next generation is not quite ready to live in a world without the event.
"I think what we need now is a little break from it — 25 years is a long time, and this is the right time for everybody to take a break," said Luton, who also served as the assistant tournament director. "But I've heard murmurings from Simon about running it, so I'd love to team up with him and help there. But for now I think 2-3 years off is what Mull needs. It's an expensive trip so maybe if we do bring it back it will be every other year. This is all speculation of course so we'll have to see how we progress over time."
The EuroTour rolls on to The Kokkedal Open in Denmark on May 6, where a field led by K.J. Nybo will attack two challenging courses with a wide variety of holes as a warm-up to the Disc Golf World Tour's Konopiste Open the following week. The EuroProTour officially kicks off when Europe's biggest names will compete in The Tali Open in Helsinki, Finland, on May 19-21.