Long day ends with a bigger margin in the women's division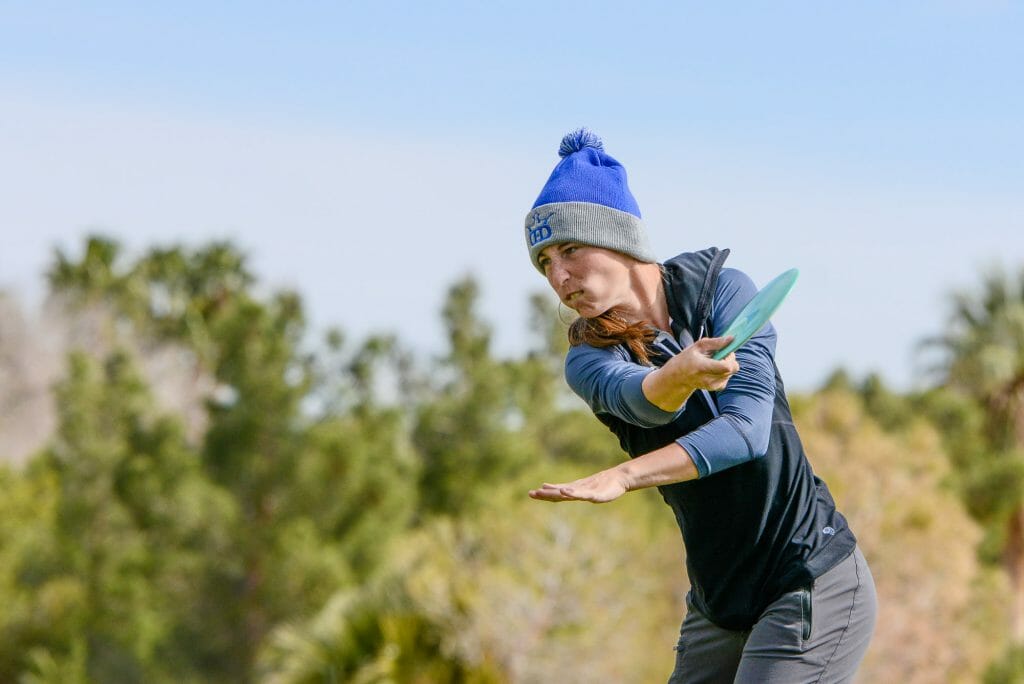 HENDERSON, Nevada – Entering the third round of the Gentlemen's Club Challenge with a two shot lead over Jennifer Allen, Paige Pierce had a singular aim for separating herself from the field: stay in bounds.
She executed that strategy to near perfection, dialing back the distance — and getting some help from her cardmates — to extend her lead in the Open Women's division to eight shots heading into today's final round. Pierce's 2-under par 57 brought her to a 1-under par 174 for the event, while Jennifer Allen's 4-over par 63 finds her in second place with a 7-over par 182 total.
Eveliina Salonen shot an even par 59 third round to move into third place at an 11-over par 186 overall. Catrina Allen's 1-over par 60 moved her from fifth place to fourth, where she is tied with Elaine King with a 12-over par 187 total.
Pierce again led the field with five birdies, bringing her birdie percentage for the event up to 22.2 percent. Through three days in the Las Vegas suburbs, she is averaging 989-rated golf.
Though Pierce often put her distance on display yesterday, she was not afraid to take her foot off the gas in order to achieve her goal of keeping it between the lines. On more than one occasion she threw a putter off the tee, sacrificing length for control.
"If it means taking off 100 feet, 200 feet, then just do it," Pierce said. "If I think there's any chance of going out of bounds, then lay up. I told myself if I have five or less out of bounds for the tournament I'll win, and right now I have four. If tomorrow I have one or less, I can do it, for sure."
Her style came in stark contrast to that of Jennifer Allen, the women's world distance record holder. She often threw drivers off the tee, but many times did not gain enough of an advantage on the Adidas Terrex Course's longer holes to takes strokes off the field. In fact, through the first six holes, she lost two strokes to Pierce.
Part of Allen's strength, then, played right into Pierce's strategy.
"I thought today, if I did keep it in bounds I would gain at least 3 or 4 strokes, because a player like Jennifer, her strong suit is going for stuff," Pierce said. "She was going for a lot of, in my personal opinion, unnecessary things. A couple of holes she threw a driver on but still didn't have a putt for birdie. For me, I knew even if I went for it I wouldn't have a putt for birdie. So I went and dissected the hole — midrange, midrange."
Allen was still within striking distance until hole 7, a relatively short, 310-foot downhill shot that plays as an island. A disastrous sequence saw her go out of bounds off the tee, then misfire a hyzer shot again from the drop zone. She took a provisional, but was out of bounds and eventually carded a quadruple bogey 7, losing five strokes to Pierce, who birdied the hole.
Though she was frustrated with the development during the round, Allen was able to smile about the misfortune afterward and explain the situation succinctly.
"Do not give Paige Pierce five strokes in one hole," Allen said. "It wasn't really giving them to her, it was giving them to the whole field. You just can't give up that many strokes on a hole. It's not the hole to screw up on, and I screwed up on it."
Allen recovered on the back nine, carding three birdies to two bogeys, but the damage had been done. And with the round clocking in at more than four hours, Allen also blamed the numerous backups for putting a damper on her day.
"We waited every hole today, and I started really good," Allen said. "Hit putts, threw good drives. We were going, and then you just wait every hole. Then it got warmer, then it got cold. No rhythm."
Pierce, though, used the downtime to her advantage. She did not put in as much practice time on the Adidas course as she would have liked, so she often took the delays as an opportunity to reassess her approach.
"It was actually nice to have a little bit of backups so that you could refresh," Pierce said. "I just walked up the fairway and re-familiarized myself with the hole."
She won't have to do that today, as play returns to the Innova Course, scene of her even par performance during Thursday's second round. She said she would try to clean up her two out of bounds strokes from that round as she sought to close out a second consecutive victory at a high profile PDGA event. She was cutting herself a little slack, though, since the OBs were into sand trap hazards.
"They're kinda half out of bounds strokes," Pierce joked.
Another player on the card to keep it lighthearted was five-time PDGA World Champion King. Often weighing in on how far Allen and Pierce were throwing, her comments on the card ranged from awe – "That went a really long way" – to feigned dismay: "Man, I don't even want to throw now."
Throw she did, though, and her ability to keep up with the rest of the card, despite her lack of distance, impressed Allen.
"She's so consistent that throwing shorter doesn't matter," Allen said. "Having the distance out here helps, but consistency and throwing it in bounds is more important than throwing far."
Putting also matters, and that was where Sarah Hokom struggled throughout the round. While her tee shots were clean and she was often in position for par, her struggles from 20 feet and in — she went high off the top band and low off the cage multiple times — torpedoed her round. Her 5-over par 64 saw her slip to sixth place overall.
The final round for the women's lead card begins at 8:36 a.m. local time today.