Kansas-based manufacturer bolsters its roster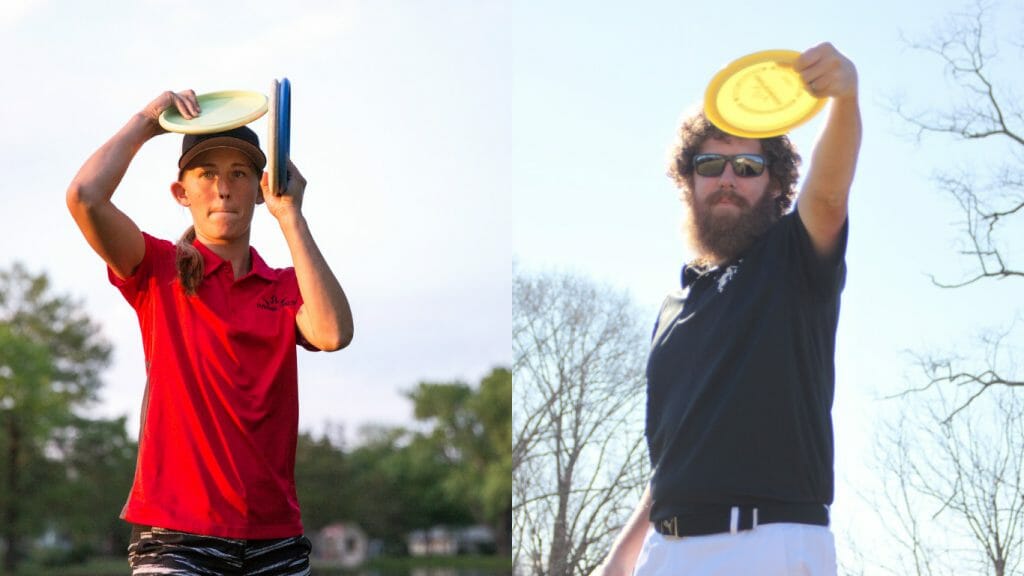 Dynamic Discs added two players to its roster over the holiday, as both Paige Pierce and Zach Melton signed on with the Emporia, Kansas, manufacturer for the coming season.
Both players were previously sponsored by Prodigy Disc; Pierce had been there since the team's 2013 inception, while Melton joined in early 2015.
For three-time PDGA world champion Pierce, the move signifies a bit of a homecoming: She was sponsored by Dynamic when the company was an apparel retailer and tournament organizer, and said she considered joining them four years ago when they began making discs. Instead, she signed with Prodigy, which was including ownership shares for its players at the time.
"When Prodigy came out in 2013, you know, I was leaning that way, and then I heard Dynamic was making discs too and that was a pretty hard decision to make back then," Pierce said. "And I just kind of focused it on looking really far into the future. With Prodigy [offering the chance of] being an owner and stuff, I thought that would be the best choice for my future. Obviously that didn't work out exactly how I anticipated, but I think, still looking toward the future, that Dynamic's gonna be the best choice for me, and hopefully that does happen."
Pierce, the PDGA's second-ranked women's player, immediately becomes the most high-profile female athlete on Dynamic's roster. And while she said that being the top woman on the team "was not a huge part of the equation," it did play a role in her decision.
"I think what this whole Prodigy thing has taught me is I want to be somewhere where I feel supported and actually cared about, not just another name on the list," Pierce said. "And I definitely get that in tenfold from Dynamic Discs."
It was no secret that Pierce and Prodigy were on the outs throughout 2016. While she was still throwing some of its molds, she began to throw other brands during the season, and her image was removed from the introduction to the company's YouTube videos.
Pierce declined to discuss what specifically soured between her and the company, citing legal concerns.
"I think safely I can probably say that, obviously, it wasn't a good relationship for either party involved," Pierce said. "There was definitely some issues on both ends, and, I don't know, I just feel like it wasn't the right spot for me. And I made that clear, and as of late they've even made that clear that, you know, it's not right for them either. It may have started out not amicable, but I think that both of us are ready for the future and I couldn't be more excited about transitioning to Dynamic Discs."
Will Schusterick, who is serving as Prodigy's team manager, also declined to discuss specifics, but said Pierce's past connections with Dynamic made the fit make sense.
"She has such a good relationship with people over at Dynamic Discs," Schusterick said.
Pierce's new sponsorship allows her to throw products from all three of the "Trilogy" brands of Swedish-manufactured discs – Dynamic, Latitude 64, and Westside Discs – but she has made it a personal goal to be all Dynamic as soon as possible.
"I just feel if I'm wearing their logo on my back that I want to be throwing their product," Pierce said. "I know they're all the Trilogy family and [Dynamic Discs founder Jeremy] Rusco's made it abundantly clear to 'not stray away if this disc is gonna help you.' I just think I would prefer to throw the products that they have their name on."
In addition to the Dynamic label, Pierce's own name will appear on a signature disc, the brand's Lucid Convict, from the beginning. She will also be throwing Defenders, Truths, and an assortment of putters, and praised the variety of molds – and the clean slate – Dynamic offered.
"There's no way that I am not gonna find a disc that works for me, and I believe that I already have," Pierce said. "Then just mentally, not having to worry about anything that's gone on in the past, [I can] just move forward."
Melton, the PDGA's 40th-ranked men's player, said the decision to join another brand "wasn't an easy decision," as he has close friends and longtime ties with Prodigy.
"It's a big change, but it's a good move," Melton said. "A good move for me to kind of take a little bit bigger step in disc golf, to kinda move on to a team that is working to add more players and raise the profile. I'm excited about it. It's a new opportunity."
While Melton is not the highest rated player on Dynamic's roster, he is the most well-traveled, having played 29 events in 2016. The opportunity to be one of the team's more visible players, in addition to a warm reception, tipped the scales in Dynamic's favor.
"They're all really good people, and I feel like they were attracted to me by my personality and the type of person that I was just as much as me being a good player, you know?" Melton said. "They wanted me to come in and kinda – I don't know if you'd say help mentor, but definitely be there to talk to people and stuff like that. I think that was definitely a draw to it, for sure."
And while Pierce's move from Prodigy may not have been the cleanest break, Melton was clear that he harbored no ill will toward the company. He also praised Pierce, one of his good friends on tour, for allowing him to make his own decision on coming to Dynamic.
"One thing that I really respect about what she did is she didn't want anything that was happening to her to influence what I was doing," Melton said. "So she did a great job of making sure that was separate and not really involved, which I appreciate. It wasn't an easy decision for me to make, obviously. You want to keep it business, but disc golf is personal. Everyone's close, everyone knows everyone. It wasn't an easy decision to make, but I truly feel it's the best decision for me right now, so I'm excited."
While Pierce will make her Dynamic debut at the Aussie Open later this month, Melton will remain stateside and break in his new bag – which includes the Felon and a smattering of Truths – to the wooded confines of the Suwanee Open in Live Oak, Florida.
"It's like the only true all-wooded course in Florida, it's kinda nuts," Melton said. "But it's one of my favorite courses I've ever played. It's definitely a good place to go throw with some Truths and some putters. It's a tough course, but I love it. It's wonderful, but it's all wooded. It'll be a good tester, a good warm up."
In addition to Pierce and Melton, Dynamic also added Swedish champion Henrik Johansen in December.