We scoured the PDGA memberships list for the best of the best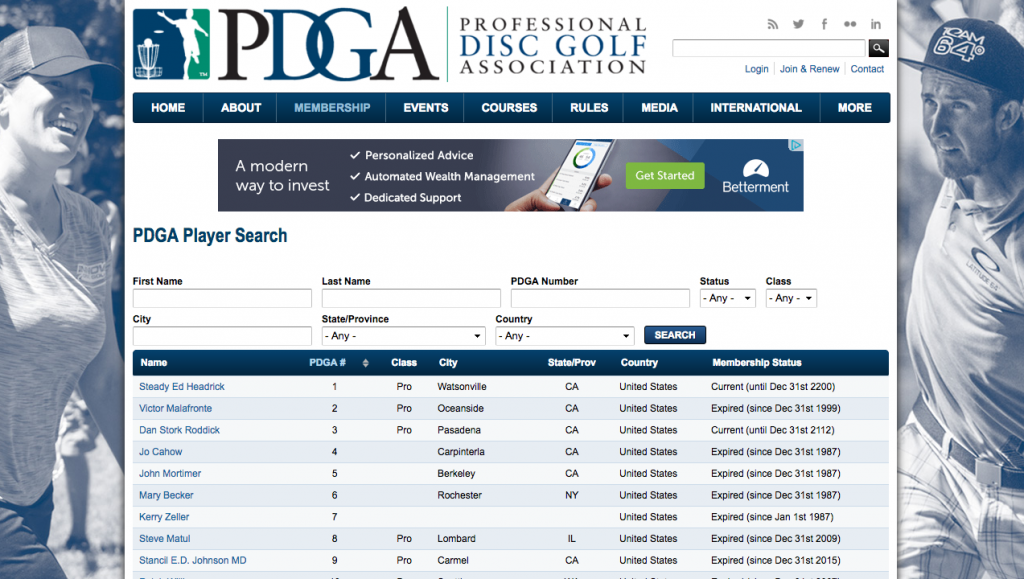 We're almost at the end of the holiday season, and for many of us that means traveling to see friends and family we see irregularly throughout the year. For some, that might have meant meeting your significant other's family for the first time over Thanksgiving dinner, or — in less than a week — over some Christmas Day ham. No easy task there.
You'll have to greet them, try to remember a bunch of names and faces, and who's related to who and try to be as polite as you can while fumbling over whatever you thought you remembered Great Aunt Petunia's real name was. And it's probably not any easier going the other way, either—seriously, you know there's no chance Uncle Herm is going to pronounce your name correctly, of even care about butchering your last name. Much embarrassment ensues.
We here at Ultiworld Disc Golf are quite sympathetic to those of us out there with, perhaps, unconventional names—isn't that right, Ultiworld Disc Golf Editor Stephen (not "Steffen") Hill? Alex Colucci, for whatever reason, isn't a walk in the park either. If I had a nickel for every garbled pronunciation and obtuse misspelling of my last name I've heard or seen? So much money. Even my first name — it's a pretty common one, all things considered. But, man, the amount of times I've gotten Alec and whatever else people think they hear. Not to mention all the Alexanders, too. That's not my name! Not everyone called Alex is also an Alexander. Alexander Colucci? Who is that? I'm sure that person is somewhere, but that person is not me!
All of this is to say, we get it. It's rough out there. So, in the spirit of other fun All-Name Teams (like this and this) we present to you the 2016 Disc Golf All-Name Teams. We searched through the PDGA's member database to find some of the more interesting names that have been registered. Because of PDGA rules — the organization does not release specific member information beyond what is available through their search feature — there is no way to verify whether these are indeed names of real people, but that's not why we're here anyway. This is a celebration.
Because there are so many great names out there, we've decided to make two lists. We've got two themed top ten All-Name Teams for 2016. The first is a list of those with a disc name in their name, and second, a list of disc golfers who share their name with someone famous—a-la the Michael Bolton character in Office Space.
Let's celebrate the bountiful diversity of disc golf names together. On to the lists!
2016 All-Disc Name Team
Dave Dart                         #19575
Stingray Stewart              #85880
Ashley Whippet               #445
Nolan Harp                       #31426
Lucas Warden                  #87102
Nova 大 ° 平 Politte        #74995
Flash Kingsly                     #21
Nathan Queen                 #68286
Loic Bard                           #46888
Dante Crush                     #47796
Quick takes: Fun fact (that's not really a fact): Dave is what Nate Sexton named his favorite Dart… For being named after such an old school mold, Stingray Stewart's PDGA number is pretty new school… We're betting Ashley gets bombarded with Devo jokes more than disc golf jokes… Nolan Harp: most popular stable approach disc in 2016; Wysocki-approved… If Dante can't Crush 500-plus-foot drives [rimshot] then this list is a sham.
2016 Honorary Michael Bolton All-Famous Person Name Team
James Bond                      #15435 and #77105
Bruce Willis                      #37
Ronald McDonald           #78921
Tatum O'Neal                  #50
Bob Barker                       #84286
Graham Chapman          #19790
Michael Jordan                #37584
Jeff Kent                            #17246
Rick Sutcliffe                    #83670
Dwayne Johnson             #19028
Quick takes: Daniel Craig is unsure if he'll return as the James Bond for the next film, but Flash Kingsly from the all-disc list is locked in as the new Bond villain… I bet Bruce Willis' putts all die hard and to the left… When Bradley Williams' suspension is up, he'd better watch out for Bob Barker on the course. Wouldn't want to get Happy Gilmored… Graham Chapman knows how to deal with the 80-foot rollaways into the pond: Just look on the bright side of life… The crying Michael Jordan meme hasn't quite made it to disc golf yet, and we take full responsibility for that. We'll make amends in 2017… If Jeff Kent doesn't make the Major League Baseball Hall of Fame, maybe he's got a shot at a spot in the International Disc Golf Center.