Difference over throw-and-distance rules makes for changes to the event, but organizers pledge overall cooperation with PDGA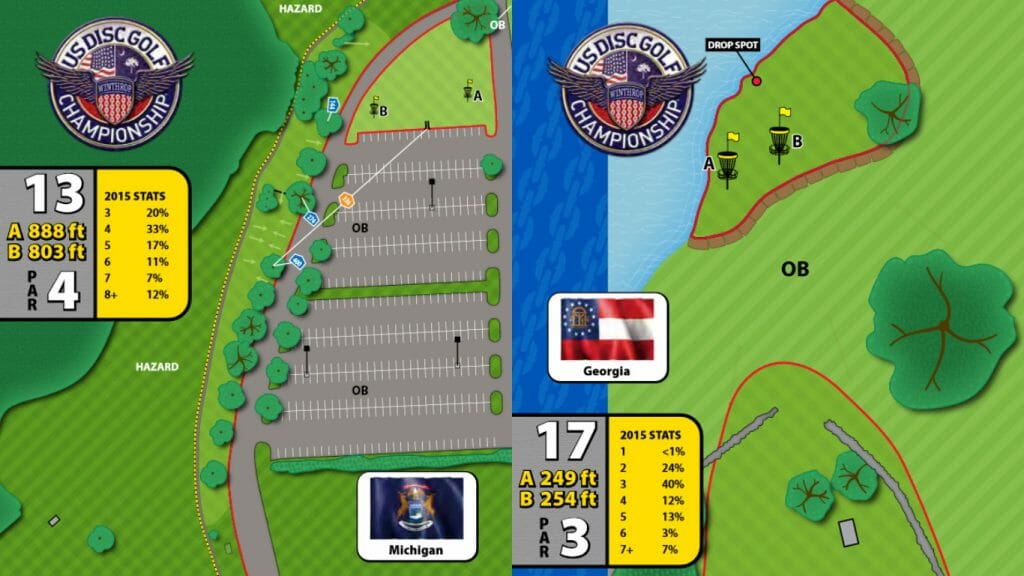 Next week's United States Disc Golf Championship will not count toward PDGA player ratings, event organizers announced yesterday, due to a disagreement about the use of throw-and-distance holes at the annual Major tournament.
While the event will move forward in its current iteration, the two entities are still cooperating, as the event will still be sanctioned as a Major and ratings will be displayed on the PDGA's website so players can track their progress.
The holes in question are two of the most iconic in USDGC lore. Hole 13, also known as "888," has long been a risk/reward hole known for creating scoring separation. Hole 17's island green, meanwhile, has long tormented the best players in the world and was instrumental in foiling JohnE McCray's championship bid in 2014.
Both holes are played with throw-and-distance rules, meaning players must take a penalty stroke and re-throw from their previous lie until they land safely in bounds. This differs from standard O.B. rules, which have players take their next shot from a drop zone or one meter in from the last point it crossed in bounds. In order to have throw-and-distance rules in an event, tournament directors must receive a waiver from the PDGA.
USDGC Chairman Harold Duvall said that, while he understands the PDGA has tried to limit the use of throw-and-distance in recent years, he feels the holes in dispute offer fair challenges for players and excitement for spectators.
"I think that, like many times in life, there are competing valid goals, and I think in course design in general you want the achieved score to match the demonstrated skill. That's a general goal," Duvall said. "Disc golf also needs to be, in a fair way, more appealing to spectators. And that's also a valid competing goal – and I emphasize fairly, we don't want destruction derby out there or wrestling. As much as I love those, we don't want disc golf to be that. I'm completely on board that throw-and-distance does not perfectly match the demonstrated skill. There is quite a lot of, I believe, fair excitement on holes 13 and 17 at the USDGC."
Per the USDGC caddie book, players may proceed to a drop zone on hole 17 after three OB throws.
PDGA Tour Manager Andrew Sweeton, who oversees the process of granting rules waivers to tournament directors, referred questions to PDGA Executive Director Brian Graham. Graham was not immediately available for comment.
The PDGA explained its reasons for limiting the use of throw-and-distance in an article on its website earlier this year, deeming that the integration of the rules can be overly punitive.
"Requiring a disc golfer to re-throw from the tee or from a previous lie is an excessive penalty for a shot that the player has already demonstrated they couldn't make," the article stated.
Despite the difference in opinion about the holes, Duvall was steadfast in asserting that the USDGC and PDGA have a positive working relationship.
"The Association has been, as we said in our note, a very strong supporter of the Championship from the beginning, and we have been a very strong supporter of the PDGA from the beginning," Duvall said. "It's a very mutually beneficial relationship."
Three-time USDGC Champion Will Schusterick, though, expressed concern about the situation and what it might mean for future cooperation between the two organizations.
"The fact that [USDGC] even had to say something publicly means there was something more than what they were saying," Schusterick said. "They don't want to seem like they were separating [from the PDGA] like the Pro Tour. It's kind of upsetting not to see any live feed, and now this."
Schusterick also said that, while ratings don't necessarily concern him as a player, he was worried about the long-term ramifications of a Major event not using them.
"It's not the matter of if the ratings matter, because honestly the ratings don't matter," Schusterick said. "It's just the fact that it's a standard throughout the PDGA, and the USDGC saying that ratings don't matter could have a big disruptive force behind it more than they realize."
Reaction among other players was mixed.
2015 USDGC runner-up Ricky Wysocki said that the lack of ratings did not make much of a difference to him.
"I think it will be a trial for some future events to see how they go without the feeling of rated rounds during the event," Wysocki said.
Paul Ulibarri, who tied for 10th place at last year's event, put things more bluntly.
"It's about time, I think ratings are ridiculous," Ulibarri said. "It should be about the number you shoot, not about a number some guy made up."
Reigning USDGC Champion Paul McBeth, though, expressed frustration with the situation and questioned why the PDGA would take issue with hole design at a long-running Major.
"It's been like that every year, and I think a lot of it has to do with the last couple years people exploding on those holes," McBeth said.
He also did not like the decision to remove the USDGC ratings from a player's overall total.
"The way that went through my head…it's basically like, here's a box of cookies. There's no cookies inside of it, but you can keep the box, so good job," McBeth said. "Go ahead and show the box off to all your friends, but it won't count for anything."
Duvall, though, said that the agreement between the two organizations allowed at least one of the purposes of PDGA ratings to be achieved.
"The ability to gauge how you did at the event is still preserved, because people will be able to see what their rating was – the four rounds will not be included in their ongoing ratings – so it still meets what I think is a big goal of the PDGA ratings, which is to see how you did [at one event]," Duvall said. "It just won't be included in that other important goal, which is to see how you did over time."
The USDGC begins Wednesday, October 5, in Rock Hill, South Carolina.
Additional reporting contributed by Ultiworld Disc Golf Staff Writer Alex Colucci