Pierce and Allen card hot second rounds to jump back into contention, while Walker and Finley land on the lead card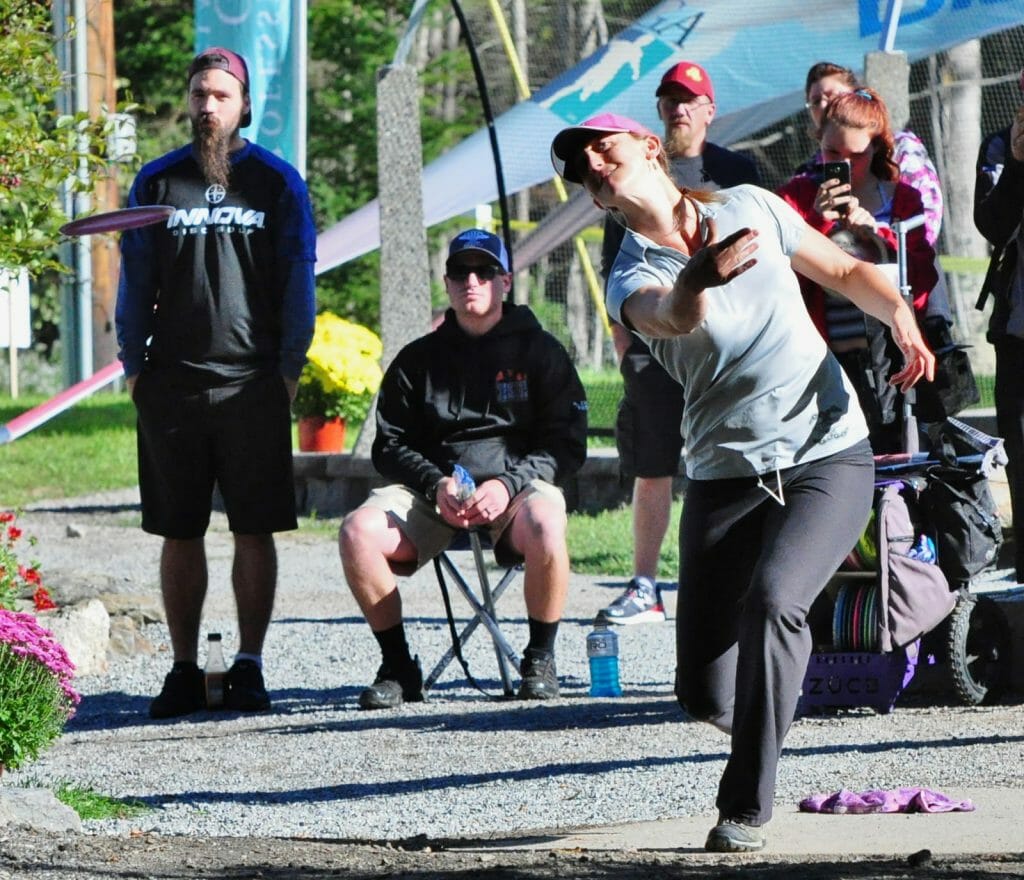 On a blustery Saturday in Maine, the Open Women's field took to the Sabattus Disc Golf Complex's Hawk course for both rounds two and three of the United States Women's Disc Golf Championship. While the field remains close behind, Sarah Hokom was able to widen her lead to four strokes after the second day of competition after a 1-under par 59 in round two and a 7-under par 55 in round three. Her 7-under par 175 total leads Paige Pierce and Madison Walker, who are tied for second with 3-under par 179s. Catrina Allen and Holly Finley share fourth place with even-par 182s.
Despite her current lead, things could have looked a lot different for Hokom heading into the final round Sunday.
Hokom's lead had shrunk to just one stroke at the end of the second round, after Paige Pierce and Catrina Allen both tossed the best scores of the morning with 5-under par 55s. Heading into round three, this left Hokom one stroke ahead of Pierce, three ahead of Allen, and four ahead of Madison Walker and Zoe Andyke, who were tied for fourth.
Hokom, though, came out swinging in round three, carding five birdies on the front nine while Pierce and Allen were only able to collect three each. Allen fell victim to two bogeys early on in the back nine, but Pierce was able to stay close on Hokom's heels and was just one stroke back heading into the final three holes.
This was where Hokom made her work from earlier in the round pay off. She managed birdies on holes 16 and 17, whereas Pierce managed only pars. Hokom then gained another shot on the 291-foot hole 18, carding a par to Pierce's bogey.
Also jumping into the mix after a quality Saturday was Walker, whose 4-under par 56 in round two and 5-under par 55 in round three brought her up from seventh to second. Finley's third round 3-under par 57 brought her up from fifth to fourth and onto the lead card for Sunday.
In round two at the Hawk course, holes 3, 9, 11 and 14 played the toughest for the lead card (Hokom, Frazer, Pierce, Andyke), yielding no birdies and a combined 11 bogey strokes.
Keep an eye on The Disc Golf Guy's YouTube channel for recorded coverage of rounds two and three. The lead card tees off at noon today, heading back to the Eagle course for the final.