Allen and Pierce struggle, while two aces highlight the opening day of play in Maine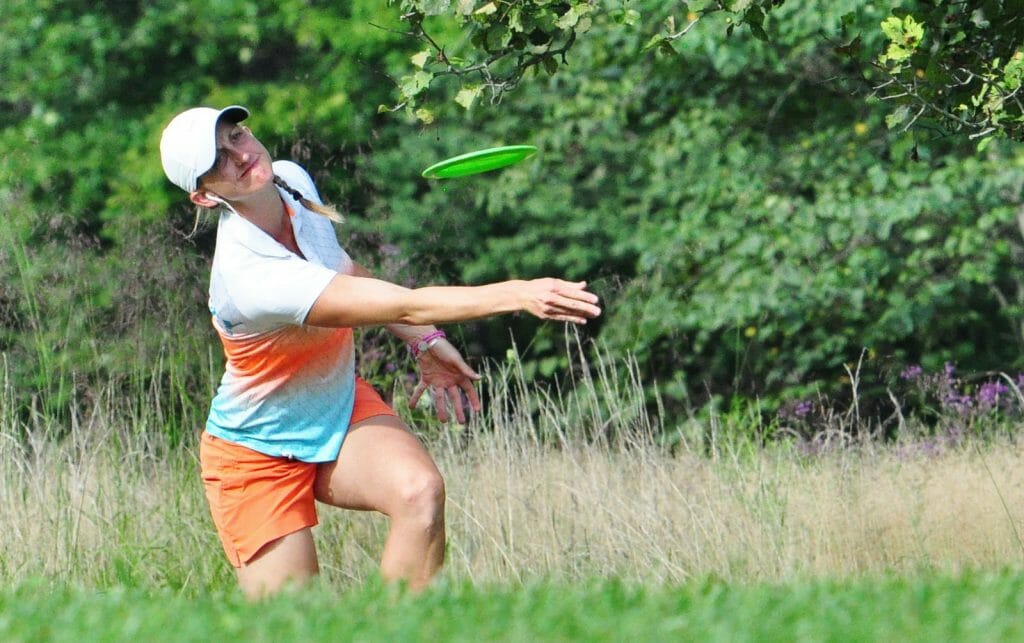 Sarah Hokom's consistent play throughout the first round of the United States Women's Disc Golf Championship made her the early leader in Sabattus, as a 1-under par 61, 978-rated round put her two strokes ahead of Michelle Frazer, who sits in 2nd place after her 1-over par 63 yesterday.
Hokom got off to a solid start, collecting six pars and three bogies on the front nine of the Sabattus Disc Golf Complex's Eagle course. Things began to take off on the back nine, though, where she bagged four birdies between holes 9 and 13. She then parred out to finish with a bogey-free back half. Hokom was the only competitor in the field to card nothing worse than a four on the round.
Frazer's day, on the other hand, saw her card less consistent numbers hole-to-hole. She took two birdies and three bogies on the front nine, followed by three birdies and three bogies on the back. Had she avoided bogey 5s on holes 6, 8, and 13 – three of the course's longer par 4s – her round would have more closely mirrored Hokom's.
Other presumptive favorites coming into the PDGA Major struggled through the first round.
Paige Pierce is in 4th place after a 4-over par 66 performance. If her round had not included six birdies – the most of anyone in the field – to offset her six bogeys and two double-bogeys, she would be well off the lead card.
Defending champion Hannah Leatherman sits in a four-way tie for 7th place. She complied a mere seven bogey strokes on the round, but could only manage one birdie, resulting in a 6-over par 68.
Catrina Allen is tied with Leatherman in that 7th place is logjam. Allen's round was hamstrung on the 500-foot, par 4 hole 8, where she carded a quadruple-bogey. Hole 8 proved to be not just the most difficult for Allen on the day, but for all competitors as well: It relinquished just one birdie while collecting 26 bogey strokes through the first round.
Holly Finley and Autumn Grace – who happened to be playing on the same card for the first round – carded aces on the day. Grace's came on the 211-foot, par 3 hole 4, and Finley's on the 180-foot, par 3 hole 12. Finley is currently in 5th place with a 5-over par 67, while Grace is in 13th place after a 10-over par 72.
Competitors begin play again today at 9:30 a.m. with a shotgun start at the Hawk course. Hokom, Frazer, Pierce, and Zoe Andyke (+3) round out the lead card. Follow along with the live scoring and check for updates from PDGA Live on Twitter during the day's two rounds.