Despite rift, Brian Graham still sees cooperation as key to growing disc golf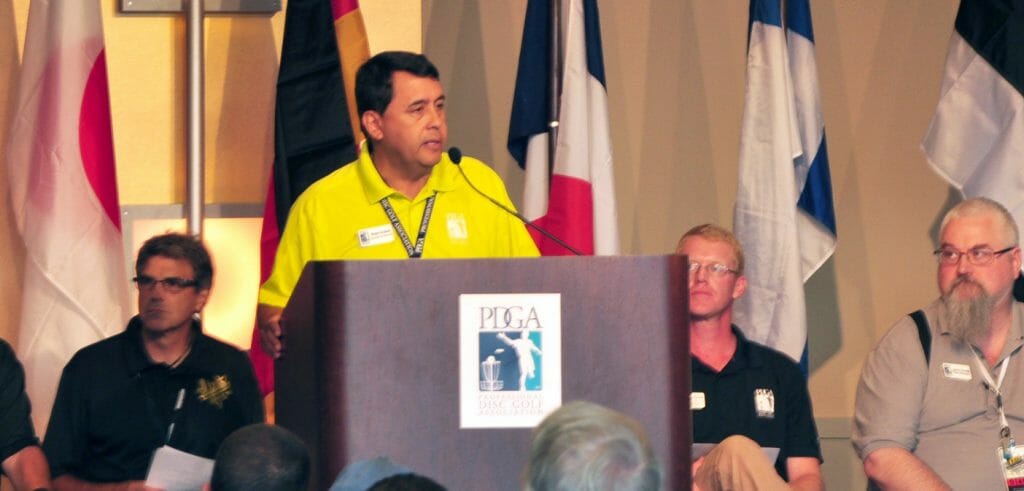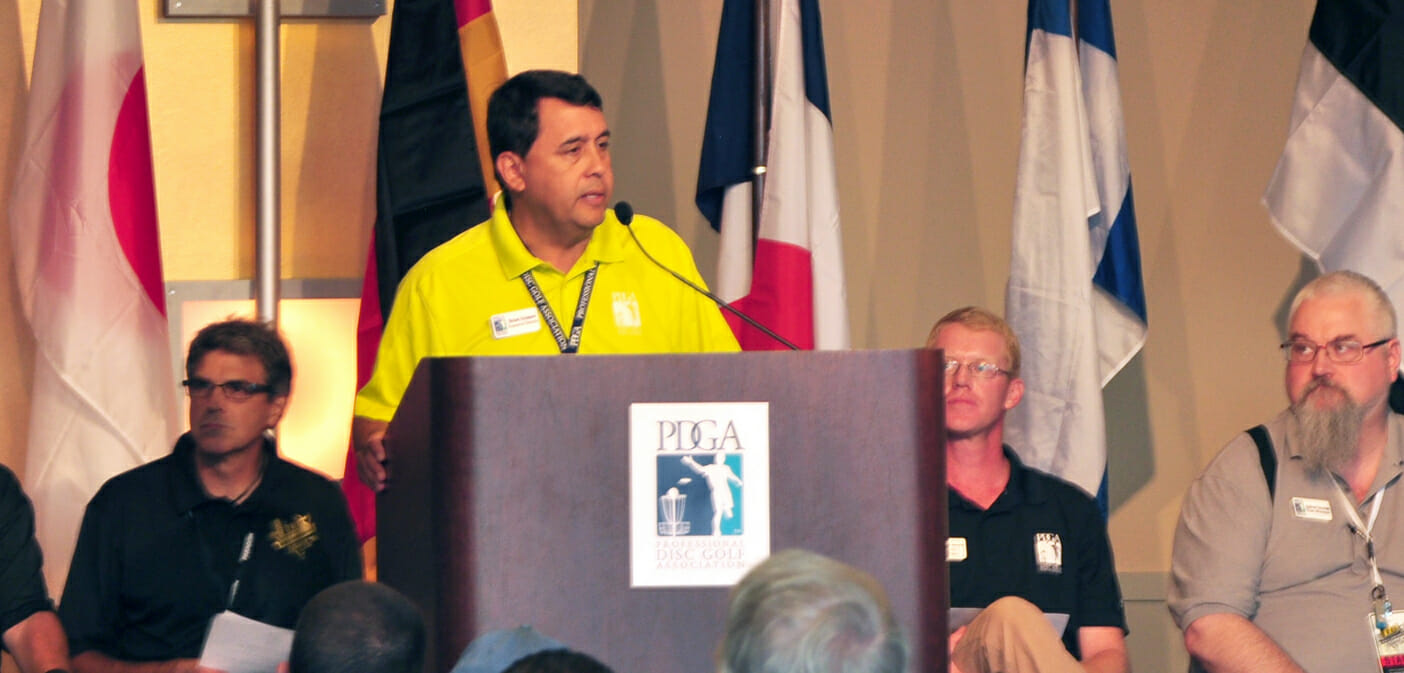 PDGA Executive Director Brian Graham responded yesterday to the Disc Golf Pro Tour's statement explaining its unsanctioning of its tour finale, describing it as "full of inaccuracies" and asserting that the PDGA has been welcoming and cooperative to both of this season's new tours.
In a point-by-point walkthrough of DGPT Tour Director Steve Dodge's statement, Graham highlighted several differences in the two sides' accounts and said that the PDGA has to balance not only the needs of Dodge and Disc Golf World Tour Director Jussi Meresmaa, but also those of the organization's own National Tour and numerous other member tournament directors.
Graham also said that he has reached out to Dodge, as "there's still time to set the record straight."
"We already treat the World Tour and the Pro Tour equally," Graham said. "[Dodge] wants us to treat it equally with the NT, they are not NT events. We have a scheduling priority – we have to set the NT and Majors first.
"Steve wants special treatment of his events," Graham continued. "His events are a series of A-Tier events, but he wants scheduling priority over all the other A-Tiers, which is not something we do. We try to treat all our member tournament directors equally. That being said, we did work with both he and Jussi this year. We understand, because they are trying to do a series, that they have special considerations that we need to help them with, so we did. We did reach out to both of them, we helped both of them, so for him to come back this morning and say we gave him no consideration is completely inaccurate."
Graham also said that, as part of trying to support the Pro Tour in its scheduling requests, the PDGA provided Dodge with confidential scheduling information about the 2017 National Tour season. Dodge took that information to a tournament director, Graham said, which resulted in the TD becoming upset with the PDGA.
"Steve betrayed our trust in a number of ways, so for him to say we didn't work with him first is inaccurate," Graham said. "The fact that we did work with him, but he betrayed our trust with confidential information about scheduling, it is what it is."
Dodge did not immediately respond to a request for comment about Graham's statements.
Graham did confirm that the PDGA made a conscious decision not to have any overlap between National Tour and Pro Tour events for 2017, but asserted that the decision was made due to shortcomings in the DGPT's own co-branding of the Vibram Open this season.
"They failed miserably at the Vibram in fulfilling their obligations to the National Tour and branding the PDGA and the National Tour," Graham said. "Steve will admit that, he admitted it to me."
Graham said that the PDGA paid for four commercials to air during the first day of the Vibram Open's live coverage, but that they did not run. While the problem was later rectified, Graham said that Dodge placed more emphasis on branding the Pro Tour over the National Tour, and as a result the decision was made not to have any crossover events for 2017.
"The Vibram being a Pro Tour event and Steve's own event that he owns, we knew it would be on the Pro Tour," Graham said. "It was a decision not to dual sanction events because of the challenges that he brought on basically."
Graham also said that the PDGA's decision not to make the Ledgestone Open a National Tour event had to do with unresolved problems with past iterations of the event.
"The Ledgestone had issues last year," Graham said. "They are in a region where we rotate them with the [Brent] Hambrick [Memorial Open], Steve is correct in that. We have several NT regions where we rotate events in and out. However, the Ledgestone addressed some of the issues from the previous year. They still had many issues this year, and based on those issues this year we decided they're still not ready to be back on the National Tour. They were told that, they were provided with a list of issues last year, so it should come as no surprise to them."
Graham highlighted other inaccuracies in Dodge's claims and pointed out that a previous reference to the Green Mountain Championships in the statement has since been deleted.
GMC tournament director Jeff Spring – who until yesterday was the lead tournament director of the DGPT Tour Championship event and is now listed as the assistant TD – said that Graham was correct, but that he deferred to Dodge as the Pro Tour director in making the call to unsanction the Tour Championship.
"I understand Steve's reasons and respect his right to make the choice on this issue," Spring said. "When I first read his post, I did ask Steve to remove reference to our event, which he did. There was an error with the content referencing the GMC and PDGA. We would normally review a post of this nature together since the GMC was referenced but, due to time constraints with my event about to begin, that did not happen. I thank Steve for removing the reference in a timely manner. I did follow up with the PDGA to let them know this as well."
Spring also said that he hopes the PDGA and the Pro Tour can find a resolution to their tensions and resume a positive working relationship.
"Overall, I believe that these two organizations – both of which I am a part of – can work together to create something very special," Spring said. "Though the Pro Tour has been recently established, there are many people with years of disc golf experience pouring their time, energy, support and love into it. These people are doing this because of the work that the PDGA has done to establish our sport and grow our sport over many years. They have done so much. I believe the Pro Tour has found its initial success by filling a void that has slowly opened as the outstanding development and progress that the National Tour initially made has started to dissipate. That is not a criticism, just observation of the declining number of high level events prior to this season."
Graham declined to comment when asked if he thought Dodge was asking for too much after running a tour for one season, but did mention that Dodge has been in contact with the organization about his vision for a pro tour for a couple years.
"What people don't know is that Steve came to the PDGA last year and put in a proposal, he wanted to manage the National Tour for the PDGA," Graham said. "He was turned down, and we basically said, 'Steve, go out and run your Pro Tour next year, we will support you, we'll help promote it. Show us what you can do.' He did, he went out this year he ran the Pro Tour.
"By and large, we feel it's very positive for disc golf, we fully support Steve," Graham continued. "However, there were some challenges with some of the events. So basically what we told Steve this year was, 'Hey, address these challenges, let's look at it again next year.'"
Per the PDGA's 2014 Spring Summit minutes, Dodge did approach the organization about creating a "for-profit corporation to promote a new National Tour." Dodge asked for the PDGA to re-appropriate National Tour funding to his proposed tour, as well as adding in $75,000 of his own funding.
While Dodge has stated publicly that this weekend's Pro Tour Championship will be unsanctioned, it is still listed as an XA-Tier event on the PDGA website. Dodge did not immediately respond to a request for comment Thursday about how the sanctioning is listed, but said Wednesday that, after changing the tournament director of record to himself, he would need to reach out to the PDGA to unsanction the event.
He is currently listed as the tournament director. As of press time, the PDGA told Ultiworld Disc Golf that Dodge had not yet reached out to the governing body to officially unsanction.
The episode has found players weighing in, with many pledging support for both the PDGA and the Disc Golf Pro Tour.
Sarah Hokom, who currently leads the Pro Tour's women's points standings, said she can see the situation as a catalyst for growth within the sport.
"There need to be some changes and re-organization within the disc golf community and I support the cooperation between both organizations to move forward in the right direction," Hokom said. "I'm not taking a stand with or against either organization. I know that challenges usually result in change and that this can bring about positive changes if everyone can put their egos aside and listen to and learn from each other to grow."
Four-time PDGA World Champion Paul McBeth, meanwhile, said he supports Dodge's efforts and would like to see the PDGA focus on growing the base of players in the sport while allowing other organizations to handle professional events.
"I love PDGA, I've always been a fan of PDGA," McBeth said. "But they just have to let some power go and focus on what their main concern is, and that's raising the awareness of disc golf."
Graham said that he considers those concerns, but that the PDGA has effectively used the National Tour to market the organization and that cooperation among the tours would be the best direction.
"Do I think we should end the National Tour and let Steve and Jussi and whomever do whatever they want to do? No, I don't," Graham said. "I think we should all continue to work together toward making the sport stronger. I think we're all three good for the sport."