A close call at the 2007 World Championships left the Swedish stalwart wondering "what if?"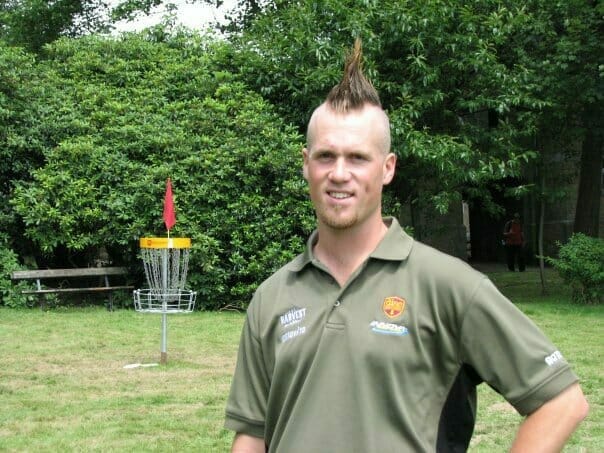 "What if it would have stayed in?"
That question still lingers in Markus Källström's mind. This past July marked nine years since his putt for birdie on the seventh hole of the Final 9 at the 2007 Professional Disc Golf World Championships in Highbridge, Wisconsin, cut through the back right of the basket.
Tied with Nate Doss, Källström laced his tee shot, showcasing the power he was known for on the uphill, 405-foot water-carrying hole to land about 20 feet from the pin. Doss' drive came up 60 feet short and right to a safe area, and Källström was one putt away from leading the World Championships with two holes to go.
Fifteen minutes later, Doss won his second world title by one throw.
"I still think about it way too often," Källström recalled.
For Källström, the runner-up finish at the World Championships was familiar. In 2003, he came out of nowhere at the Worlds in Flagstaff, Arizona, to finish six shots behind Barry Schultz. Källström's second place finishes still remain the highest placing for any non-American in the Open division at a world championship disc golf tournament.
Originally from Stockholm, Sweden, Källström grew up the son of financial adviser. His brother Anders, also a professional, is responsible for introducing Markus to the sport.
"My brother was able to try disc golf at a field day [a European athletic day in school]," Källström said. "He then drug me to the course, and we were hooked!"
In 1998 Källström, already successful in non-PDGA events in Sweden, decided to travel overseas for the World Championships in Cincinnati. His 57th place finish earned him $77 and officially made him a professional.
"That was my first vacation from my first job," Källström said. "We started off in L.A. and played a couple of courses there. We then played a tournament in Colorado, and then the Worlds. I met many friends such as Mike Moser, Scott Stokely, and Mike Randolph."
Over the next few seasons Källström continued to refine his game, playing up to 15 events per year – mostly Swedish non-PDGA tournaments – and coming over for Worlds, highlighted by a 29th place finish in 2001.
Unable to play at Worlds in 2002, Källström set his focus on 2003. However, his plans to contend in Flagstaff – which he knew would favor his talents due to the courses catering to longer arms – were derailed right out of the gate.
His first round 52 trailed leader Schultz by seven and placed him in a tie for 33rd place.
"I played with Ken Climo that round and remember being upset," Källström said. "He told me riding down the mountain leaving the course that it won't hurt me that bad."
If anyone understands what is needed to win a world title it is Climo. And in true form, he was right.
After losing ground for the next two rounds, Källström fired off a hot round of 46 in round 4 to make up two of the 11 throws he was now behind Schultz. Round five saw him shoot a 47 – once again the hot round – to cut the deficit to seven. His 48 in the semifinals was good enough to put him into the finals with Schultz, Randolph and Ron Russell.
The original deficit, though, was too much for him to overcome and he could never quite catch Schultz, who finished six ahead of him.
"I was really happy about finishing second," Källström said. "I was never on the lead card until the finals."
In the pre-YouTube era of disc golf, post-event DVDs were how fans tuned in. Typically the only events produced were the United States Disc Golf Championships and the Final 9 of Worlds, so Källström's 2003 runner up finish suddenly made him a household name by disc golf standards.
Källström continued to compete in Europe and made his standard stateside trips for Worlds and USDGC, but he never made quite the splash like he did at the 2003 Worlds. His wife's career change, though, would present a unique opportunity to change that.
"My wife took a job at Pexco in Pennsylvania," Källström said. "It was a dream for a long time to play in the states for two to five months in a row, and now I had a chance to do it year-round. You don't get that many chances to tour, so I had to take it."
Already a fan favorite due to his outgoing personality, blonde mohawk, and jaw-dropping distance, Källström was now touring full time throughout the United States with an opportunity to further push his profile. In 2007 he played nine PDGA National Tour events, five Majors, and brought home $18,104 in earnings for the year. Mainly traveling by himself in a Chrysler Town and Country, he quickly became a force on tour.
With the full-time play under his belt, Källström entered the 2007 World Championships brimming with confidence. All the typical European player disadvantages – jet lag, travel time, language barriers – were a thing of the past. He was just like Doss, Climo, Feldberg, and all the other favorites. It was just another stop on tour that he drove to.
After four rounds of play he trailed Doss by only four, and there were still 63 holes of golf left to play. A score seven throws worse than Doss' in round five provided him with that same feeling he had riding down the mountain in Arizona with Climo in 2003: His chances were gone.
But much like in 2003, he charged back and cut the deficit to six heading to the semifinals. He threw the second best round – a 50 – and was able to take advantage of Doss struggling a bit with a 54. A world title was in his sights, down only two strokes going to the relatively wide open and long – his specialty – Final 9.
And then that fateful missed putt.
"Everyone remembers the cut through," Källström said. "But on hole 8, right afterward, I happened to hit the only bush in the fairway 460 feet away to a lie where I had nothing to get me the last 250 feet. Nate missed the fairway but made an incredible shot and made the birdie, so he had me by one going into the last hole."
Källström says those words again.
"I still think about it way too much."
2003's surprise runner up finish combined with a half year on the road behind him, Källström's outlook on the second runner up finish is totally different.
"The 2007 worlds was probably one of the most fun ones," Källström recalled. "But I was disappointed."
Frustrated but motivated, Källström left Wisconsin ready for the next challenge. After a quick trip to Europe for three events, he returned back to the states for his final tune up before the USDGC, the Sugarbrush Open, a National Tour event in Warren, Vermont. History wasn't made in Wisconsin, but it would be in the northeast.
Källström's two shot win over Feldberg gave him the honor of being the first non-American to win a National Tour event – a feat that only Simon Lizotte has matched since, at last year's Ledgestone Open. How dominant was the victory? Feldberg and Climo gained seven and ten on Källström, respectively, in the final round and he still walked away with the title.
"That event was a great time," Källström said. "We had to take a ski-lift to the top of the mountain. It was 10-20 degrees cooler and windy, and I was not prepared. I was freezing that whole round, but thankfully I had a nine shot lead to going into the round."
Källström toured again in 2008, but never reached the same success. He missed the finals of the World Championships by one shot but was recently recovering from a broken finger on his throwing hand. In 2009, Källström returned to Sweden.
"My wife was done with her job and we both wanted to go back home," Källström said. "I had a two and a half year vacation. It was time for us to extend our family."
Arguably the best non-American to ever play the game, Källström now works in tool sales and has two children. He recently played and won the Swedish Doubles Championship with his brother, and generally plays one to three events per year.
Despite the explosion of disc golf in Europe, mostly thanks to Jussi Meresmaa and the Disc Golf World Tour, Källström does not see himself returning to a more vigorous competition schedule.
"I have played since 1991 and have won most things and been everywhere," Källström said. "My first child was born in February of 2010, and I really haven't really truly played since 2011. All of my vacation time from 1998 through 2011 was used for disc golf.
"It was time to do something else."