Mike Sale and Dan Schnabel conquer mark for Most Distinct Holes Played in 24 Hours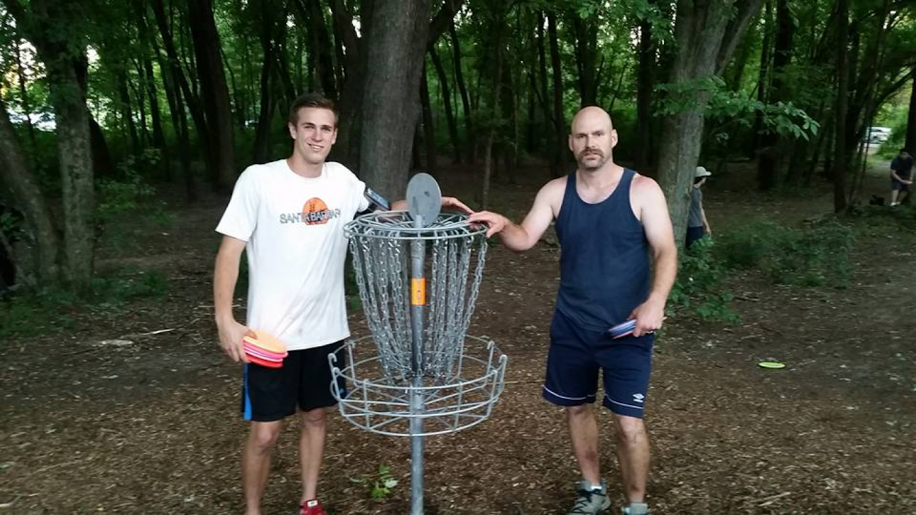 Mike Sale and Dan Schnabel are not your average disc golfers.
Sure, they are both amateurs who play as much as they can, like many golfers. But the amount they can play sometimes borders on superhuman, as the two have spent the last few years trading volleys in the quest for the world record of Most Holes Played in 24 Hours. While Sale holds the current mark at an astounding 2,900 holes, Schnabel has possessed the record three times since 2010, and as a result the two developed not a rivalry, but instead a mutual admiration for one another and their feats of endurance.
It was that admiration that led to the duo teaming up in the Twin Cities area last Thursday to tackle a record together.
Setting out at 4:53 a.m. on July 2 from Lions Park I in Shakopee, Minnesota, Sale and Schnabel sought to break the record for Most Distinct Disc Golf Holes Played in 24 Hours, which was set by Alan Hansen Begg in 2004 when he played 380 holes, also in the Twin Cities region. Rather than staying at one course and logging as many holes as possible, as in their previous records, this attempt found Sale and Schnabel traversing the Minneapolis-St.Paul metropolitan area in a south-to-north fashion, bagging holes at a rate of one every one minute and 45 seconds.
Thirty-two courses and 17 hours later, at 9:40 p.m., the pair finished Hole 27 at Blue Ribbon Pines in East Bethel to collect its 417th hole, giving Sale and Schnabel the proper record that is counted from civil twilight in the morning until civil twilight at night for safety purposes. At 3:13 a.m. on July 3, they holed out for the 500th time, hitting their own stretch goal.
And on Friday afternoon, before settling down to celebrate with a barbecue and some massive statistics compilation, they were still riding high.
"Honestly, were not even doing that bad today," Sale said. "Me and Dan were both discussing it, and between us total we have six of these 24 hour days, and today is the least painful we've had."


And to ask the two disc golf ironmen – who essentially completed a 59-mile ultramarathon while accurately tossing plastic at metal for a full day – training was not a priority. For Sale, a 21-year-old native of Downers Grove, Illinois, it was a testament to the athleticism he honed playing ultimate Frisbee at the University of California, Santa Barbara, from where he recently graduated with a double Bachelor's degree in economics/accounting and psychology. Schnabel, a 39-year-old from Coon Rapids, Minnesota, chalked up his endurance to a "pretty physical job" working at a Target distribution center.
That doesn't mean it was all easy, though.
"It was tough trying not to slow him down, trying to keep going without cramping up too much," Schnabel said of his younger counterpart. "As far as wind and endurance I felt OK, but my legs were cramping up a lot more than they have in any of my previous three attempts."
Seven hours and 45 minutes in the car to cover 280 miles of driving will do that to you.
"In our 24-hour attempts we tried our hardest not to sit down, because when we sat down the lactic acid would build up in our muscles and every time you sit down you get more comfortable and it's harder to get up and keep going," Sale said. "It's the momentum law of physics; you've just got to keep going and push forward."
But in order to keep pushing forward, the pair had to come together in the first place. As Sale tells it, he and Schnabel had been keeping in touch for some time after the two began to break each other's Most Holes in 24 Hours records. Schnabel established his first in 2010, then had to re-establish it in 2011 after it was broken by three others. Sale then went and bested Schnabel by five holes in 2013, and Schnabel recaptured the mark in June 2014. Later that year, Sale shattered Schnabel's mark by nearly 1,000 holes, and it was time for something new.
"I contacted Dan about something that I was just messing around with in my head last summer, and he countered with this," Sale said.
This attempt, though, would not be verified by Guinness, as the organization would not recognize the feat due to safety concerns as Sale and Schnabel drove from course to course.
"We were actually pretty decent," Schnabel said. "[We were] driving only five miles an hour over the limit at all times because any traffic stop would have taken nine holes away from us and it wouldn't have added that much more to what we were trying to do."
Still, it is a community-recognized achievement and is chronicled on the website DG Resources. There won't be any worries about someone trying to out-do the attempt without acknowledging that Sale and Schnabel are the current record holders.
"Which is exactly what Alan [Hansen Begg] had done before," Schnabel said. "It'll be a known record and an impressive feat. This one was more of a test of planning than it was just endurance."
That planning included acquiring disc donations from Minneapolis retailer Gotta Go Gotta Throw – Sale threw an Innova Discs Destroyer and Teebird, as well as Discraft's Buzzz, Comet, and Focus, while Schnabel stuck to the Westside Discs Northman and Boatman and the Latitude 64 Mace and Sinus – so the two would not have to waste time looking for lost shots. Sale kept the UDisc scoring app open on his phone – which he strapped to his left arm – to track statistics, and friends were brought aboard to run ahead and divert course traffic during the daylight hours or point the flashlight at night.
And then there was the matter of mapping the whole endeavor, a process which had been going on for four or five years, Schnabel said, under the guidance of Minneapolis-area senior course designer Steve West.
"With the other world record attempts, I'd never tried to go after this one because of the amount of planning it would take to do this," Schnabel said. "You just have to be flawless…Steve West is also the mastermind behind the plan we created."
West, who has designed numerous courses in the area and doubles as a statistician, said he looked for a string of holes to put together, as opposed to making the route circular. With nearly 100 courses from which to choose in a 60-square mile area, he originally crafted a route that would be optimal for breaking Begg's 380-hole mark. When Sale and Schnabel came back and said they wanted to do more, he augmented the route to aim for 450 holes during daylight hours.
"They wanted to do even more, so what they did is they took my route and they actually went off route and got more courses along the way," West said. "They would get a bunch of courses that weren't even on my route because they wanted to get to 500 [holes]."
And while the record-breaking pair easily accomplished its goal, the tweaks to West's route made for an unintended side-effect.
"What that means is the holes in a day, civil twilight record is still kind of doable if you have a couple ultramarathoners who play pretty well," West said. "They didn't take the most efficient route to break that record."
What they lacked in efficiency, though, they made up for in fun, as the two both recalled how much more enjoyable this record was than their prior attempts on a single course.
"[My] second and third time, and Mike's first time…were on nine-hole courses, and after about four rounds in it's boring, it's monotonous," Schnabel said. "You just kind of go into machine mode and you just execute, you just go. The cool thing about this attempt is we got to see almost all the 50 courses in the Minneapolis-Saint Paul area, [which had a] variety of terrain, a variety of shots, so it was exciting to see."
And as the two took Friday to reflect and recover, neither sounded like they were ready to never look at a disc again. In fact, Schnabel is aiming for the PDGA amateur points crown this summer, while Sale is taking a "disc golf pilgrimage" to hit as many courses as he can before starting a job in the fall. The pair, though, don't have any new record attempts planned.
Yet.
"Every single time that I've done something like this, I have told somebody close to me, 'Alright, you have to promise you're never going to let me do this again,'" Sale said. "And then in the next 18 months I find myself doing it again. So I have no idea."